Continuing from a recent post, Sr. Margaret presents snippets of her book awaiting publication.
"Spirit seeking light and beauty, heart that longest for thy rest..."
The Desert Road "In the desert, God will speak." Hosea 2:14
Retreat in the Sonora Desert allows me to hold all I would have been rid of from my life. Thoughts on pause, I realize they are ineffectual to change reality. The desert allows me to walk into my own barren, dangerous landscape of untouchable cactus, stinging scorpions, and snakes in the shadows. There I learn a new language—silence. Just as Elijah sat at a cave's entrance waiting for God's voice in the tiniest breeze so I listen in silence. Silence is at the root of prayer. It is the sacred pause in Liturgy that waits, lets go, listens. It is sacred reading that waits, lets go, listens. What I continue to learn from my desert time is the language of silence. Carving space for silence outside of the desert is not easy.
A desert's sacramental landscape provides an ambiance to encounter God. The silent, dark, star-lit, dry surroundings of a desert mirror our thirst and longing for God. After his conversion St. Paul's first impulse was to enter the desert where he was led through the mysteries of God. There he opened his ears to God's voice deepening his newfound faith (Gal. 1:17). Wilderness mirrored Paul's longing to pour out his former self before God, to surrender, to be filled with Christ (Gal. 1:13). Beginning in the third century, Christian hermits moved to the desert to find the "treasure of life." Christian spiritual tradition continues to consider the desert a place of encounter with self and God, a place of purification that leads to holiness. It is a rare place that entices us to let go of our efforts, to experience interior thirst, to become transparent as glass through which others see God. St. John Chrysostom wrote, "No matter where you are you can set up your sanctuary . . . God is not troubled by any place. He only requires a clear and fervent mind." St. Francis of Assisi often said, "The world is my cloister, my body my cell, and my soul is the hermit within."
There are times desert solitude is imposed from outside of us. We experience spiritual dryness, illness, the death of a loved one, the loss of a job, or broken relationships. We feel empty. At some level we experience what Susan Pitchford describes in Midnight in the Desert, "We go to the desert to die –to our false selves and our false gods, including our false images of the real God. We go there to be stripped of our illusions and introduced to the reality of our complete poverty. Any fantasies we entertained about our spiritual accomplishments, and all our plans for heroic service for God, disappear into the dust. The desert strips us naked and we are ashamed."[3] The desert reveals the true state of our heart. The desert's gift is deeper intimacy with God.
At Mepkin Abbey in South Carolina, I am able to focus on this gift. Each time I visit for a day, the manuscript for this book comes with me. I write until a bell awakens me in my solitude. I put down my pen to walk over stone pavement and wooded bridge to the chapel. My work is undisturbed. The harmonious ora et labora of St. Benedict is a secret for happiness. Pausing from their work throughout the day, monks meet in chapel to chant the hours. This rhythm begins at the hour of Vigil (3:20 A.M.) until the hour of Compline ( 7:35 P.M.) This prayer, salted with silence, continually feeds the soul anew.
Returning to life in a Pauline Book & Media Center on a busy downtown street I pledge to nourish interior silence. Bells that call me to the Liturgy of the hour: the person on the phone, the sister who asks a question, requests via social media, a sudden pang of longing for someone I love. Obedience is "opening the ear of our heart" to God in all circumstances. Early and Medieval icons depict this. Mary at the Annunciation pronounces her fiat. Holy Spirit shines light into her ear as she pronounces her Fiat. Mary conceives in listening. An early icon of St. Paul's baptism has the same imagery.
Thomas Merton said God speaks in the depths of our being for we are words of God. There is one way to hear this Word. Silence reveals God completing the hidden and mysterious work of our transformation.
Everyday life is where our transformation in Christ happens. The parish, family, community, work-space —these are all places we in turn are called to transform. As Origin reminds us, "We Christians are all priests, since we sanctify the society in which we live."[1] Yes, the world, our world, can be changed, not from without, but from within and above. For this we need to meet God in our inner-sanctuary at the oasis of God's Mercy. As I sit in silence like the desert Fathers and Mothers I learn to yield to the indwelling presence of Jesus Christ.[2]
[tweet "A desert's sacramental landscape provides an ambiance to encounter God. -@kerrygma"]
Change, no matter how small, brings about a process of transition. Though this seems a life-less time the desert is not without life. Powerful experiences and connections with God are in desert times. Nourished by the Divine Fire we behold our invisible God (Hebrews 11:27). The process of surrender deepens as we draw near our never-absent God. Struggle grows into contemplation. The contemplative gaze roots in our heart as it goes to the heart of all things—that God is God. Then we praise the God of all life-seasons as journey and destination (Psalm. 34:1). [4] "Solitude, ceasing to be painful, becomes the indispensable place wherein God makes contact with us," wrote Venerable Madeleine Delbrêl.
…to be continued as Sr. Margaret presents snippets of her book awaiting publication.
---
Copyright 2017 Sr. Margaret Kerry, fsp
Resources:
[1] Origin, Contra Celsum, AD 248
[2] Fr. John Michael Zboyovski, http://stjoseph-standrew.org/files/inscapemarch2014.pdf, Stillpoint Contemplative Ministries, p. 3
[3] Midnight in the Desert Susan Pitchford, pg. 123
[4] CF Spiritual Wisdom and Practices of Early Christianity, 30, 88, 90
Song: Spirit Seeking Light and Beauty, Lyrics Janet Stuart RSCJ (1857 - 1914)
About the Author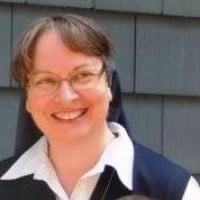 A Daughter of St. Paul for 40 years Sr. Margaret continues to pursue new ways to proclaim the Gospel: sharing the Pauline Charism with the laity, writing books (St. Anthony of Padua: Fire & Light; Strength in Darkness: John of the Cross; Prayers for the New Evangelization), & through direct evangelization. She is available for workshops on the Vocation & Mission of the Laity, Media Literacy, and The New Evangelization. mkerry@paulinemedia.com