Pixabay (2016), CC0 Public Domain[/caption] On December 12, we celebrated the feast of Our Lady of Guadalupe. As I dressed that morning, I suddenly froze as a question crossed my mind: What can I do for Our Lady today? I already planned to pray a Rosary and wear a little bit of blue in my outfit, but I wanted to do something more. My eyes wandered around the bedroom, and suddenly it hit me: Put on a scapular. Around the time that I received my First Communion as a child, I also obtained my first brown scapular. I remember looking through the small booklet that accompanied it, which told the story of St. Simon Stock and Our Lady of Mt. Carmel. I recall being mesmerized by the miraculous stories that were included in this booklet. These little brown squares of cloth seemed pretty important, and wearing a scapular appeared to be what Good Catholic Girls should do, so I wore one intermittently for the next several years. However, when I gave birth to my son, I stopped; between breastfeeding and his love of pulling anything that was around my neck, no longer wearing a scapular seemed like a prudent decision. I was a little hesitant to put the scapular on again, unsure of how my toddler would respond. When he realized I was wearing something around my neck, he crawled into my lap and exclaimed "Jesus!" as he pulled the scapular out and looked at it. This happened several times that day. Not only did wearing the scapular help me think of Mary and rely on her protection throughout my day, but it was a subtle reminder to my son of the presence of Jesus and Mary in our lives, and the loving help that they give us. In his book, Under the Mantle, Fr. Donald Calloway discusses the scapular's importance as he notes: "It's like a holy life vest thrown to us from heaven by our spiritual mother. By wearing this devotional, we are placing ourselves under the mantle of Our Lady's protection."
Courtesy of CatholicMom.com contributor Barbara Stein, whose handmade scapulars and other religious jewelry are sold at Etsy.com/shop/MaryDevotions. All rights reserved.[/caption] I'm grateful that I began wearing the scapular once again. This small action is helping me keep Mary at the forefront of my mind. I am remembering to rely on her and Jesus more than before. Besides the scapular, there are many Marian devotions that help us draw closer to Our Lady. As we begin this new calendar year with the Solemnity of Mary, Mother of God, it's a good time to ask ourselves: What can I do to grow closer to Mary this year? If we each make an intentional effort to learn more about Mary's role in our lives-and the various devotions to her-we will not be disappointed. Mary wants nothing more than to bring us closer to Jesus, so what do we have to lose by getting to know her better?
---
Copyright 2018 AnneMarie Miller
About the Author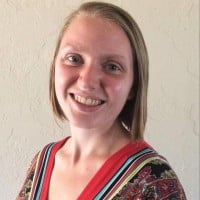 Eagerly seeking new adventures each day, AnneMarie enjoys life in Oklahoma with her husband and little boy. She has a passion for the Faith and particularly loves learning more about the Liturgy, saints, and various devotions. AnneMarie's musings on Catholicism, literature, and motherhood can be found on her blog, Sacrifice of Love.