By Fr. Lawrence Lew, OP, via Flickr (2006), CC BY-NC-ND 2.0[/caption] Today's First Reading is a well-known favorite Bible story! It's the story of the prophet Samuel going to the home of Jesse to find a new king for Israel from among his many sons. The most popular part of the tale is the selection of the youngest (and most unlikely) son, David. But the first four lines of the story are very powerful and yet maybe a little overlooked.

The LORD said to Samuel: "How long will you grieve for Saul, whom I have rejected as king of Israel? Fill your horn with oil, and be on your way.

To recap, Israel had been clamoring for a king so that it could be just like all of the other nations. Samuel reluctantly went along with their desires and King Saul was chosen as the king of Israel. That certainly went badly! Saul turned out to be a terrible king. And yet, even though Samuel had never been a pro-King-Saul kind of guy, he was disappointed in how things had turned out. That disappointment was holding Samuel back from getting over it and moving on! How does this speak to us today? There are many lessons for Catholic moms in Samuel's story. Many times we can be disappointed by our marriages, children, jobs, friends, projects, neighborhoods -- the list is endless. Yet when we cling to our disappointment and sadness, we keep ourselves from being able to move forward. In today's reading, God shows us how to get over the disappointment. He tells Samuel to "Fill your horn with oil and be on your way!" That's the lesson for us too. Maybe we don't have the best situation at home or at work. What can we do to "fill our horn" and get on the way? We can fill ourselves with inspiration from books, friends, or wise counsel; we can seek God's will for us through prayer; and we can work on nourishing our bodies and making or keeping them fit -- and then be on our way to doing the next thing. And what is that next thing? It's whatever God has called us to do. For some, it might mean caring for our husband, children, and homes. Others might find that it means doing the best job where we are or moving on to something else. Samuel does move on and finds success beyond all of his expectations. Sometimes that can be the hardest thing to do. It's so easy to stay stuck in grief and disappointment. Today's reading challenges us to step outside of those feelings and move on to next thing that God has planned for us.
---
Copyright 2018 Elena LaVictoire
About the Author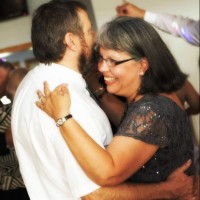 Elena LaVictoire is a graduate of Baker College and a retired medical transcriptionist. She is married and homeschooled six children. Elena is a public speaker on the topics of marriage, homeschooling, and confirmation preparation. She was also a contributing author to The Catholic Mom's Prayer Companion. Elena practices and performs with her flute and records with the Peace Together Choir. She blogs at MyDomesticChurch.com.