Do you have ten minutes a day? Then you have enough time to journal your way through the penitential psalms this Lent with Sarah Christmyer's journal, Create in Me a Clean Heart. This inexpensive journal is small enough to carry in your handbag or tote, but there's big spiritual impact in this book's little package. Subtitled "Ten Minutes a Day in the Penitential Psalms," Sarah Christmyer's journal offers lectio divina prayer starters for seven penitential psalms: 6, 32, 38, 51, 102, 130, and 143. To learn more about lectio divina, download Christmyer's free printable lectio divina tutorial. You're also invited to join Sarah Christmyer's Create in Me a Clean Heart Facebook group for online discussion of the penitential psalms! Enjoy a sneak peek into Create in Me a Clean Heart, with a prayer exercise based on the most well-known of the penitential psalms, Psalm 51.
Take it with you: Planting the Word in your heart

I have laid up thy word in my heart, that I might not sin against thee. —Psalm 119:11 When God speaks to you, resolve to plant his Word in your heart where it can take root and transform you from the inside out. You will be doing this as you ponder the Penitential Psalms. Another way is to memorize Scripture. It's easier than you might think. Choose a verse that spoke to you from the Penitential Psalms, copy it onto a small card and carry it with you during the day.Take out the card whenever you have a few moments and repeat it to yourself (the reference too, so you know where to nd it in your Bible!) until you know it. Or put a reminder on your smart phone. Set your alarm for

noon

and recite the verse before praying the Angelus. Do whatever will help you remember. When you're done with one verse, post it over your desk or above your kitchen sink or on the dashboard of your car—somewhere you will see it and remember to review it. Meanwhile, start learning a new verse. Over time, you'll nd that the Holy Spirit brings them to mind when you need them.

PREPARE YOUR HEART

Find a quiet place where you can read and pray without distraction. Close your eyes and place yourself in God's presence. Reflection When I was nine, I stole a big, fat, sugary Boston cream pie from the refrigerator and ate the entire thing behind the trees in the backyard. It wasn't mine to take. We didn't have the open-frig, eat-when- you-want policy that children have today—and we never had desserts that looked like that. But even worse, I didn't know my mother chose it specially, hid it away and planned to surprise my father with it for his birthday. Not until my neighbor told on me, that is, and I watched my mother's face turn from surprise, to anger, then to pain. It sounds like a little thing, today. But it was huge to me then. I hurt my father.Yes, I hurt my mother too, but she had meant the surprise for him. I hurt my father. "Against thee only have I sinned," I read in Psalm 51:4, and that day comes ooding back. I couldn't get it out of my head or heart for the longest time: the shame, the disappointment, the feeling that nothing I could do could restore that surprise. "For I know my transgressions, and my sin is ever before me" (vs. 3). There's a reason Psalm 51 is the best known of the Penitential Psalms and one of the best-loved psalms of all. It speaks to the deep pain we feel inside us when we sin, and then it shows us the mercy of God. His is the love of a Father who sees his child's stricken face — washes the tears away – and then reaches inside to create in us "a clean heart;" to breathe "a new and right spirit" within us. Tomorrow, when you repeat Psalm 51: What words stand out to you? Here's what I see (this time, anyway): MERCY. CLEAN. JOY & GLADNESS. REJOICE! RESTORE THE JOY OF THY SALVATION. "Have mercy on me, O God, according to thy steadfast love ..." –Misereri mei, Deus. Pray Psalm 51 out loud, as follows. Listen to me, O God, and show me mercy; for I am a sinner before you. Prayerfully read the psalm. Glory Be ... Copyright 2016 Sarah Christmyer. Excerpted with permission from Create in Me a Clean Heart. All rights reserved.
Would you like to win this spiritual journal for Lent? Simply answer our fun Lenten poll for your chance to win one of 5 copies of Create in Me a Clean Heart! a Rafflecopter giveaway This giveaway runs through 11:59 PM Friday, February 22018. Prizes will be set to US and Canada shipping addresses only. Winners will have 48 hours to claim their prizes after email notification; after that time is up, alternate winners will be chosen.
Author Sarah Christmyer[/caption] About Sarah Christmyer: Sarah Christmyer is co-developer and founding editor of The Great Adventure Catholic Bible study program. The author of numerous Bible studies and several guided journals for Bible reading, she speaks at conferences and retreats on topics related to Scripture and the Catholic faith. She has a Masters in Theology from St. Charles Borromeo Seminary, Philadelphia, where she is an adjunct faculty member. Sarah blogs at ComeIntotheWord.com and WomenInTheNewEvangelization.com. Visit our Book Notes archive.
---
Copyright 2018 Barb Szyszkiewicz, OFS This article contains Amazon affiliate links; your purchases through these links benefit the author.
About the Author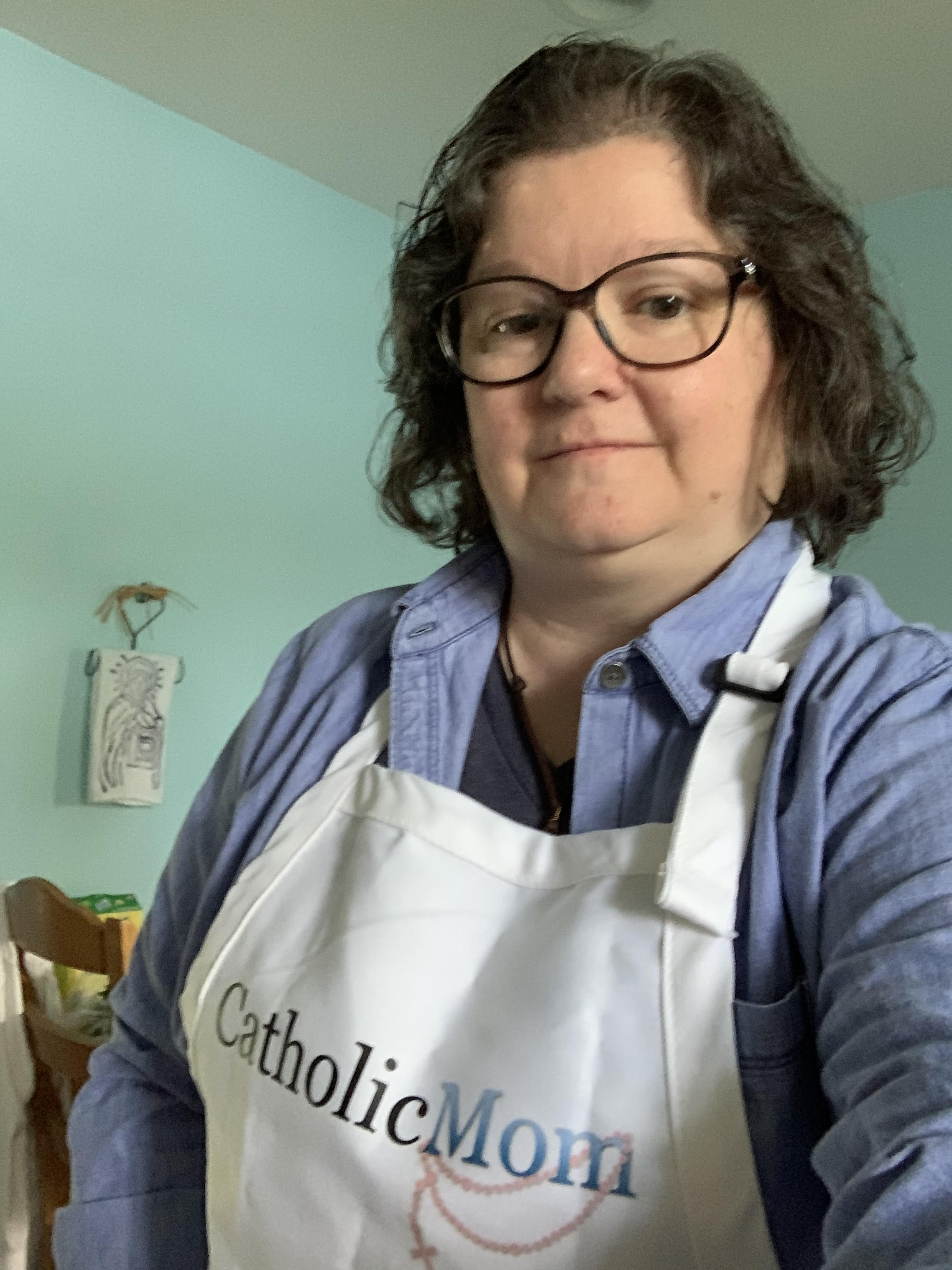 Barb Szyszkiewicz is a wife, mom of 3 young adults, and a Secular Franciscan. She is editor at CatholicMom.com. Barb enjoys writing, cooking, and reading, and is a music minister at her parish and an avid Notre Dame football and basketball fan. Find her blog at FranciscanMom and her family's favorite recipes with nutrition information for diabetics at Cook and Count. Her booklet, The Handy Little Guide to Prayer, is coming in May 2021 from Our Sunday Visitor.