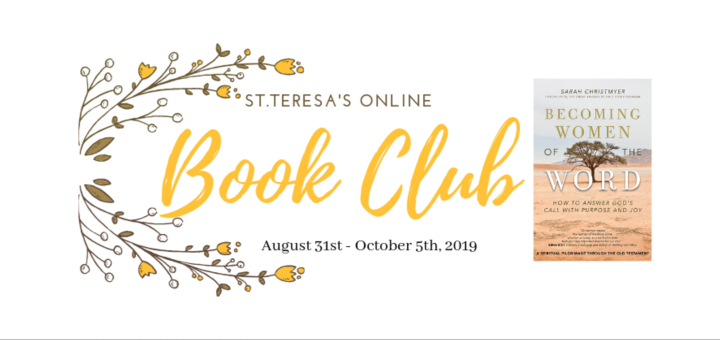 Courtesy of St. Teresa's Online Book Club. All rights reserved.[/caption] We are so excited to announce that the fall book for St. Teresa's Online Book Club is Becoming Women of the Word: How to Answer God's Call with Purpose and Joy by Sarah Christmyer. The discussions on Facebook begin August 31 and will run through October 5.
About the book
The women God called to bring his chosen people into the world were ordinary women who struggled with emptiness, oppression, infertility, and loss — yet who found strength and hope in God. Sarah Christmyer — codeveloper of The Great Adventure Catholic Bible study program — pairs the stories of key Old Testament women with stories of women she has known to show us how we can hear God, say yes to his call, and share him with the world just as they did. Breaking open the scriptures to reveal the historical, cultural, and biblical context in which Old Testament women lived, Sarah breathes new life into their stories and makes their lives surprisingly relatable. In the process, she shares stories from her own faith journey and the lives of family and friends to show how the same principles that turned ordinary women into heroines of the faith are true for our lives today. Each chapter of Becoming Women of the Word highlights the spiritual legacy of one or more women in the Old Testament. Their world was vastly different from ours, yet they faced the same questions we do: when we can't feel God's presence, where do we find help? When our world is collapsing, where is God? Why should we trust him? How can we trust him? Sarah simply and clearly draws from the lives of these women important principles that help us to trust—even as we struggle with doubt. For example:
Through Eve, we learn to hold on to God's promise even when we fail.
Sarah reminds us to wait on God's timing to make us fruitful.
Miriam, the sister of Moses, shows how to lead by example.
Ruth and Esther challenge us to see womanhood as a gift.
Hannah and Judith inspire us to trust God even in matters of life and death.
These unforgettable portraits create a colorful mosaic of faith, encouraging us to mine God's Word for spiritual treasure and to pass on the gift.
Weekly discussions and details
31—Introduction and Chapter 1
7—Chapters 2 and 3
14—Chapters 4 and 5
21—Chapters 6 and 7
28—Chapters 8 and 9
5—Chapter 10 and Postscript
How do I participate?
Request to join our Facebook group.
If you haven't already, purchase Becoming Women of the Word: How to Answer God's Call with Purpose and Joy by Sarah Christmyer at Ave Maria Press, Amazon, Barnes and Noble or your favorite Catholic retailers and invite your friends to join us. Consider giving the book as a gift and inviting them to join our online book club.
One you sign up for this study on Facebook, you will receive comments and posts from the group and the author about each chapter. We invite you to share comments as well.
Each Saturday, group administrators will moderate discussions based on the chapters for the week.
This Facebook group is "closed," which means that only members of the group can see your comments.
About Sarah Christymer:
Sarah Christmyer is a Catholic author, speaker, and adjunct faculty member at St. Charles Borromeo Seminary in Philadelphia, Pennsylvania. She is the codeveloper and founding editor of The Great Adventure Catholic Bible study program. Sarah is a member of the board and executive committee of Malvern Retreat House, where she serves as chair of the spiritual programs development committee. She is the author, coauthor, editor, or contributor to more than twenty-five books and bible study programs, including Gaze Upon Jesus and Walk in Her Sandals. She has blogged for WINE: Women In the New Evangelization, the American Bible Society, and Ascension Press. Sarah has been a guest on Relevant Radio, Breadbox Media, Radio Maria, Iowa Catholic Radio, and Holy Spirit Radio.
You can find Sarah on social media at:
Facebook: SarahChristmyer, Author Twitter: @SChristmyer Instagram: @comeintotheword Pinterest: Come Into the Word—Sarah Christmyer
---
Copyright 2019 Michele Faehnle
About the Author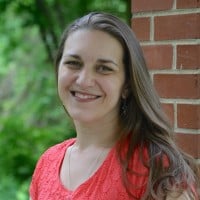 Michele Faehnle is a wife, mother of 4 and a school nurse. In her free time she enjoys volunteering for the church and is the co-chair of the Columbus Catholic Women's Conference. She is also the co-author of The Friendship Project, Divine Mercy For Moms, Our Friend Faustina and Pray Fully; Simple Steps to Becoming a Woman of Prayer. Read more of her work at InspireTheFaith.com.