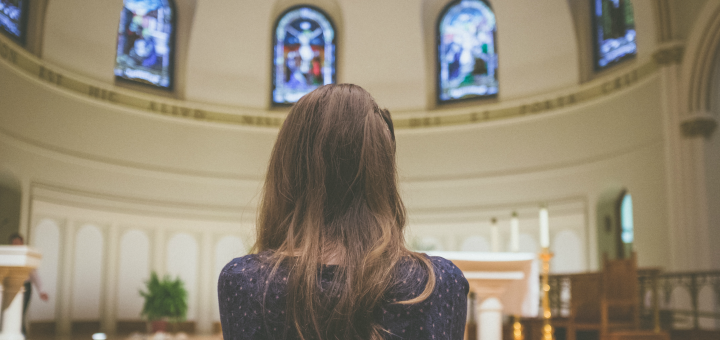 Unsplash (2017), CC0 Public Domain[/caption] It was the spring of 2002 when Steve and I began praying as a couple. Ten years into our marriage, we were finally vulnerable enough to share our deepest spiritual desires with one another. Still, I feared being mocked or misunderstood, though Steve gave me no reason to hesitate. "What should we pray about?" Steve asked, as we set out our Bible, cross and Rosary on the small desk in our hotel room. We were presenting a talk for a marriage ministry weekend for couples focused on their sacramental marriage. Couple prayer was a tenet of the ministry, but praying as a couple did not come naturally to us. "Really … what should we pray about?" I took several deep breaths. I knew exactly how we could start couple prayer, but I did not know how Steve would respond. I felt hesitant to open up the topics that needed prayer in our lives. Motivated but scared to share, I wanted Steve to know my heart. I wanted him to know my deepest desires and what I had already shared with Our Lord. This was going to be tough, because it would be uncharacteristic for me: both how and what I would communicate. The marriage ministry had opened so many desires for me, and I knew Our Lord was holding my hand, urging me to be vulnerable with my best friend, Steve. Count to ten, I thought to myself. "Steve … I love you. You are my best friend." (Cue the waterworks). How was I going to get past this fear? Steve looked deeply into my eyes, worried. He did not know what was coming next. Thinking of that moment now makes me giggle. My husband is one of the most gentle, fun-loving guys I know. He is a great listener. As an insurance agent, his job is to listen! Even now, Steve communicates at ease with the teenagers while I am prone to jump to conclusions. Honestly, I cannot remember why I was so hesitant. The way Steve held me in that moment, I knew no matter his reaction, we were in this together. This was true sacramental marriage. Dying to self. Dying in order to follow the Holy Will of God in our lives. Helping one another get to Heaven. I had already discerned individually, and seeing how seriously Steve was invested – I knew this was where God wanted me: vulnerable, naked without shame. "Steve, I love our three baby girls. I love being their momma. Their births made me a momma, and the time I spend with them compares to little else. But I don't have enough time with them. I work over 40 hours a week, and when I have to stay late, I usually have all three with me which is no good for me or for them. I want to stay at home. I desire it so much. My heart breaks when I am not at home with them. Is there any way we can pray together about me staying at home and not working?" Steve took a deep breath. We had lots of debt. I had a masters' degree and at the time, I was bringing more money home each month than Steve. My missing check was going to create a hole in the budget. It seemed impossible, but all things were possible with God. This was going to require a miracle. Steve looked at me lovingly. He said, "You are the best mom, Mary. You love our girls so much. I want to provide for our family in a way that you can stay home. I think this is the perfect thing to pray about together." As a consummate planner and organizer, I knew that when Steve solidified our topic of prayer, I could begin making the plans. My plan was to pray, and for Steve to find a job to provide for our family on one income. My plan was to create a timeline in which this could be possible. My plan was to pray, bring our petition, ask our prayer couple in ministry to pray the same prayer, and then set the plan in motion. By Christmas, I would be home. Alleluia. I did not factor God's part in this plan. I figured He would be just fine with this plan, since this is what faithful Catholic women did. Little did I know that this was not His Plan at all for our life. That first conversation and prayer happened in March. Plenty happened between March and May. But May was the exclamation point we were not expecting. At the end of May, 2002, Steve lay in a medically induced coma as a result of a perforated colon, fighting for his life from the sepsis shutting down each internal organ one by one. I dropped to my knees after hearing the news that he had a 50% chance of surviving. My brain registered nothing … my body collapsed and I cried out to God, "Save him, please. Save him for our family! We need him!" I did not want to lose my best friend, the father of our children, my husband. Our marriage was "till death do us part," and it was as if God was holding my hand asking me if I truly believed, "in sickness and in health." I wanted to tell God, "Yes, but please don't let this be the death part. I love him. I don't want to lose him, Lord." Steve's initial recovery after a full summer of coma, ventilator, and brain function recovery, was fast. He began to gain vital functions quickly through physical, occupational, and speech therapy. It seemed like God was answering all of our recovery prayers. This was a relief for us as we marched forward in our life, hopeful for a 100% recovery. We did not expect the long-term recovery of a brain injury, which Steve sustained through a cardiac and respiratory arrest. In my mind, Steve could quickly get back on his feet and continue with his job search. I was ready to come home, after all. But brain injuries are complicated injuries. Brain injuries bring a whole host of problems and solutions we never planned for our life. Brain injuries are unpredictable. Brain injuries change everything. God was inviting us to be vulnerable and open to a plan we had not conceived. He was asking us if He could count on our Sacramental Marriage as a sign – a visible sign of His love for a broken world. At the time, I was closed to God's voice. The route this story was taking did not match my well-planned and organized strategies. My disappointment was strong, and I was angry with the Lord, to say the least. Still He beckoned. I was missing the still small voice. "Mary." It was in all of the chaos, in all of the prayer, and in all of the yearning. But I missed it, and when I did hear it, I ignored it. I figured I could out-pray God's response. Wasn't it Jesus Himself who said, "Ask and it shall be given to you?" Well, I was going to keep asking, "Lord, help me find a way home. Make a way. If you open a crack in the window, I'll jump through. If you open the door, I will gladly take your hand. If you want me to find the way, I can do that, too. I'm an overachiever, Sweet Jesus. I'll do whatever. Please. Please. Please." Silence. "Mary." I knew where He was going with this. Steve was not okay, and our family was going to need me. I was going to have to sacrifice my plan. I was going to have to give it all up, for love of our family. God's plan was not going to match mine – the one I had carefully crafted to look like His plan. Suffering was going to come from my obedience. I was going to have to make difficult decisions that would potentially draw me further away from the plan to stay at home with the babies, and I was going to have to trust God. He needed me to love Steve and our girls, and that love was going to hurt. I was going to have to keep working outside of the home. Though my story may not match your story, the stories of working Catholic moms make up a tapestry of unique discernments leading us to the work world. Our stories are part of the Body of Christ, and in unity with mothers throughout the world – mothers who work inside or outside the home, stay-at-home moms, single moms. Our stories unite us as women, faithful and faith-filled. Think of the working Catholic moms you know. These faithful and faith-filled women bring a wealth of knowledge, skills, and abilities to the work force, while simultaneously organizing the activities and care of their home. Perhaps one would be tempted to ask, "With all of these women working, who is at home taking care of the kids?" What if the question were, "How can we support, encourage, and protect women who work outside of the home?" What if we contemplated the implications of having Christ-centered women in the workforce and asked, "What impact does she make there?" What if we looked at her family life and asked the same question again? I've always considered myself a writer. In the past year, I've stopped writing, overwhelmed with the voices of negativity and defeat. Just recently a friend reminded me that we are all working in the vineyard for the glory of God – work-from-home moms, work-outside-of-the-home moms, stay-at-home moms, mommas in the convent. What is your story? How did God call you more closely to His Most Sacred Heart? How did you answer the call? I was also reminded recently that Lent is a time to listen to the still small voice. Conversion is a process, after all. Lent is a time of reflection and deep prayer. My prayer for all of you this Lent is to fall more deeply in love with Love Himself, Jesus Christ – no matter your station in life. He beckons – in the stillness of the chaos.
---
Copyright 2018 Mary Wallace
About the Author

Mary Wallace, PhD, is a devout Catholic wife, mother of 4 daughters, and college administrator. She is co-host of a Catholic radio show: Faith and Good Counsel, on Baton Rouge Catholic Community Radio. Mary is also a contributing writer at the Integrated Catholic Life. Follow Mary on Facebook.