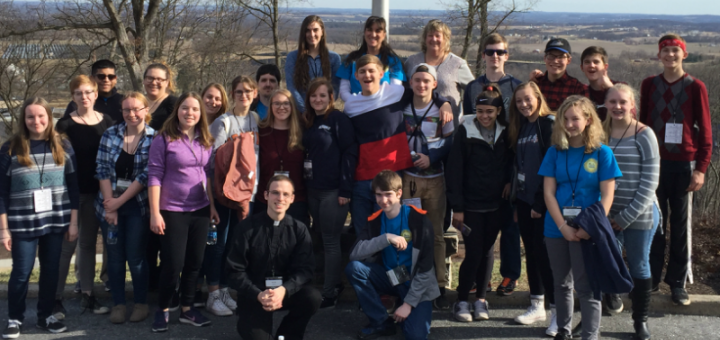 Copyright 2017 Kelly Guest. All rights reserved.[/caption] By the time you read this, I will be napping. At least, I hope I will be. Every year, a group of youth from our church goes on retreat to Mt. St. Mary's University in Emmitsburg, Maryland. The seminarians there work hard to provide a spiritual experience for over 1300 young people from at least 8 states and the District of Columbia. It is a wonderfully blessed weekend. First of all, the University is located on a holy mountain. St. Elizabeth Ann Seton lived there. Blessed Stanley Rother went to seminary there. It is the site of the National Grotto of Our Lady of Lourdes. The setting of the Mount 2000 retreat could not be any more inspiring. Weather permitting (and it often is), we hike up the mountain to the Grotto, where the retreatants can look out over the town, visit the spot where Mother Seton catechized, drink from the spring there, pray the Rosary, walk the Stations of the Cross, and pray before many saints memorialized by statues throughout the acreage. And at the Grotto, they have an opportunity to receive a plenary indulgence. They are excited when they learn that they can help a friend or family member be released from the sufferings of Purgatory and enter into the eternal happiness of Heaven. Every day during the three-day retreat, the Holy Sacrifice of the Mass is offered, as well as the opportunity to go to confession (some have not been since their first confession in second grade). Even if they do not like going to confession or are afraid to go, every child of God who receives Reconciliation says they feel so much better afterwards and are glad that they went.
Copyright 2017 Kelly Guest. All rights reserved.[/caption] Talks are given throughout the day on topics that are relevant to the youth. These speeches are meant to enlighten and encourage the teens in the development of their relationship with Jesus Christ. Where there are teenagers, there must be music. So a band plays praise and worship music in the morning to get the kids pumped up, at Mass to encourage full participation, and in the evening with pop music to get them dancing. There is often a dance contest, which involves some seriously talented teens and seminarians taking the stage! Moreover, each group is paired up with a seminarian who hangs out with the group throughout the weekend. He instructs the students on how to prayerfully read Scriptures – Lectio Divina. Plus, it is really cool to see that our future priests are ordinary guys who answered an extraordinary call. What a clever way to promote vocations! Without a doubt, the highlight of the weekend is the Eucharistic Procession. 1,300 young people kneel on a hard gymnasium floor for over an hour in adoration of their Lord veiled in the Eucharist. Most of these young people have never been a part of such an experience. Yet the sacredness of the encounter is overwhelming. It is as if Jesus is walking among them – and He is!
Copyright 2017 Kelly Guest. All rights reserved.[/caption] The retreat ends Sunday with the celebration of Mass. In process all the seminarians, deacons, and priests of the seminary, as well as priests from the surrounding area and those who traveled with their youth group. We are often blessed with Archbishop Lori of Baltimore as the main celebrant. The Archbishop speaks words of encouragement to the hundreds and hundreds of young people before him as they get ready to go back into their world, hopefully to shine the light of Christ a little brighter. I am blessed with a job that allows me to go every year with our youth on this amazing Mount 2000 Retreat. To experience the energy of these kids, to hear their thoughts, answers their question, see their devotion, and encourage them is indeed a real blessing. If ever you are offered the chance to chaperone a retreat for young people, I encourage you to jump at the opportunity. Though the talks will not be geared to you and your vocation in life, you will still learn so much from them. The youth themselves will inspire you. Seeing them on fire for the Lord will have hope welling up within you.
Copyright 2017 Kelly Guest. All rights reserved.[/caption] If you have a teenaged child, don't only encourage them to go on retreat, volunteer to go too. Your body may ache from sleeping on a hard floor, and you will be sleep-deprived from being surrounded from a bunch of night owls who do not grasp how quickly 6 AM comes. Nonetheless, you will feed off of their energy. And, spiritually at least, you will feed off that energy for quite some time to come. Physically, though, that energy has worn off. So if you will excuse me, I am going to try to catch up on some sleep!
---
Copyright 2018 Kelly Guest
Note: Permission to use photographs of the teens pictured here was obtained from their parents at the time the photos were taken.
About the Author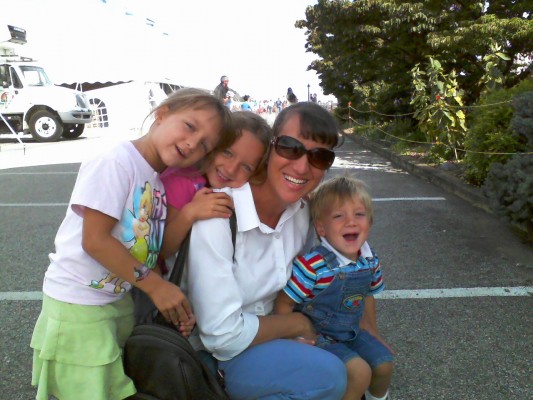 God has given Kelly lots of wonderful opportunities to follow Him. She was a Dominican Sister of St. Cecilia in Nashville, an education coordinator for a Catholic Charities' program for pregnant teens, a middle school teacher, a director of religious education and is now a youth minister. Her most challenging and rewarding calling, though, is wife and mother of ten children. What she has learned, she blogs at CatholicMom.com. Kelly's book, Saintly Moms: 25 Stories of Holiness, is due out October 2021.