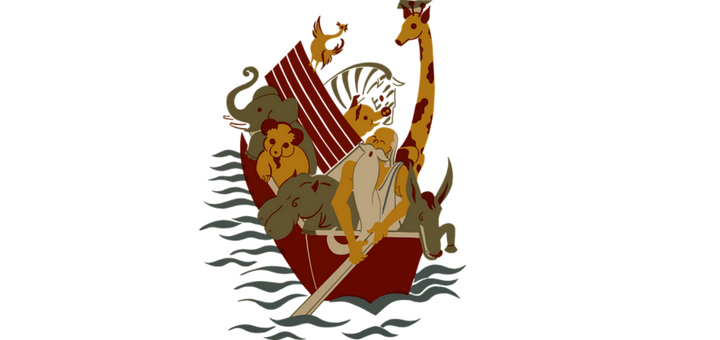 Pixabay (2017), CC0 Public Domain[/caption]

We laughed until we cried. It was a real-life enactment of the perfectly crafted joke: have you heard the one about the attorney and the cradle Catholics? It all played out at my Friday morning book club, a meeting of four flawed but faithful women -- a small but mighty crew tackling the greater mysteries of life.

This particular morning we were discussing the story of Noah and the ark, certainly one of the more well-known stories of all time. Speaking with perfect confidence, my friend was reviewing the magnitude of the flood and was asking a question about the logistics of the resulting destruction. The attorney among us, resolute and fearless in her questioning of all things -- taking nothing at face value -- quickly and politely (while smiling, mind you) challenged our lifelong understanding of the Bible with her soft proclamation, "I don't think God actually flooded the entire surface of the world."

Pan to cradle Catholics, innocently believing in every detail of the Bible, faces blank, synapses sparking, eyes signaling the search for understanding. Beloved attorney closes her argument with the simple conclusion, "Two of every animal on a boat? Ya, I'm not thinking that really happened." Pan back to cradle Catholics and witness the impact of her statement slowly register across each face, starting with the tiniest curvature of the mouth upward, then the ever so slight squinting of the eyes and the final expression of understanding pouring out in the form of uncontrolled laughter.

This moment was made all the more comical because, only a few months earlier, an almost identical scene played out among us, only the Bible story brought into question at the time was the very story of creation -- Adam and Eve -- and the eating of the infamous apple. While three of us got caught up in the details of the apple itself, our fact-checker deepened our entire understanding of the story by calling into question its very validity.
"Therefore encourage one another and build one another up, just as in fact you are doing." Thessalonians 5:11
While one might think this would end poorly, in a battle of who's right and who's wrong, the four of us must have been hand-picked by God to learn from one another because differing opinions are met only with a desire to dig deeper, learn more and broaden our understanding in and through the context of one another's experiences, questions and insights. It's a beautiful thing.
Once we pulled ourselves together from our laughing fit, we were once again left with the question of what to take literally and what to assume was portrayed in parable form for the sake of the message within. In the end, we concluded that, whether the forbidden apple was red or green, whether the ark really did have two of every creature or was ever built at all, the message of the story is the truth we need to pay attention to; the message is God's word. With gratitude to the "questioner" among us, we were all gifted with a renewed and deeper appreciation for the call to build our own personal "arks" in order to shelter ourselves in God's promised protection and allow Him to help us navigate the storms that we inevitably come.
Surprisingly enough, the four of us haven't been together for long at all, yet the comfort level in the group would surely hint otherwise. Two of us are a product of your more typical rule-following Catholics from childhood. We made all of our sacraments, attended Mass every Sunday and accepted what we were taught. I believed because I knew it was the right thing to do, but my heart missed the lesson on exactly why. One of us grew up among the rocky waters of poverty, forced to mature well beyond her years as she and her mother navigated a world that wouldn't cut them a break. She didn't make it to Mass every Sunday but she had, and still has, something I've always wanted -- a real, no-holds-barred relationship with God -- a sincere, back-and-forth, vulnerable, you've-got-a-friend connection that is not confined by the fear of having to do everything right. And one of us is a learned woman, an old soul of sorts, constantly seeking answers and fighting against the current of logic that pulls at her understanding and belief of that which is unexplained in human terms. And then, of course, there's Arlo, the group mascot, an adorable, dark black poodle with the face of a stuffed animal -- a lucky dog to be privy to our shared wisdom each week. We are a motley crew at best, but these sisters of mine have taught me much in our time together.
There is nothing more cathartic than sitting among friends with whom you are comfortable asking the questions you know there are no answers to, exposing the most vulnerable parts of your heart, revealing struggles with faith, trust and surrender and laying your flaws before one another, knowing you are loved despite them-and sometimes, maybe even because of them. God never intended us to figure this life thing out on our own. I am learning that it is through this kind of sharing that God's word continues to be the Living Word. Our own lives, our questions, our fears-unknowingly and unintentionally, we bring life to His word and He, in turn, continues to breathe life into each one of us through the messages hidden among the apple tree and the animals in the ark (two of each, of course). Step out in faith and bring life to His word. Flaws welcome.
---
Copy right, 2018, Nicole Johnson
About the Author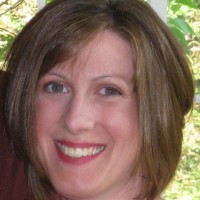 Nicole and her husband have been blessed with three children. Nicole markets the mission of a non-profit that provides early therapies for children diagnosed with developmental delays. She and her husband serve on the board for the New England chapter of Bethany Christian Services, a national adoption agency. Nicole's family advocates for life, adoption, and embracing children with special needs. Visit her blog at Joy in the Journey.