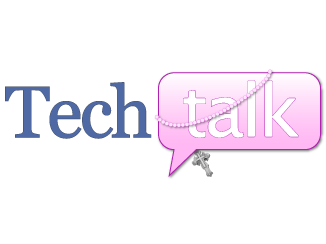 Today's Catholic Blogger, Jennifer Fitz, has a passion for writing, which is why she blogs. And she's good at it. She's been blogging for a number of years and some of the old dogs I know (pointing to myself) look to her for tips and insight and a laugh or three.
Jen's like so many of the other Catholic moms I know: integrating faith into all the things she juggles. She homeschools her kids, runs a thing or two for her parish, writes books, teaches, writes in a bunch online, reviews books, and more.
She's the vice president of the Catholic Writers Guild and has been maintaining that blog for quite a while. But my favorite writing of hers, aside from what she writes here at CatholicMom, is what she writes at her own blog, Riparians at the Gate.

So, with that, let's chat with her, shall we?
Tell us about your blog in five words or less.
I like to write stuff.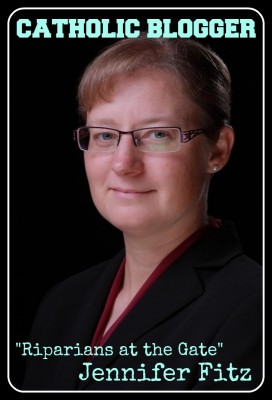 Why did you start blogging?
I started blogging, anonymously, as a way to practice writing for an audience. My children were very young, but I was at a stage in my life where I felt this nagging need to transition to doing something "more" professionally. I asked a friend to pray for that intention, and next thing you know another friend had pointed me towards blogging
Why do you keep blogging? What's your inspiration to continue?
I have so much to say! I love blogging because no one is ever forced to read my work. You can come and see what I'm thinking about, or you can completely ignore me. I like that.
When you think of the New Evangelization as a Catholic blogger, what excites you? What makes you want to continue?
I like that people can sneak around St. Blogs and sip the Catholic water in the privacy of their own home. It's a lot like Catholic Radio or TV, except that it's silly cheap to produce, and so much more personal.

As an avenue for evangelization, small blogs in particular are so important. The could-be Catholic can settle in with a comfortable friend and build an online relationship in the combox, get some mentoring . . . there's so much that can happen via the quiet corners of the internet that just can't or doesn't happen elsewhere.
What's the most rewarding aspect of your blogging?
When I post about the real struggles of being a Catholic mom, whether it's homeschooling or parenting or housekeeping or whatever, and someone says, "Thank you so much for saying that! I'm so relieved to know I'm not the only one!"
In your spare time, what are we likely to find you doing?
Other than goofing off on the internet? Reading a book. Writing something just for fun. Playing outside.
Want more Catholic Blogger interviews? Here you go.
Read more of our Tech Talk columns.
Copyright 2014 Sarah Reinhard