Editor's note: Follow Lisa on Facebook and Instagram to see the many photos and stories she's posting from her Unbound Adventure. Don't forget to "like," comment, and share -- that's the best way to spread the word about Unbound.
Can you remember the very first time you or your child traveled? How about the first time you went to a zoo, slept in a hotel or even used a camera to take a photograph?
The past few days, we Unbound sponsors were treated to the joy of being witnesses to these "firsts" as we welcomed our sponsored friends to a few days of fellowship in and around Nairobi. I remember the first "fun day" I experienced with sponsored children in the Philippines a few years ago - how every experience was filled with "wow."
Yesterday, we traveled to "Mamba Village", a wildlife center featuring not only interactive exhibits with crocodiles, tortoises, and ostriches, but also a bevy of other attractions. What a joy to see nine-year-old Lucy, sponsored by Kurt, emerge from her shyness and shine like any girl having the time of her life. One of the features of the village was a set of iron "rides" -- a mix between our playground attractions of old (think sort of amped-up merry-go-rounds) and small carnival rides. One of the sponsored elders, a man most likely in his seventies, rode every attraction with a broad smile beaming for all to see. We don't share a common language with most of the elders, which can make conversations tricky, but the common bond of joy translates into any language.
Lisa bonds with a new friend at the Mamba Village. Copyright 2018 Lisa M. Hendey. All rights reserved.[/caption]
Fun Day is an important way for sponsors and elders to enjoy "firsts" together (first time holding a baby crocodile, first time riding a camel, first time having your face painted …). But it's also simply a way to see our sponsored children be children. Most of them have come dressed in their
Sunday
best, donning their most respectful manners. To witness them run and play is to have a peek into what their everyday life looks like. The sponsors next fan out into their homes and communities to see even more of this vantage point. But "Fun Day" provides a day full of memories that for many of these children won't be repeated any time in the near future.
Personally, I spent most of Fun Day running around, trying to capture as many images and interviews as possible. A personal treat was holding a baby crocodile, which strangely felt far softer than I'd expected. I ran the circuit where camel rides were being given, laughing loudly every time the riders would squeal as the camel stood up from or returned to its kneeling position for mounting and dismounting. It's funny every time!
I loved watching one sponsor teach his sponsored friend how to shoot photos with a fancy camera. I loved seeing a sponsor who is a Dodger's fan chat with his sponsored teen as they both sported matching baseball caps. And I love hugging, squeezing and posing for selfies with every elder possible. Their compassion, wisdom and pure joy light up my heart.
After Fun Day, a group of us traveled to one of the local "informal communities" (what we might refer to as the term "slum") to visit the homes of local mothers of Unbound sponsored children. Once again, weaving through the narrow walkways between a hodgepodge of shack-like structures which have sprung up over time, I found myself not frightened but awed. The three women who invited us into their simple homes were proud to welcome us. They did not scurry to tidy up or apologize for the mess as I do on those infrequent moments when guests drop by unexpectedly. Instead, they proudly welcomed us, pointing to family photos, sharing their children's school experiences, and beaming at the thought of having us in their homes.
Most of the families living in the community we visited live in very simple one or two room shelters. They have tin roofs. The main living space is arranged to focus on togetherness: chairs or a couch arranged in "living room" style. But this room also serves as kitchen, family room, study room and in most cases also bedroom. The entire space is typically the size of my small hotel room. Pictures and posters frame the walls. Most have electricity. Meals are cooked over a small charcoal grill. Water is purchased, carried into the home and used sparingly.
Since those who live in informal communities do not own the land or even honestly have permission to build in these places, they can be forced to leave their homes at any time. This seems to sadly be the likely future for one of the moms who welcomed us yesterday. Married to an older man and raising four school-aged children, she has been informed that she may soon lose her shelter to the nearby highway expansion project. She fears for her children, for the fact that they may have to leave their school. She fears the loss of her friends and the home she has known. She fears the unpredictability of the unknown. But like every Kenyan woman I've met to date, "Mama" is strong and resilient. And blessedly, while her community may be "informal," it is one of the most neighborly places I have ever known. I have to trust that if the worst happens and she is forced to leave, between Unbound and her neighbors, Mama and her children will be cared for.
Today is a new day with new adventures awaiting, so it's time to sign off and hit the road. I hope that if these posts are blessing you, you'll consider sharing them. Be sure to follow me on social media using hashtag #UnboundAdventure for images, videos and sharings from my fellow sponsors.
For More Information:
---
Copyright 2018 Lisa M. Hendey
About the Author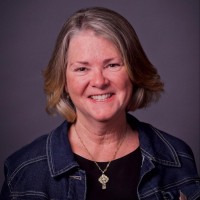 Lisa M. Hendey is the founder of CatholicMom.com, a bestselling author and an international speaker. A frequent radio and television guest, Hendey travels internationally giving workshops on faith, family, and communications. Visit Lisa at LisaHendey.com or on social media @LisaHendey for information on her speaking schedule or to invite her to visit your group, parish, school or organization. Visit Lisa's author page on Amazon.com.