Editor's note: Follow Lisa on Facebook and Instagram to see the many photos and stories she's posting from her Unbound Adventure. Don't forget to "like," comment, and share -- that's the best way to spread the word about Unbound.
The disciples approached him and said, "Why do you speak to them in parables?" He said to them in reply, "Because knowledge of the mysteries of the kingdom of heaven has been granted to you, but to them it has not been granted. To anyone who has, more will be given* and he will grow rich; from anyone who has not, even what he has will be taken away. This is why I speak to them in parables, because 'they look but do not see and hear but do not listen or understand.' Matthew 13:10-13
Today, we were gifted with a poignant example of the power of story by a young Unbound graduate in Meru. "James" strode into the center of our Meru gathering with our sponsored children and elders clad in blue shorts and a white shirt, holding a makeshift soccer ball as a prop. Eschewing the microphone, he began to weave a tale of a man named "Jameson" who was so ugly and so ungifted that he was the laughingstock of his entire neighborhood. As James used Jameson's hilarious story to make a point about the power of Unbound to change lives, I watched the faces of his audience. This moment was different from the many speeches we've heard here in Kenya because it was a parable of sorts, a fascinating yarn crafted to convey a moral message. Ugly "Jameson's" story had a happy ending when his child was given hope in the form of Unbound sponsorship. "I am Jameson, you are Jameson, we are all Jameson," James shared with animation. We are all in need of help in some way. We each have the power and duty to help a friend in need. With love, there is hope for all of us.
Copyright 2018 Lisa Hendey. All rights reserved.[/caption] As the crowd rewarded James the storyteller with a wild standing ovation, I pondered the power of storytelling. Our Unbound sponsors were seated all around me, telling and hearing stories of their own. Here in Unbound's Meru project, nearly 7,000 children and elders are sponsored. Yesterday's celebration brought together not only sponsors and their sponsored friends, but also two very large Unbound Mothers and Fathers groups. Under the hot midday Meru sun, after the welcoming rituals, song and dance performances and formal speeches concluded, we had open time to simply enjoy one another's company. The stories flowed freely. Unbound staffer Jennifer recounted to me how the elder she sponsors (also named "Jennifer") shared a story about the day she was married. I watched sponsor Thomas hold the attention of his four sponsored young men in the palm of his hands with his stories. Those of us who do not have a friend to visit here passed the time with stories of our own. Every sponsor on this trip has a story, a reason for their involvement with Unbound and a tale about how and why they wanted to come to this beautiful country. Stories surround us every day in Kenya. Whether they are shared in formal gatherings like the one we had yesterday or passed along as we sit in someone's simple one-room home or bump down the dusty highway in our bus, the stories never cease to inspire and move me. Many of the stories are happy "success" stories: a sponsored child who has benefitted from an education, a mother who has been able to start her own business to feed her family, or an elder who no longer feels isolated thanks to the support they receive through Unbound sponsorship. Other stories rip at my heart: the many young women here who are abandoned or neglected by husbands and left to raise children on their own... or the young men who cannot afford a dowry and must wait years to marry... or the student who must leave school to farm because she cannot afford school fees... or the family living in the slum who will lose the only home they have known to forced resettlement... These are the stories that make me pause and ask myself, "Am I doing enough, Lord?" Jesus employed his parables--stories meant to educate on particular moral points--as a means of underscoring his most important messages. We may not remember our scripture by heart, but most of us are able to recount the reconciliation story of the Prodigal Son or remember the generous of heart of the Good Samaritan. Jesus' stories have always had the power to capture our attention, to help us understand challenging truths, and to be moved into action. I think the stories I am hearing here in Kenya are the motivating factor that inspires me to rise as the rooster crows outside my window to share these small musings with you. The stories of Kenya and her people are bright and engrossing, but all too often needlessly heartbreaking. Here, I see firsthand the potent gift of what an Unbound sponsorship can mean in the life of not only a single child or elder, but also on the lives of their whole community.
Copyright 2018 Lisa Hendey. All rights reserved.[/caption] I sat today with two amazing Unbound sponsored young ladies, cousins who both presented small speeches to us at our gathering. Brenda, the older cousin and an Unbound program graduate, came to tell us about how she will be pursuing higher education in electrical engineering. During her "thank you" speech to the sponsors, Brenda shared how she had overcome illness and hospitalization and was able to continue her education. "God was my nurse," Brenda said, giving all the praise for her ability to excel in school to her creator. As I sat chatting with Brenda after her presentation, her younger cousin Glory looked at her with bright eyes. "I will be a lawyer," thirteen-year-old Glory shared. Glory is confident that thanks to Unbound sponsorship, she too will have the means to pursue her dreams as Brenda has done. And of course, I told Glory the story of my own sister, Erin, who is not only an important lawyer but also a caring mother and a trusted friend. "Erin," Glory giggled, struggling to pronounce the name of the champion of my story. "I will be just like Erin," Glory proclaimed. Thanks to Unbound, I believe Glory's story will have a happy ending.
For More Information:
---
Copyright 2018 Lisa M. Hendey
About the Author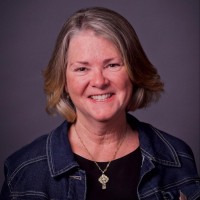 Lisa M. Hendey is the founder of CatholicMom.com, a bestselling author and an international speaker. A frequent radio and television guest, Hendey travels internationally giving workshops on faith, family, and communications. Visit Lisa at LisaHendey.com or on social media @LisaHendey for information on her speaking schedule or to invite her to visit your group, parish, school or organization. Visit Lisa's author page on Amazon.com.