I'm not much into family "talks." Maybe because it's something that never happened in my family of origin. Maybe because I immediately envision Mike and Carol Brady seating their wide-collared and mini-skirted brood on their groovy family-room sofa. Whatever the case, we don't do these family "talks."
A family "talk" seems like an event. And who would make an event of talking about phones and video games? It's not as if they're something new. We've been steeped in them as a culture for more than a generation now.
And that immersion is probably part of the problem.
In
The Tech Talk: Strategies for Families in a Digital World,
Michael Horne, PsyD, makes the case for such a talk. Using examples from his clinical practice, he examines the practical effects of too much digital consumption. While his focus is on children and teens, he expands his examination to the entire family.
For those who aren't acquainted -- even if they think they are -- Dr. Horne covers some of what today's children and teens encounter through their mobile devices, home computers, gaming systems, and social media. Extra pages are devoted to the widespread consumption of pornography and its effects.
Nothing here surprised me as my husband and I are fairly well versed in what's "out there," and what dangers lie beyond the screen. What got me was the author's gentle call to accountability. As a parent himself and a purveyor of digital devices, Dr. Horne understands the reality of modern family life, communications, and parenting. He knows what it's like to deal with pouty children and bored toddlers. But he's also seen the results of parents taking the easy way out and handing over a device.
Never judgmental, Dr. Horne calls parents to be accountable. His advice to listen to that subtle nagging is what got me.
"If we have an unsettled feeling when we let the kids take the tablets to watch a movie so that we can clean the house, we want to be listening to those feelings."
Substitute video games for the tablets and writing/writing-related tasks for the cleaning (because let's be honest, my house doesn't show much evidence of cleaning), and that assertion hit the bulls-eye. Ouch.
Dr. Horne doesn't take an extreme approach. He neither advocates banning all technology nor letting the kids do as they please. Instead, he suggests an initial two-week family fast and then adopting reasonable measures that the family can agree on.
The book, available from Our Sunday Visitor Publishing, is short and easy to read, and each chapter includes questions for reflection.
If you'd like a little help in keeping your priorities straight; if you want to make sure your family values real relationships over digital ones; if you want a rich life for your children, open to genuine life and love, then you'll be well served by
The Tech Talk
. Even if you've never had a family "talk" before.
Read more of our Tech Talk columns.
---
Copyright 2018 Carolyn Astfalk
About the Author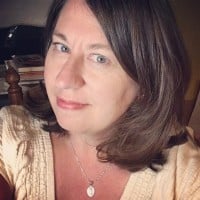 Carolyn Astfalk is a wife, mother of four young children, and a writer. Her contemporary Catholic romances are available at Amazon.com. She is a member of the Catholic Writers Guild, a Catholic Teen Books author, and blogs at My Scribbler's Heart. Visit CarolynAstfalk.com.