Side by Side: A Catholic Mother-Daughter Journal
by Lori Ubowski and Ava Ubowski has created a wonderful opportunity for my oldest daughter and I to connect regularly. Amid the busyness of trying to tend to the needs of four kids at various ages and stages, it's easy to overlook the individual. This journal has forced me -- in a good way -- to focus on my daughter alone for a little time each day.
Visually, this journal is very appealing! My daughter Felicity, who is almost eleven, loves the hand drawings, splashes of color, and the fun presentation. The journal includes helpful prompts using saint stories and scripture. Some answers roll right off the tip of the pen, and others require us to think and reflect. The space for doodling and drawing is simply fun! When it's complete, my daughter and I can treasure this shared journal for many years to come! And more importantly, we can treasure the time we spent working on it together, getting to know one another and our faith better with every page. I foresee purchasing another copy of
Side by Side
in the future. My seven-year-old daughter is already asking if we can do a journal together as well!
Courtesy of Ave Maria Press. All rights reserved.[/caption] My daughter Felicity had the opportunity to interview Ava Ubowski about her experience co-authoring the journal:
Where did the idea for the book come from?
My mom and I started using a journal to strengthen our communication and relationship. We liked the idea of it, and the things it prompted us to write about, but we noticed that there was no mention of faith. That's how we got the idea to write our own, but based on our Catholic faith and our relationships with Jesus.
Where did you get the ideas for the activities in the book?
We brainstormed different ways to do something creative together. Drawing, coloring sheets, crossword puzzles, and fun scenarios that mothers and daughters could do or plan with each other were some of the ideas we came up with together.
What did you have to give up to devote time to writing?
We gave up a little sleep now and then for late-night writing and scheduled time on the weekends in between family activities. On Saturdays and Sundays we would escape the noise of our house and work on our writing at different coffee shops and restaurants.
How did you divide the writing between you and your mother?
We each wrote a few paragraphs for our reflections at the beginning of each section, and my mom wrote out the stories of the saints and bible characters. We also wrote our own prompts for the moms or daughters, and we came up with the creative sections together.
Did you and your mother have a better relationship after you finished writing the book?
We definitely developed a stronger relationship while writing the book and we had lots of fun and quality time coming up with the questions and prompts. I would say that we had a great experience writing it together.
How does it feel to be a published author?
It's very exciting to have published a book at the age of twelve, and I'm still very surprised and grateful that we had the opportunity to write it. I am very hopeful that our book helps many mothers and daughters develop a better relationship with each other and with Jesus.
Would you like to purchase your own Side by Side Journal? Our friends at Ave Maria Press have a Black Friday sale, today through Sunday, November 25.
Use coupon code BLACK18 to receive 35% off your entire purchase: that includes this journal, CatholicMom.com books, and any other books at
AveMariaPress.com
!)
---
Copyright 2018 Carolyn Astfalk and Felicity Astfalk This article contains Amazon affiliate links; your purchases through these links benefit the author.
Courtesy of Carolyn Astfalk. All rights reserved.[/caption] About the coauthor: Felicity Astfalk is in fifth grade and attends Seven Sorrows of the Blessed Virgin Mary School in Middletown, Pennsylvania. She lives in Hershey with her mother, father, sister, and brothers. Felicity enjoys softball, 4-H, and playing the clarinet. Over the summer, she likes to raise Monarch butterflies.
About the Author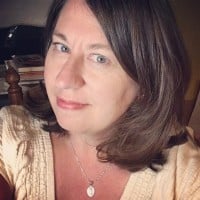 Carolyn Astfalk is a wife, mother of four young children, and a writer. Her contemporary Catholic romances are available at Amazon.com. She is a member of the Catholic Writers Guild, a Catholic Teen Books author, and blogs at My Scribbler's Heart. Visit CarolynAstfalk.com.