Editor's note: Follow Lisa on Facebook and Instagram to see the many photos and stories she's posting from her Unbound Adventure. Don't forget to "like," comment, and share -- that's the best way to spread the word about Unbound.
We began today with a love song. Since song and dance are woven into the fabric of everyday life in Kenya, it's become a tradition that at many of our daily Unbound functions, we are greeted with musical entertainment. Today, was no exception, when the elders and mothers of Unbound's Nanyuki subproject not only sang and danced for us but invited us to be a party of the party by inviting us into the celebration. But it turned out to be a love song that was stuck in my heart all day. Unbound team member Simon Peter, who has already stolen our hearts with his ready smile and generous heart for the youth he serves, taught us to sing the traditional love song Malaika. (Under normal wifi considerations, I would post a YouTube link here for you to enjoy this beautiful anthem. But since that's not possible today, I urge you to go and find a video for yourself.) This song dates to the 1940's and is sung in Swahili. The song's voice is that of a young man-desperately in love-who cannot win the hand of his beloved because he is unable to raise enough money to pay her dowry. "Angel," he sings to his beloved, "I love you angel …" Incapable of raising the "bride price," the singer is defeated in love and loses his bride.
Malaika, nakupenda Malaika Angel, I love you angel Malaika, nakupenda Malaika Angel, I love you angel Nami nifanyeje, kijana mwenzio and I, what should I do, your young friend Nashindwa na mali sina, we, I am defeated by the bride price that I don't have Ningekuoa Malaika I would marry you, angel Nashindwa na mali sina, we, I am defeated by the bride price that I don't have Ningekuoa Malaika I would marry you, angel
I found it sad but true that the very lyrics of this song, which sound so very dated to us as the would-be groom laments missing out on the love of his life, are actually a true story in Kenya today. Here, dowry payments are still a normal part of the marriage process. I have so much yet to learn about Kenyan culture, but I do believe that this accounts for the large number of unmarried mothers we are encountering in our travels. I'm in no way passing judgment here. But I was shocked that in 2018, many young men and women here still have to delay formal marriage for many years while the man works to pay a hefty sum to the parents of the bride. The lyrics to Malaika haunted me for most of the day, as I imagined my own sons or my husband as the singer of this tragic tune. But we didn't only sing sad love songs today. Our rowsing dance party with the men and women of Nanyuki subproject brought together varying cultural and religious perspectives to celebrate. Our Unbound leader Amos taught us that songs mark every aspect of Kenyan life: joyous births, rites of passage, marriage, and even death. Songs pass news between communities. Songs mourn and celebrate. So, while we surely do a terrible job of mimicking the Swahili lyrics, we do our best to be a part of every song that is sung to us. And at Nanyuki, we sponsors experienced the transverse of this as we gifted our hosts with unrehearsed but heartfelt choruses of Amazing Grace and You Are My Sunshine. Unable to repay our hosts' kindness with material things, we gave them a piece of our heart in song. After hugging our new Nanyuki friends goodbye, we set off on a variety of home visits to families served from the subproject office. I was able to visit Sarah, a beautiful mom of three children who runs a seamstress business from her home. Sarah crafts school uniforms and lovely custom-made dresses on a manual Singer machine. Her hems and pleats, perfectly pressed into place with a charcoal iron, stand at attention. I haven't seen such intricate craftsmanship since the days when my mother would sew dresses for my sisters and me. Sarah, quiet but compassionate, welcomed us into her simple two room home with an open heart. She shared some of the struggles of parenting on her own, running her business, but also how being a part of Unbound has blessed and lifted up her family.
My visit with Sarah. Copyright 2018 Lisa M. Hendey. All rights reserved.[/caption] I tried to ponder what Sarah's "song" might be on the playlist of the day, which had already featured Malaika, traditional dances from the Nanyuki elders, upbeat Kenyan pop, and our own poorly sung melodies. For some reason, "I Will Survive" seems to fit. Sarah, like so many of the women we have met in Kenya, seems to have many odds stacked against her. Yet, out of love for her family, she wakes up every day determined to make a brighter future for her children. For me, the joy of being a part of the Unbound family is the opportunity to be one tiny little "word" in Sarah's lovely "song". I hope that if these posts are blessing you, you'll consider sharing them. Be sure to follow me on social media using hashtag #UnboundAdventure for images, videos and sharing from my fellow sponsors.
For More Information:
---
Copyright 2018 Lisa M. Hendey
About the Author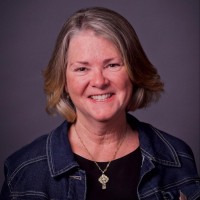 Lisa M. Hendey is the founder of CatholicMom.com, a bestselling author and an international speaker. A frequent radio and television guest, Hendey travels internationally giving workshops on faith, family, and communications. Visit Lisa at LisaHendey.com or on social media @LisaHendey for information on her speaking schedule or to invite her to visit your group, parish, school or organization. Visit Lisa's author page on Amazon.com.