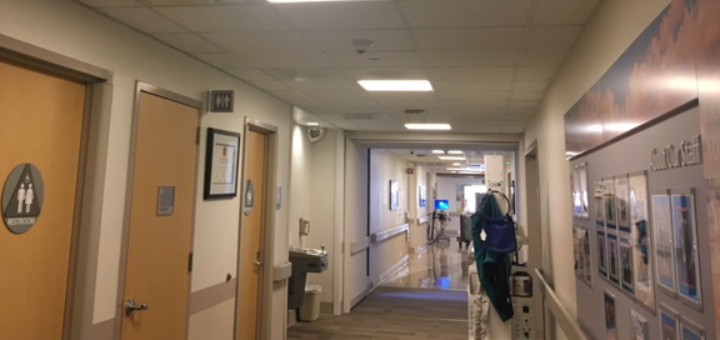 Copyright 2018 Courtney Vallejo. All rights reserved.[/caption] I'm embarking on the stages of caregiving for my dad. My mother passed away after I graduated college and while I've tried to check in on my dad over the years, it's different now as he ages. I feel too young to begin this journey with my dad, as he and my mom were so much older as their parents declined. It's even stranger because we assume that modern medicine and diet would keep us healthier longer, but in my case, I'm younger than my parents when they began the care-taking of their parents. This just gives me yet another reason to work on diet and exercise. My dad called me to let me know he was having surgery and wanted me to be present for the procedure. He lives 8 hours away, so it was going to be a stretch to travel, but I knew it was necessary. He tentatively planned the surgery for the same time as our spring break, making child care a lot easier since my husband is a teacher and we were already planning to visit my dad during our break. Then I got the call that the survey had moved up by a month. I homeschool our kids, so childcare is trickier because I need to find a place for them to go during the weekdays. When my dad told me the date for his surgery, I realized it was the same day as the IEP we already scheduled for one of my own children. Rearranging a school district meeting seemed undoable but I just approached with the attitude that I was not going to miss either event and that the IEP would have to be rescheduled. My dad was having surgery and I had to be there. Luckily my children's school district is small and wonderful, and they were able to make the accommodations. Next came the timing of the surgery. My husband had two uniquely busy weeks on either end of a slower week and the surgery was scheduled for the slower week. While I was grateful for the scheduling, it still meant traveling during our quiet moments at home, but I reminded myself I needed to be there. Finally, came telling my kids. I didn't let them know until a few days before as mine have a tendency to backlash when they feel left and I assumed they'd take out some frustration on me for "leaving them." Again, homeschooling has us home together all day and needing to get work done, so I couldn't risk the meltdowns. When I finally told my kids, some didn't say much but one really struggled. The interesting part for me, in terms of parenting this next generation, is we encourage our children to express their feelings. Growing up, I felt like I was just told what to do and when to do it. I wasn't asked if I agreed, disagreed or had any opinion on the matter. While I much prefer the freedom I try to allow my children to express emotions, sometimes I want to pinch myself when I want to respond to their whining with "I'm the mom, that's why and I didn't ask if you liked it or not!" And admittedly there are times that that comes out, regrettably. Any way, the day before I left one of my children was in full-force battle all day and finally they broke down, saying, "I just don't want you to go." While it's hard to juggle their emotions, it brings me such joy to know that this little child is able to understand themselves and their actions in ways that I am still unable to, closer to 40. It's hard to leave my hisband and kids. I wanted to write out a schedule and plan meals and try to control everything so they wouldn't notice I was gone, but that was a task I did not have the energy for and it's unavoidable that they'll notice my absence. A Costco bulk-up trip ensured there's at least snacks and pre-made dinners. Laundry is clean but in baskets on the fireplace, and I'll just keep reminding my husband of the schedule when I call to check in. Today I leave my children in the hands of my husband and my community. My girlfriends will be taking turns shuttling and caring for my kids, and since they're moms they know to go that extra mile to check in with the kids and hand them an extra snack. I tried explaining to my 5-year-old that I had to go help my dad. That even though I was all grown up and had my own family, that he's still my family and he needed me. His response was that he just wanted me and daddy home together. I do too, buddy, I do too! I pray that my trip can be a trip of service. A time to be with my dad and I time to support him. Both my husband and I mentioned to our children that someday, we may need them. We pray that we'll stay healthy, we'll have each other to care for one another but who are we to know. I know they'll be just fine, spoiled by husband and my friends and have their own great memories from the week. It's just hard to leave them. So in these moments I'll be thankful. Thankful I can go, thankful I have a loving family that I'll miss. Thankful I have the resources to make the trip possible and thankful for some alone time to sit on a quiet plane and write. I'll try to let go of the fear I have of flying and that I something will happen while I'm gone. I'll entrust my family and myself to my God and remember that He's in charge even in the never ending freeway traffic, those fun security lines and that awful ear-popping feeling. Like why can't they just land the plan already and if you're gonna taxi for 20 minutes, you'd better be driving this plane right to my car! And please, please make my carry-on bag fit so I don't have to check it and wait at baggage claim! Oh yeah, and please, dear God, let the plane land safely, crummy snacks and all!
---
Copyright 2018 Courtney Vallejo
About the Author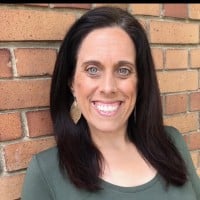 Courtney Vallejo is a convert to the Catholic faith, who is currently living in Arizona. She and her husband, homeschool their three adopted children. She is the cofounder of AMomRevolution.com, whose mission is to inspire, encourage, and reclaim joy in motherhood. She also writes for her own blog, CourtneyVallejo.com. Courtney holds a Master's degree in Film Production and a California Multiple Subject Teaching Credential. Follow her Gluten Free/Dairy Free adventures on Instagram: @aglutenfreerevolution.