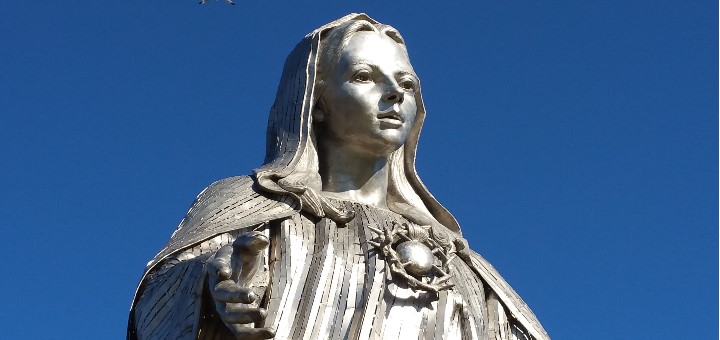 Our Lady of Peace in Santa Clara, CA. Copyright 2018 Marge Fenelon. All rights reserved.[/caption] As I've been making my way around the country over this past year with my Marian Pilgrimage project, I've been amazed time and again by the beauty of the sites and the fervor of the people who visit them. Each has its own atmosphere, landscape, structure, and methods. At each stop, I've been filled to overflowing with graces and blessings. But the one thing that amazes me most is that at each pilgrimage site, our Blessed Mother bears a different title and projects a different identity, so to speak. She works differently from each spot and has a separate mission there for her children. She even bears a different title at each one. And yet, she remains the same – she is always the same Mother. Perhaps to you, that seems matter-of-fact. It used to be matter-of-fact for me as well, but as I continue my journeys, that's no longer the case, and it fascinates me. How can a single woman be so many things to so many in so many places? In a sense, it's like the Litany of Loretto. Each title is unique and beautiful and yet each refers to Mary. When I pray the Litany, I think to myself, Yes, of course, she's this and this and that. She's the Mother of God! That's not to discredit her magnificence but rather the consequence of my having taken for granted her extensive gifts. Traveling physically from Marian shrine to Marian shrine has changed this for me. It has brought these titles to life, placing them in a reality with which I can tangibly connect. Let me give you couple of examples. At the Shrine of Our Lady of the Martyrs in Auriesville, New York, she is the compassionate woman who suffered along with those who were tortured, maimed, and murdered for the Faith. She's the woman who gives courage to those who face dangers and insurmountable odds. At that shrine, there is a deep, deep sadness because its land is soaked with the blood of the martyrs. It's also a place of deep, deep consolation because those who visit intuitively know that as she was there for the North American Martyrs, she will be there when they need her, too. At the National Shrine of Our Lady of Good Help in Champion, Wisconsin, she is the educator who wants her children properly catechized. She is the defender and promoter of Church teachings. Thus, in her appearances to Adele Brise in 1859, she instructed the young woman to "teach the children their catechism" in order to reverse the dilution and loss of the Faith in the Northwoods wilderness. Mary's wishes have become the mission of that shrine. At Our Lady of Peace Shrine in Santa Clara, California, she is the woman who stands against the tide of worldliness. Rising 120 feet from the ground in the middle of Silicon Valley, she beckons to her children to come to her, not for herself, but rather in order to lead them to her Son, whose Presence in the Monstrance is perpetually adored in the nearby church. At the Shrine of Our Lady of Sorrows in Starkenburg, Missouri, she is the companion of those who toil and/or are subject to uncertainties beyond their control. From there, she tended to the German immigrant farmers in the 1800s, twice performing miracles when their crops were threatened. She waits there, quietly, patiently, for those who need to unload their burdens and place them before her. These are just a few of the places I've been and will travel to in the coming months. Remarkably, I experience her completely differently at each place. It's almost like meeting a brand-new person each time. In a way, I am. But, when I look into her eyes and I find myself pouring out my heart to her, I realize that no matter the atmosphere or mission, she is still the same Mother.
---
Copyright 2018 Marge Fenelon
About the Author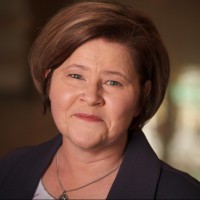 Marge Steinhage Fenelon is a wife, mother, award-winning author and journalist, retreat leader, internationally-know speaker, podcaster, and Catholic media personality. She's author of the best-selling Our Lady, Undoer of Knots: A Living Novena, award-winning My Queen, My Mother: A Marian Pilgrimage Across America, Forgiving Mother: A Marian Novena of Healing and Peace and other books on Marian devotion and Catholic spirituality. Learn more at MargeFenelon.com.