Welcome to the March 2018 edition of An Open Book, hosted both at My Scribbler's Heart AND Catholicmom.com! An Open Book is all about what my family is reading this month, from the adults down to the little kids. Share what you're reading by linking up your blog post below. Simply write about what you're reading. You can make it personal or, as I do, extend it to the whole family. Your post can be as simple as a few lines about the book or as in-depth as a 700-word review. That's entirely up to you. You can even forego writing all together and record a video or simply post cover photos. No blog? No problem. Please share what you're reading in the comments.
In the car and as he moves about the house in the early morning and late night, my husband has been listening to Grit: The Power of Passion and Perseverance by Angela Duckworth. The author examines, through research and interviews, what she's found to be the key to success in a wide variety of endeavors ranging from spelling bees to business, independent of a person's intelligence or circumstances. It's a mixture of characteristics she calls "grit."
It wouldn't be An Open Book without a Star Wars book, now would it? My husband also just completed Phasma: Journey to Star Wars: The Last Jedi by Delilah S. Dawson. Captain Phasma is a First Order officer, and this is her story. Apparently there's more to her than a gleaming chrome helmet.
I've read so many good books lately,
including the historical romance The Lacemaker (Laura Frantz), the contemporary romance novella The Cupcake Dilemma (Jennifer Rodewald), and advance review copies of Theresa Linden's Anyone But Him and Amanda Lauer's A Life Such as Heaven Intended (both coming next month).
As for what I'm currently enjoying, Tammy L. Gray's Until I Knew Myself, the first book in her Brentwood Series, is open on my Kindle. One of the things I love about her contemporary romances is that she's not afraid to address life outside a Christian bubble. I'm only at the beginning of the novel, and while I know it will include a redemptive theme, these characters haven't a hint of God in their lives (and it shows). Looking forward to seeing how this group of wayward childhood friends find their way to peace.
I'm also listening to a book I previously read in 2013:

Love's Reckoning

, also by Laura Frantz. I'd never read beyond this first book in the Ballantyne Legacy series, and I'm refreshing my faulty memory before completing the audiobook series. The first book takes place in the post-Revolutionary War period close to where I now live. The series moves from York County, Pennsylvania to what's now the Pittsburgh area (where I grew up). I'm looking forward to enjoying this story of a Scottish blacksmith apprentice and the daughter of the master blacksmith a second time.
I'll say right off the bat that my children are being much better educated than I was. Much. As a classics major, I've never read a Greek tragedy, yet these are not even my son's first. He is reading them as part of his Humanities courses. He recently read Agamemnon by Aeschylus, and he's recounted the bloody tale for me several times while studying. (And let me say, there are some startlingly funny Agamemnon/Taylor Swift memes out there. Think "Bad Blood.")
He's now beginning Oedipus the King by Sophocles. Spoiler alert for the tragedies: there will be blood and a slew of bodies on stage by the end of the play. And now I understand what an Oedipus Complex is.
My Revolutionary War-period fan just completed Johnny Tremain: A Story of Boston in Revolt, a Newbery Medal winner by Esther Forbes. My daughter really enjoyed this book, which she said is about an orphaned and injured silversmith finding his place in the world. John Hancock and Samuel Adams make appearances. While the recommended grade level is 5-7, I think I'd like to read this one myself.
My daughter is also finishing a book she picked up on the recommendation of a friend: The Girl Who Threw Butterflies by Mick Cochrane. The title is a reference to a baseball pitch, as the main character, Molly Williams, joins the (boys') baseball team in the wake of her father's unexpected death.
I recently purchased Jean Schoonover-Egolf's third entry in the Molly McBride series, Molly McBride and the Party Invitation: A Story About the Virtue of Charity. The bright illustrations kept my kids engaged in the story about a little girl who is reluctant to invite the class bully to her birthday party. Understandably so. What follows is a difficult lesson (for children and grownups) in loving others as Christ loves, despite their flaws.
One of my little boy's longtime favorites that was brought out again last week is The Pout-Pout Fish in the Big-Big Dark by Deborah Diesen and Dan Hanna. We enjoy the rhyming, repeated text, and the illustrations are colorful, clever, and fun to linger over. Our copy is well-loved (read: tattered). One quibble with this book: the plot involves a fish trying to recapture a missing pearl for a clam. A clam. I suppose "clam" is easier to rhyme than "oyster," but pearls come from oysters, and let's not forget it. Even more disturbing, not a single Amazon review mentions this error. Perhaps we all need a lesson in bivalve mollusks. [inlinkz_linkup id=768485 mode=1] Want more details on An Open Book? You can also sign up for An Open Book reminder email, which goes out one week before the link-up.
Check out the archives of An Open Book!
---
Copyright 2018 Carolyn Astfalk
About the Author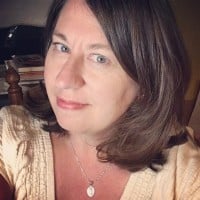 Carolyn Astfalk is a wife, mother of four young children, and a writer. Her contemporary Catholic romances are available at Amazon.com. She is a member of the Catholic Writers Guild, a Catholic Teen Books author, and blogs at My Scribbler's Heart. Visit CarolynAstfalk.com.