As I flipped through a recent mailing from Ignatius Press, three new children's books captured my attention, and I was thrilled to find out soon after that I would have an opportunity to receive review copies. We have five girls from newborn to 15 years old, and the books will be good resources to nurture their faith at different stages of development and provide opportunities to have faith-centered interactions as a family. Though not marketed for adults, my husband and I both enjoy reading them with our girls and recognize we can learn from them as well.
My Picture Book of the Catholic Faith by Maïte Roche Of the three, this book is marketed to the youngest age level, listed as ages 3 and up. However, as a educator with a background in literacy, I know the value of interactions with books from the start of life, so this will be a resource that we will read to and discuss about the pictures with our newborn and 2-year-old. As they grow, they will be able to understand at greater depth. While not a board book, the book has a padded hardcover with sturdy, thick pages, making it ideal for interactions with young children. It includes a range of topics, starting with God Is Love and God Gives Life. Then it addresses biblical stories from salvation history, moments from the gospels and about the early Church, and glimpses into the liturgical year and the sacraments. At 96 pages, the book would not typically be read all in one sitting, but rather is more likely to read over time with flexibility to read beginning to end or picking and choosing in a non-sequential order. There are multiple colorful illustrations on each two-page spread. There is an appropriate amount of text that parents can read all or part of or just interact about the pictures. I love Maïte Roche's work, and I am happy to have another one of her books.
Jesus Stories from the Bible by Charlotte Grossetête and Illustrations by Sibylle Delacroix, Dominique Mertens, and Éric Puybaret This book is also a padded hardcover but with regular-style thick, picture-book pages and is marketed for ages 5 and up. It features five stories: The Birth of Jesus, In the Jerusalem Temple, The Calling of the Disciples, Jesus Heals, and From Death to Life. The book reads like a historical fiction - based on the true Bible stories but with additional details from the author's imagination to bring the scenes to life similar to the work Stephanie Landsem does with her novels for adults. The narrative style also aids in making the stories accessible to the target audience. The pictures are from three different illustrators, so the style of the people and backgrounds shift at times story to story, but a similar color scheme unites the different styles for a consistent feel.
Who is Jesus?: His Life, His Land, His Time by Gaëlle Tertrais and Adeline Avril Marketed for ages 8 and up, this text has a significant more amount of text than the other two. In contrast to Jesus Stories from the Bible, this book has the feel of a non-fiction text based on the style of the writing and the text features (such as headings, captions, key words in bold, a did you know? feature). The book covers a range of topics and has many interesting facts. Overall, each of the books is engaging and reveals different angles of the faith to the range of ages within our home. I am grateful to include these in our family library and look forward to the on-going interactions that different family members can have together with these texts providing a scaffold to a deeper understanding of the faith.
---
Copyright 2018 Amanda Villagómez
About the Author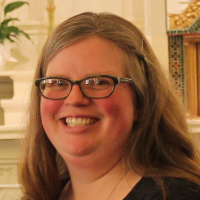 Amanda Villagómez is a wife, mom of 6, and teacher educator. On her personal site, she focuses on the beauty of becoming who God created us to be by celebrating the process of change and growth.