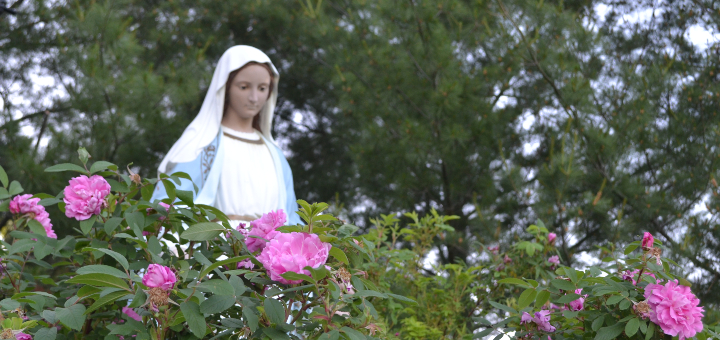 Copyright 2018 Roxane Salonen. All rights reserved.[/caption] I recently embarked on a solo journey from the plains of North Dakota through the sparkling lakes country of Minnesota and lush, forest lands of Wisconsin; my car bound for Green Bay to the Catholic Media Conference, hosted by the Catholic Press Association. As with all journeys, a pilgrim, even alone, is never truly by herself. I had my books-on-tape to offer mental stimulation, friends to meet along the way for companionship and reprieve, and many comrades, old and new, with whom to mingle at our common destination. I came away from the week overwhelmed with information and inspiration, but one particular evening, our second there, stands out as a worthy takeaway. Our bus trip to The National Shrine of Our Lady of Good Help in Champion, Wis., provided just the nourishment our tired souls needed for the busy week ahead After perusing the grounds and hearing an introduction to the story of Adele Brise, to whom the Queen of Heaven, Our Lady of Good Help, appeared in 1859, along with Mass and a reception, we were invited to partake in a Rosary Walk. Especially after so many miles traveled the days prior, I found this peaceful trek around the grounds, and the recitation of the Joyful Mysteries, refreshingly edifying. Our group seemed especially contemplative as we followed the lead of the priest carrying the heavy, golden crucifix on our stroll past hay bales and religious markers.
Copyright 2018 Roxane Salonen. All rights reserved.[/caption] The Walk happened during that magical time in the evening when the sun begins its descent, providing a surreal glow that casts shadows upon the landscape. At one point, I looked to the left and noticed our dark, elongated likenesses moving mindfully across the grass. The solemn, serene advance of our group seemed a bit like a march toward Heaven. But it was the message just before our walk that made my own contemplation so meaningful. Impressed by a presentation given by a young religious who'd addressed us after the earlier Mass, I talked with Fr. Broussard of the Fathers of Mercy community later to hear his personal thoughts about what he does there, and the shrine's significance.
Copyright 2018 Roxane Salonen. All rights reserved.[/caption] He shared how privileged he is "to walk with people on their pilgrimages and witness their conversions and healing -- sometimes physical and oftentimes spiritual; it's a beautiful thing." With my family, and my children especially, on my mind, I asked what advice he would have for parents -- especially those who carry a weight of worry for their children. "The only perfect mom was the Blessed Mother," he said. "I can't tell you how many parents and grandparents come here praying for their children; children who have fallen away from the faith, or have other issues, whether physical, spiritual, and then that sense of direction and peace they get" when they visit. The culture, he said, can "very powerfully affect our children in ways we can't fully appreciate or expect." But we are not left without help. He reminded that just as we have sacraments as outward signs instituted by Christ to give grace, we also have sacramentals, outward signs instituted by the Church to give grace. "Taking advantage of these treasures of the Church is very important ... there are great graces associated with coming to a place like this and praying the Rosary." As for whether our prayers will be efficacious, Father offered a twist on an old saying: "You get what you pray for." "People who come here and pray for those graces, especially for their children, those prayers are heard. They might not always be answered in the ways expected, but they're always heard and they're always answered."
Copyright 2018 Roxane Salonen. All rights reserved.[/caption] Being reminded of this refreshed my will to continue praying without ceasing for my family, and of God's great mercy and love for us all. I left Green Bay and Champion with many treasures to hold in my heart, but I needed this reminder most. I'd say it was worth all the miles I covered along the way just to return to the truth that God wants us to experience life in abundance; all we need to do is ask, and patiently await the graces that will follow. Learn more about The National Shrine of Our Lady of Good Help here. [gallery gss="1" columns="1" ids="146662,146668,146671,146670,146672,146660,146663,146664,146665,146666,146673,146674"] Q4U: Have you been to the National Shrine of Our Lady of Good Help, the only apparition site approved in the United States by the Catholic Church (in 2010)? Please share your takeaways of this or any other shrine you've had the privilege of visiting.
---
Copyright 2018 Roxane Salonen
About the Author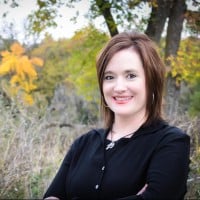 Roxane B. Salonen, a wife and mother of five from Fargo, N.D., is an award-winning children's author and freelance writer who also enjoys Catholic radio hosting and speaking. Roxane co-authored former Planned Parenthood manager Ramona Trevino's memoir, Redeemed by Grace. Her work is featured on "Peace Garden Passage" at her website, roxanesalonen.com