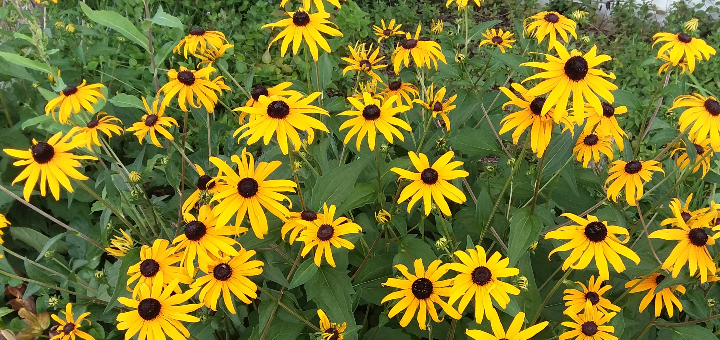 Copyright 2018 Susan Anderson. All rights reserved.[/caption] I'd never thought of myself as a southern girl. I was born in Michigan. You know, SNOW? Cold, like close to Canada, Brrrrr. I mean, for Pete's sake, the state is shaped like a mitten. My Mom says I loved the snow. Even today, my greatest fantasy is to be a figure skater. But I don't remember Michigan. I was only three when we moved to South Florida. That is South, with a capital "S." That's because South Florida is a place all its own. The hottest part of the melting pot of these great United States of A. Everyone in South Florida is from somewhere else. In high school, it seemed like every third person was originally from New York. Long Island and Brooklyn Italian and Irish last names. They were fast-paced peeps. Speech was clipped and short, and I could never get my classmates to call me by my name, "Susan". It took too much time. They insisted on Sue. By the moment I'd hold up my index finger and say, "Susan, please," they'd moved on to the next order of business.
Copyright 2018 Susan Anderson. All rights reserved.[/caption] Close to the equator, there were only two seasons; hot and warm. Sometimes we ran the air conditioner on Christmas Day. We usually got one sweater as a gift that we wore maybe once in January and February, during a cold snap. And boots? "Fuhgeddaboudit." As far as ever needing a coat? It wasn't until I ventured three hours north to Orlando for college at the University of Central Florida, when we had a freak winter, that I bought myself one. The ground was literally frozen. 14 degrees frozen. I did have the privilege of spending time in the Everglades. I worked at the Florida Fish & Fresh Water and Game Commission summer camp. Now you talk about Deep South? That's a whole other swamp. I liken those folks' lives to those I've learned about in the hollers of the Appalachian Mountains. Untouched by the mores and customs of the modern world. Depression-era? Recession? They'd always been poor. Never paid it no never mind.
Copyright 2018 Susan Anderson. All rights reserved.[/caption] When my husband and I married, we moved to Virginia Beach, otherwise known as Hampton Roads, or the Tidewater area. I picked up on southern accents. There seemed to be an English tinge to them. The mid-Atlantic area was good for farming and settlin'. Moderate winters and hot enough summers. From what I learned, Norfolk has one of the largest ports in the world, so again, people were from all over. I made a lotta friends whose husbands were in the Navy. I don't think I have an accent. I talk like my parents, with that 'oh so middle' Michigan nasally mimic. I've developed a tracking system, denoting different drawls and twangs. I can usually decipher a Georgia peach, from a Virginia cardinal, and a North Carolina Blue Ridge, from a Sweet Home Alabama. Even Oklahoma and Mizzura (Missouri) have their own relaxed patter. Texas folks talk as big as the state, with welcoming parlance as wide as a white toothy grin and tall as a ten- gallon hat. There is room enough for everyone. But where did I belong?
Copyright 2018 Susan Anderson. All rights reserved.[/caption] Now we live in the far western part of North Carolina. Smoky Mountain Country. I recently heard that less than 1% of the state's population is Catholic. We fly our own rebel flag, so to speak. Again, I am perfectly at home with being an outsider. Recently, I got to see my daughter Katie in a musical called, "Good Ole' Girls." There were no real props, just a "weddin' ring" designed colorful quilt hung as a backdrop. Just a group of saucy women from the South, singin' and sayin', offerin' up their experiences of real life from girl next door to wild teenager (and her older self) to elderly woman in the nursing home, a scrappy survivor of a cheatin' husband, and gospel blues girl fightin' the usual discriminations. There were even the gossipy, yet well-meaning mothers, teaching their girls rights and wrongs, and the ways of men. When I watched my golden Katie snap her blue eyes and flip her blonde ringlets over her shoulder as she sang, "On My Last Guardian Angel," with the lyrics, "Hair, a tangled mess, feathers a-flyin' everywhere," my heart just about burst. The goose bumps all over my body showed me how deep my roots crawled. I was totally ownin' being a southern girl. I may drink 'unsweet tea' and get outta Dodge every so often, but … I havta say, I am a mutt. I am a mix of Florida Cracker, Mountain Blue Ridge, East Coast, Southern, Good Ole Girl, with a Motown Michigan dusting of snow, just to keep me honest.
---
Copyright 2018 Susan Anderson
About the Author

Susan Anderson is a wife and mother of six. Becoming Catholic at age 33, she is an avid fan of Mary and keeps her sanity through rosary prayer. She helps Rob, her husband, at Cactus Game Design, provider of Bible based games and toys. Her book, Paul's Prayers, is about her oldest autistic son, which will be published March 6, 2018. To pre-order: http://goodbooks.com/titles/13642-9781680993479-pauls-prayers Her website: www.SusanAndersonwrites.com