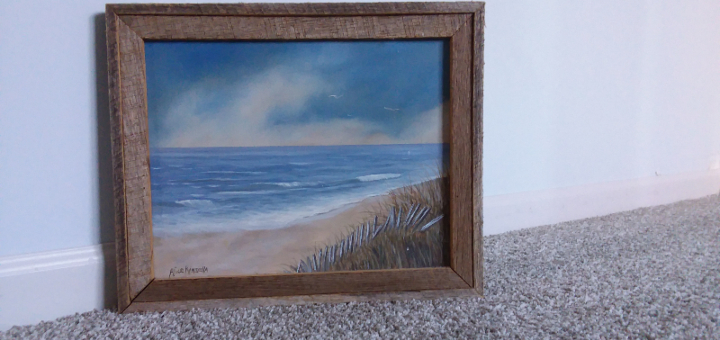 Copyright 2018 Susan Anderson. All rights reserved.[/caption] "What do you want for Christmas?" my husband asked. Actually, truth be told, he didn't ask. I pushed. For at least the last five years, I've wanted new carpet for our staircase. It's the first thing you see when walking through our front door. The house is 29 years old. We are the third owners and we've lived here for 20 years. So the carpet has seen its days. It is a dingy beige shadow of the ghost of Christmas past. Way past. "Well, if we're going to do the stairs, we might as well replace the carpet in the upstairs bedroom, too." Now, Rob did say that. I swear. Yay! I was over the moon. That carpet had seen better days as well. Teenagers trod their dramatic footprints all over it. In addition, when we first lived in the house, before we enlarged the living space in an extensive remodel, we used that once loft-open room as our family/TV area. The beige was chosen to blend in the background, to be a neutral choice with furniture, painted walls, and the day-to-day homeyness that goes with family life. It was meant to last. But alas, it wore out and deteriorated like an old cup of coffee. Stale. No matter how much I vacuumed. Steam cleaning? Yeah, we've run that machine a few times. So I went to Home Depot and picked out the most dramatic and ever-decadent-looking, "Dark Chocolate," for the stairs. It'll hide dirt. And now that I am the only one who climbs these steps, due to an empty nest, the rich brown, plush pile, should stay that way for a long time. The upstairs bedroom has turned into a guest/craft room where I pray, play music, and paint jewelry boxes. I decided to go beachy, with kind of a subdued seascape look. The name of the swatch is called, "Gravel Path." I like songs about country roads and walks on the beach. It's a short shag of loops, twists of soft gray and white. It reminds me of powdery sand on Wrightsville Beach, NC. But the cost! Holy cannoli. $1,670.00. Ripping up the old and installation is free. Yay, me. Gulp. Rob gave in. That gulp? I was swallowing that guilty gravel stone. You know the feeling in the pit of your stomach? When you've gone so far in the process that you feel there is no turning back? Well, the guys came to do the job, late the other day. They worked fast. Before they came, I'd prayed a few Glory Be's in honor of the Guardian Angels. I also played the Sorrowful Mysteries of the Rosary on YouTube on my phone while I washed the walls in the upstairs room. Dana, and her lilting Irish brogue, soothed my soul. I greeted them politely. As they got to work, I became feverishly excited about the house looking nice for Christmas, when the kids would come home. I shared a live video on Instagram. I started on dinner, folded some laundry, and made myself a beet, celery, cucumber, carrot, apple, and ginger juice. Between the juicer, and ripping, scraping, and hauling of carpet, it was a beautiful noise. A happy raucous cacophony. And then things started happening. That's when the carpet quite literally and figuratively unraveled. I reached for a tub of coconut oil and picked it up by the lid. It crashed to the floor. A few pieces of plastic broke. The sound was worse than what could've happened. Even the carpet guys checked on me to see if I was ok. I cleaned it up and moved on. But then I heard a four-letter cuss word amidst Hispanic lingo. The one guy who spoke no English went outside. I looked out the window to see him tending to a cut on his hand. A gash. He seemed humble and embarrassed. I asked if I could do anything and the other guy with better English asked, "You got any band-aids?" I motioned for him to come inside.I grabbed my first-aid basket (blessedly, this was organized and stocked) and went into lifeguard mode. I turned on the faucet and handed him a wad of paper towel. It needed compression. I grabbed gauze and made him read the Spanish directions that read, "Compresse." We had to stop the bleeding. I grabbed some gloves after I washed my hands and wrapped the finger and taped it. He got back to work. I told his supervisor to translate, "Be careful. You work too fast. I'm sorry you cut your hand. You'll need stitches. Please go to the doctor later." He smiled and kept right on working. The bleeding stopped. I guess the guardian angels were also on lifeguard duty. Then I thought, I need bleach to clean up. I grabbed a jug from underneath the sink, removed the cap, and in my clumsy haste, dropped it on the floor, too! I felt a splash in my eye. At once, I'm thinking, do I pick up the bleach that's spilled all over the floor, or do I flush out my eye? I grabbed old towels and wiped up the bleach (concentrated, of course). Then I flushed my eye with water. Maybe that was also a guardian-angel wing deflection, because there was no irritation. Something went in my eye, but it wasn't bleach. Maybe the cap dropped in the water, and the water splashed up? My jeans, boots, and my favorite St. Maximilian Kolbe hoodie were a spotted, bleached design now. Holy cow. What happened? A situation that seemed so fun, so hopeful, just turned sour. I retreated to the bathroom with a cup of cow's milk to flush my eye. That's an old swimmer trick for chlorinated eyes. I changed my clothes and prayed. Because I easily startle, my husband knocked softly on the door. I told him about the whole afternoon. The guys were still working. Rob went into calming husband lifeguard mode too. He went to the pharmacy and bought eye wash and bandages. Then he came back and talked with the guys and thanked them. He helped vacuum around the stairs. They left with a promise to go to the doctor.
Copyright 2018 Susan Anderson. All rights reserved.[/caption] As Rob and I ate dinner, we backtracked on the whole afternoon. Whew. Was I not supposed to get the stupid carpet? I don't know. This isn't an equal comparison, but what I thought about Mary, Our Blessed Mother. Did she wonder at the Angel Gabriel? Did she panic at the thought of Joseph's reaction? Did she question if she should say yes to the will of God? Did she think once about herself when she hurriedly traveled to visit her cousin Elizabeth? When the census required her and Joseph to trod to Bethlehem, through hill country, on a donkey, while nine months pregnant, did she hesitate? Did she demand a plush, cushy hospital to deliver the Baby Jesus, the Savior, Messiah, of the world? Her Savior, her Messiah? Her carpet was the smell of fresh hay. Yeah, that was her carpet. And beyond. Simeon's prophecy. "And a sword shall pierce your own soul, too." The flight into Egypt. Poor Joseph. She must've thought, "My brave Joseph." I prayed some more. I begged God for mercy on the man who cut his hand. I asked that Jesus would show Himself to both men. I thanked God through the whole ordeal. Because that's what Scripture says to do.
"Rejoice always. Pray without ceasing. In all circumstances give thanks, for this is the will of God for you in Christ Jesus." (1 Thessalonians 5: 16-18)
I guess you could say that at the beginning of Advent, the Holy Spirit called me on the carpet. Though good went to worse, we know how it ends. We know how it is still being revealed. When we're tempted by chocolate, coveting, and we reach for that luscious bite. When we wander down treacherous, gravelly paths, unsure of our steps. We grope in the dark, sometimes, looking for the Star. And we follow. We seek, like the Wise Men. And we see ... God's Glory. God's Victory. God's Love. Knowing that it isn't even half up to us. Everything we have, our joy, our suffering, and our mundane, is through God's grace.
---
Copyright 2018 Susan Anderson
About the Author

Susan Anderson is a wife and mother of six. Becoming Catholic at age 33, she is an avid fan of Mary and keeps her sanity through rosary prayer. She helps Rob, her husband, at Cactus Game Design, provider of Bible based games and toys. Her book, Paul's Prayers, is about her oldest autistic son, which will be published March 6, 2018. To pre-order: http://goodbooks.com/titles/13642-9781680993479-pauls-prayers Her website: www.SusanAndersonwrites.com