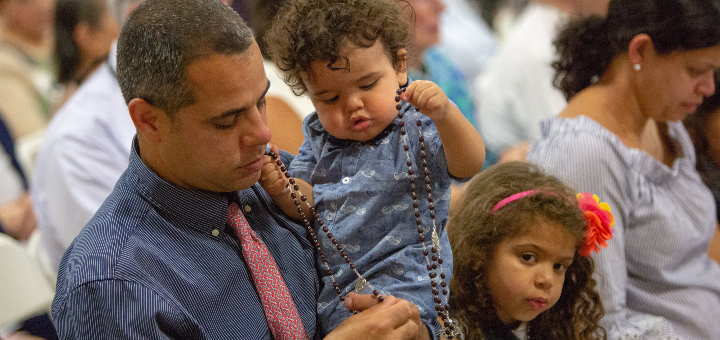 Copyright 2018 Holy Cross Family Ministries. All rights reserved.[/caption]

On July 26, we celebrate the feast of Joachim and Anne, the parents of the Blessed Virgin Mary. The feast day also coincides with National Parenting Gifted Children Week. These observances made me think about what a gift I received from my faithful parents and grandparents.

As the daughter of a Catholic father and Methodist mother, we were taken to both churches growing up. My mother respected my father's wishes to baptize all of us as Catholic and to educate us in Catholic schools. Both of my parents came from the South, Mommy from Chattanooga, TN, and Daddy from New Orleans, LA. Their Southern upbringings emphasized rooting a family in faith.

From childhood I can recall my dad saying the rosary, reciting the Apostles Creed and decreeing if we didn't go to Mass on Sunday we couldn't do anything else. He often spoke of his alma mater St. "Aug" (short for St. Augustine Catholic High School) in New Orleans. His experience surely influenced his decision to have all of us receive our elementary and high school education from a Catholic institution. His mother, my paternal grandmother often took us to Mass with her. I remember "Grandma Sophie" wore her black mantilla in the '70s, long after the requirement was repealed. She always wore dresses and her gold cross around her neck, and when I watched her during Mass she was the definition of devout to me. I loved the quiet reverence of the Catholic Mass; it soothed my soul.

Conversely, my attendance at services with my maternal grandmother who attended the First African Methodist Episcopal church, was the opposite of my Catholic experience. My "Gram Helen" took care to dress up for the Lord, as she would say, and while she didn't wear a mantilla or chapel veil, she always wore a beautiful hat! She, too, wore dresses and she was always served the church by baking cakes to share. Unlike the need to fast before Mass, I could lick the cake batter left over in the mixing bowl before "service" at Gram's church. The other difference was how "loud" the church experience was at First A.M.E. In watching "Gram" during service she appeared equally devout, but in very different ways.

Strangely, as we grew up although my mother wasn't the Catholic she was the one who took us to Mass, while my dad would stayed home to watch football. When we asked why we had to go to Mass if he didn't have to go, he would say, "I have learned all my catechism; you still need to learn yours." Going to Catholic school back then, we had religion class everyday and didn't have to attend Catechism classes, so it always confused me when he said that. My mother didn't always understand the rituals or traditions of the Church, in fact it brings a smile to face remembering the time she tried to put money in one of the holy water fonts in the vestibule. She always took pride in us practicing the faith and would encourage us to talk about the "sermon" even though we kept saying, "Mommy, it's a homily."

There wasn't an Advent, Christmas, Lenten or Easter season that our faith wasn't at the center. We always looked forward to the unique foods, family traditions and selecting the outfits to wear on these holy days of obligation. In our home it was always clear that the "holidays" were "holy days" and Jesus was the reason for the season!

In my family our most treasured heirloom has always been our faith. Like a precious gem, it is handed down from generation to generation. So whenever there were challenges in my life that I would share, my mother would always ask "Did you lay it at the foot of the cross?" or my dad would say "Did you say a rosary or pray to St. Jude?"

I was a daddy's girl and always wanted to make him proud! When I started being a lector in the sixth grade, he was proud. When Cardinal Timothy Manning confirmed me, Dad was so proud he cried. When I graduated from St. Mary's Academy and Cal State Dominguez Hills he was proud. I was just starting a career in television news and he was proud, but he would never see me live on TV, because he died at 56. My father would not have been proud of the way I distanced myself from God when he died, though. While our faith assures us that we do not die, but rest with Christ in death, I still missed his physical presence so much! A dark depression descended upon me following my dad's death. In time, my soul rebounded and drew me back to what my father had always taught me to rely on in difficult times: my faith. This year marks twenty years since his death. I still miss him, but everything I do in connection with using my gifts to glorify the holy Catholic Church helps me to remember the gift of faith he gave me. When I am scheduled to lector, a dress is always laid out for me to wear because he always said "A lady should always wear dresses to church." On his birthday or death anniversary I have a Mass said for him or visit his grave. On All Souls Day I attend Mass and do a novena of Masses for him. During the prayers of the faithful I always include him in the prayers for the faithful departed. He wasn't a perfect model by some people's measure, but to me he planted a seed that continues to grow my faith. I hope my daddy continues to be proud of me, but today I am proud to be his daughter and cherish our family heirloom of faith.
What do you think about your own parents' role in modeling the faith for you? How do you think you are doing as a model of the faith for your children?
---
Copyright 2018 Sherry Hayes-Peirce
About the Author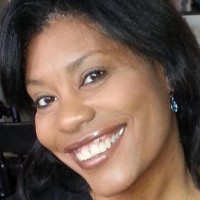 Sherry Hayes-Peirce is a Catholic Social Media Strategist, Blogger, Conference Speaker, Chief Inspirational Officer at Church Social Tips and Missionary Disciple of the New Evangelization. She is passionate about sharing her treasured time and talents to inform, inspire and engage the next generation of Catholics through technology.