Welcome to the August 2018 edition of An Open Book, hosted both at My Scribbler's Heart AND Catholicmom.com! An Open Book is all about what my family is reading this month, from the adults down to the little kids. Share what you're reading by linking up your blog post below. Simply write about what you're reading. You can make it personal or, as I do, extend it to the whole family. Your post can be as simple as a few lines about the book or as in-depth as a 700-word review. That's entirely up to you. You can even forego writing all together and record a video or simply post cover photos. No blog? No problem. Please share what you're reading in the comments.
Mission: Jimmy Stewart and the Fight for Europe by Robert Matzen has been playing inside my husband's car. The book gives insight into the Army Air Corps during WWII and what the bomber groups experienced. More than Jimmy Stewart, the actor, Mission is concerned with Jimmy Stewart, the man. Stewart's family had military roots in the American Revolution, the War of 1812, and the Civil War, and he saw such service as his calling (more so than entertaining).
I finally bumped Cinder Allia by Karen Ullo to the top of my reading list. As the title suggests, the book is a take on the classic Cinderella fairy tale. Only a few elements form the original are retained here, including a slipper lost at a royal ball. The writing is lovely, filled with imagery. The story, which involves a sham prince, a priest/spy, and a mysterious affliction wrought by the tip of the enemy's arrow, is more intricate than you might expect, involving espionage, war, and shifting loyalties.
I'm eager to read Broken Brain, Fortified Faith: Lessons of Hope Through a Child's Mental Illness by Virginia Pillars, with whom I am presenting at the Catholic Writers Conference Live this week. It is a memoir, "the story of one family's journey through schizophrenia, navigating the uncharted waters of mental illness to find help for their daughter, Amber, and support for their family. " It has five out of five stars on Amazon with 47 reviews! I'm looking forward to reading this next.
School starts in a few weeks, so my son has begun his summer reading project. From a large selection of titles set in medieval times, he selected Timeline by Michael Crichton. (Ivanhoe by Sir Walter Scott ran a close second.) In a nutshell, young scientists travel in time to medieval France on a daring rescue mission. I'm going to read this time-travelling, swashbuckling thriller when he's done!
My soon-to-be fifth grader completed the local library's summer reading program and was excited to find a book about her favorite thing these days: the American Revolution. In order to prolong her enjoyment, she's limited herself to a chapter a day of King George: What was his problem?: Everything Your Schoolbooks Didn't Tell You About the American Revolution by Steve Sheinkin and Tim Robinson. It includes-lesser known but very interesting details about the Revolutionary War and includes maps and battle plans.
Staircase for the Sisters: A Story of Prayer and Saint Joseph by Pamela Love and John Joseph is an illustrated retelling of the story of the mysterious completion of the staircase in the chapel of the Sisters of Loretto in Santa Fe, New Mexico, in 1878. It is a quick read about an amazing (miraculous?) story suitable for about third grade and up. My daughter loved it!
Handel, Who Knew What He Liked by M.T. Anderson and Kevin Hawkes is another book our family picked up in relation to the library's music-themed summer reading program. This picture book follows Handel from childhood to the composition of his famous "Messiah" and beyond. My 10-year-old loved the book, but despite the engaging illustrations, the length left my 5- and 6-year-olds drifting off to other activities.
I've added 7 Ate 9 by Tara Lazar and Ross MacDonald to my short list of favorite children's books. The word (and number) play is fabulous! My teenager grabbed this staff pick from the library shelf for his siblings, and we loved it! In a word, 7 Ate 9 is FUN. [inlinkz_linkup id=791233 mode=1] Want more details on An Open Book? You can also sign up for An Open Book reminder email, which goes out one week before the link-up. Check out the archives of An Open Book! Copyright 2018 Carolyn Astfalk
About the Author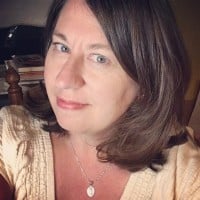 Carolyn Astfalk is a wife, mother of four young children, and a writer. Her contemporary Catholic romances are available at Amazon.com. She is a member of the Catholic Writers Guild, a Catholic Teen Books author, and blogs at My Scribbler's Heart. Visit CarolynAstfalk.com.