Copyright 2019 Carolyn Astfalk. All rights reserved.[/caption] Welcome to the January 2019 edition of An Open Book, now hosted both at My Scribbler's Heart AND Catholicmom.com! An Open Book is all about what my family is reading this month, from the adults down to the little kids. Share what you're reading by linking up your blog post below. Simply write about what you're reading. You can make it personal or, as I do, extend it to the whole family. Your post can be as simple as a few lines about the book or as in-depth as a 700-word review. That's entirely up to you. You can even forego writing all together and record a video or simply post cover photos. No blog? No problem. Please share what you're reading in the comments. Christmas reading continues in our house through the whole Christmas season. While the days leading up to Christmas were short on reading time, we're now enjoying a more relaxed pace and delving into some Christmas gift books!
You've heard of The Benedict Option by Rod Dreher, right? (See An Open Book: November 2017.) My husband has been reading The Beer Option: Brewing a Catholic Culture, Yesterday & Today by R. Jared Staudt. It is of special interest to him as a Catholic home brewer. From the description: "The Beer Option proposes a renewal of Catholic culture by attending to the small things of life and ordering them toward the glory of God and the good of the community. Beer has played a surprising role in the history of Catholic culture, spurred on by the prayer and work of brewing monks. . . This book offers a tour through Catholic history and Benedictine spirituality, illustrating how beer fits within a robustly Catholic culture."
He's also been working through a bit of required reading for work. If you work in sales, you may want to check this out: Fanatical Prospecting: The Ultimate Guide to Opening Sales Conversations and Filling the Pipeline by Leveraging Social Selling, Telephone, Email, Text, and Cold Calling by Jeb Blount. (Wow! That subtitle fills almost a paragraph itself!) It has great reviews, so if you sell for a living, this looks like one to read.
I'll be putting together a blog post with Christmas books, but I'll share just one more I've read here. I enjoyed His Mistletoe Miracle in one evening (that stretched into early morning.) It's a fun, light Christmas story that includes the smart, slightly irreverent wit I've come to expect from Jenny B. Jones. Combine quirky characters, charming banter, and a swoony guy. Then add a pinch of Christmas kitsch and you've got yourself a delightful Christmas read!
I took a brief break from Christmas novellas to read a more serious women's fiction novel: Swimming in the Deep End by Christina Suzann Nelson. Told in the first person, the book examines the rippling effects of an unplanned pregnancy from the perspective of the unmarried teen mother, her mother, the baby daddy's mother, and a woman seeking to adopt. Without glossing over the heartache of grief, guilt, and sacrificial love, the author shows the reader that there is joy to be found when we love, forgive, and support one another.
My tenth grader and a partner selected John Grisham's Skipping Christmas: A Novel for an upcoming English project. This story about a couple looking to skip all of the Christmas hubbub for a Caribbean cruise is the basis for the movie Christmas with the Kranks. No one in our household has yet read the book or seen the movie. Any opinions on it?
We give each of the children a book at Christmas, and my fifth grader was the recipient of Corinna Turner's Mandy Lamb and the Full Moon. (See my recent interview with Corinna here.) My daughter is really enjoying it so far - which I suspected she would! It's the creative tale of a sheep/girl (Mandy) and includes a vampire and a werewolf as well! Not your typical vampire or werewolf story, it's a fun story about friendship with a pulse-pounding climax and an element that resonates in every story: self-sacrifice.
I discovered Mufaro's Beautiful Daughters: An African Tale by John Steptoe because of its inclusion in Ruah Woods' Rooted: K-12 Theology of the Body Curriculum. This Caldecott Honor Book is beautifully illustrated and recounts the tale of two sisters, Manyara, who is selfish and unkind, and Nyasha, who is warm and generous. The king must choose between the two for a wife. On their separate journeys to the kingdom, their true character is revealed.
I brought out one of my husband's old Christmas books to read to the little kids: Petunia's Christmas by Roger Duvoisin. This out-of-print picture book is an unusual romance between two geese. The gander is being fattened for Christmas dinner, and Petunia, resident of a neighboring farm, will do whatever she must to save him from that fate. A sweet story of sacrificial love. [inlinkz_linkup id=811350 mode=1] Want more details on An Open Book? You can also sign up for An Open Book reminder email, which goes out one week before the link-up. Check out the archives of An Open Book! Copyright 2019 Carolyn Astfalk
About the Author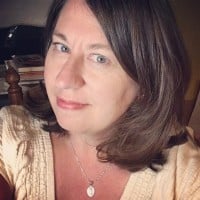 Carolyn Astfalk is a wife, mother of four young children, and a writer. Her contemporary Catholic romances are available at Amazon.com. She is a member of the Catholic Writers Guild, a Catholic Teen Books author, and blogs at My Scribbler's Heart. Visit CarolynAstfalk.com.