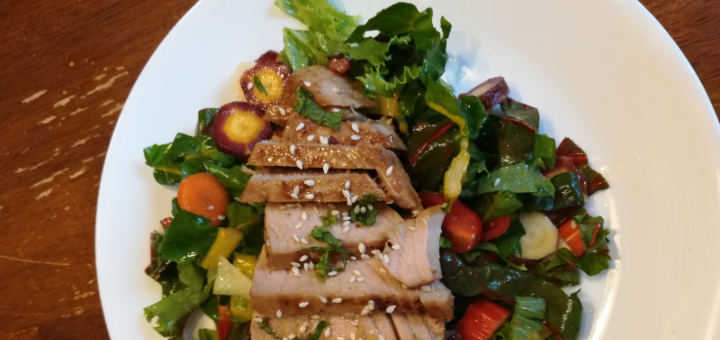 Recently, I went to the grocery store and saw all the rainbow vegetables right next to each other, looking beautiful and summery and delicious. This is the recipe for the resulting creation. However, if rainbow vegetables are not available, their less-colorful counterparts will do.
Copyright 2018 Karen Ullo. All rights reserved.[/caption]
Rainbow Salad with Tuna
For the Salad: 3 smallish leaves green leaf lettuce, chopped 3 leaves rainbow chard, leaves and stems, chopped 1 each orange, purple, and white carrots, thinly sliced Multi-colored small tomatoes, halved 2-3 mint leaves, chopped (optional) Place all ingredients in a large salad bowl and toss. For the Tuna: 2 portion fillets tuna Juice of 1 lemon 2 T white wine 3 drops sesame oil Salt and pepper to taste ¼ t grated ginger 1-2 T avocado oil or olive oil Combine lemon juice, wine, sesame oil, and spices to make a marinade. Marinate fish in a Ziploc bag while you prepare the salad. Heat the oil in a pan, then place the fish in. Every 2-3 minutes, turn it, rub the fish over the browning juices to create a good sear, and pour in a little of the marinade to keep it moist. Repeat until the fish is seared on both sides and medium well, about 10 minutes. If you run out of marinade, splash a little wine into the pan to keep it moist. For the Dressing: You can dress the salad any way you like, but here's what I did. Juice of 1 lemon 4 T olive oil ~2 T honey Salt and pepper to taste ~5 drops sesame oil ½ t grated ginger Pan juices from the fish Whisk together all ingredients except pan juices. When the fish is finished cooking, set it aside and pour a small amount of the dressing into the pan to dissolve the juices. Then return this mixture to the rest of the dressing and whisk again. Toss most of the dressing with the salad. Then slice the fish, place it on top, and drizzle with the remaining dressing. Garnish with mint and sesame seeds if desired. Enjoy!
---
Copyright 2018 Karen Ullo
About the Author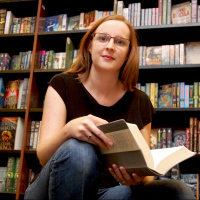 Karen Ullo is the author of two award-winning novels, Jennifer the Damned and Cinder Allia. She is one of the founding editors of Chrism Press, which is dedicated to publishing Catholic and Orthodox fiction, as well as the managing editor of the Catholic literary journal Dappled Things. She's also a wife and mother of two. Find out more at KarenUllo.com.