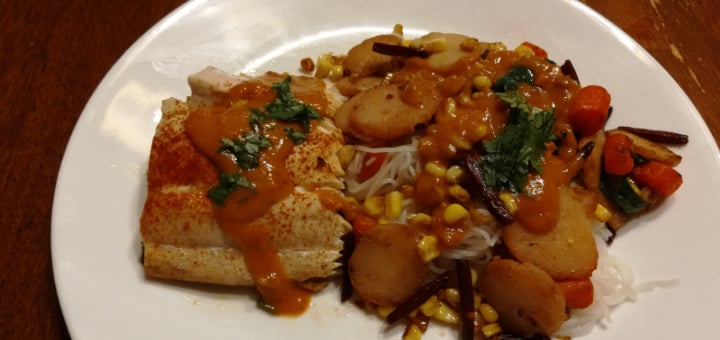 Ordinarily, I make my sauces, but I cheated on this one and bought it in a jar. You can do the same, or find a recipe for it here. Also, my eight-year-old asked for beets while we were at the store, so I fixed those separately and used the greens in this recipe, because who says no when an eight-year-old asks for vegetables? But if you don't have beet greens, spinach is fine.
Copyright 2019 Karen Ullo. All rights reserved.[/caption] ~4 oz. thin rice noodles, prepared according to package ~3 oz. peanut satay sauce, warmed For the fish: ½ lb. fresh mahi mahi fillet, cut into portions ½ cup coconut rum Salt and chili powder to taste Heat a large skillet with a few tablespoons of rum. Add the fish. Coat it with the remaining rum, sprinkle with salt & chili powder to taste. Cover and allow to cook on medium heat 10-15 minutes, until the flesh flakes easily. If the pan starts to dry out, add more rum. For the vegetables: 2 or 3 carrots, peeled and chopped 1 ear fresh corn, cut the kernels off the cob 8 oz. can water chestnuts, drained ~1 cup beet greens and stems (or substitute spinach) 1-2 T oil Salt and chili powder to taste Fresh cilantro, chopped Heat the oil in a wok or other large pan. Add carrots, corn, water chestnuts, and beet stems. Season to taste. Sauté on high 10-15 minutes, until they begin to caramelize. Add the greens. When the greens are wilted, it's done. Plate the fish with sauce. Plate the noodles, vegetables, and sauce together, and garnish everything with cilantro. Enjoy!
---
Copyright 2019 Karen Ullo
About the Author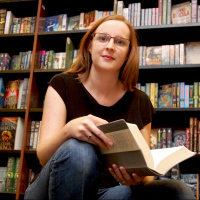 Karen Ullo is the author of two award-winning novels, Jennifer the Damned and Cinder Allia. She is one of the founding editors of Chrism Press, which is dedicated to publishing Catholic and Orthodox fiction, and the former managing editor of the Catholic literary journal Dappled Things. She's also a wife and mother of two. Find out more at KarenUllo.com.