Welcome to the September 2018 edition of An Open Book, now hosted both at My Scribbler's Heart AND Catholicmom.com! An Open Book is all about what my family is reading this month, from the adults down to the little kids. Share what you're reading by linking up your blog post below. Simply write about what you're reading. You can make it personal or, as I do, extend it to the whole family. Your post can be as simple as a few lines about the book or as in-depth as a 700-word review. That's entirely up to you. You can even forego writing all together and record a video or simply post cover photos. No blog? No problem. Please share what you're reading in the comments.
My husband and I have been trying to get a BINGO (or two or three) to complete our local library's summer reading program. We are both ending with a mystery. He chose to listen to The Man Who Knew Too Much by G.K. Chesterton. (I'll be reading The Adventures of Sherlock Holmes by Sir Arthur Conan Doyle). He's been listening to the series of short detective stories in the car. While he's enjoying them, the narrator's British accent is requiring more concentration than he's able to muster while driving. He might do better with an American narrator or a book.
I am thoroughly enjoying the second book in the Flowers of Eden series by Myra Johnson. Castles in the Clouds is set in drought-ridden Arkansas during the Great Depression. A sweet romance blooms between a reticent young woman studying to be a teacher and a nearly blind missionary who has returned to the United States from Kenya.
I thoroughly enjoyed this simple yet instructive new book by Lindsay Schlegel: Don't Forget to Say Thank You: And Other Parenting Lessons That Brought Me Closer to God. With lessons built around the phrases we parents often repeat to our children, this personal, reflective book is a great way for moms to re-focus on their vocation and their faith life as we embark on a new season. (Read along with the Don't Forget to Say Thank You Book Club at Catholicmom.com!)
I thought I was doing my son a favor by picking up a graphic novel for him to read in order to complete his library summer challenge. But I'm the one that ended up reading it! I'd heard good things about Dean Koontz's Frankenstein books, so I thought we'd give the comic-book treatment a try. In the Introduction to Frankenstein: Prodigal Son, Koontz writes,
"We live in a hubristic age, when politicians imagine themselves to be messiahs and when many in the sciences frankly discuss their dreams of creating a 'post-human' civilization of genetically engineered supermen, ignorant of the fact that like minds have often come before them and have left no legacy but death, destruction, and despair."
(Take note: This likely marks the first and last time you'll see a bare-chested man cover in An Open Book.)
The kids each got to choose a book to keep upon completing the summer reading program, and my teenager grabbed Newbery Medal winner The Westing Game

by Ellen Raskin.

I'm only familiar with this book because I know A. J. Cattapan's 7 Riddles to Nowhere operates on a similar premise. In both books, a wealthy man has chosen a virtual stranger to inherit his fortune -- provided he can solve a challenge.
Having discovered the inter-library loan program, my fifth grader has jumped back into the Childhood of Famous Americans series. She most recently read Abraham Lincoln: The Great Emancipator by Augusta Stevenson. Although she was disappointed that the book didn't extend to his assassination, she enjoyed the book. (Most of the biographies extend into the subject's adulthood.) So far, she's only set aside one book in the entire series: a biography of Jim Henson, and that was because of the writing.
I've been reading

Grandmama's Pride

by Becky Birtha and Colin Bootman to my little children. (It will be featured in this month's Sabbath Rest Book Talk.) This picture book that does what fiction does best: puts you into the shoes of someone different. A different time. A different place. A different race. The book follows Sarah Marie's 1956 summer trip from Pennsylvania to the South to visit her grandmother. While there, she experiences racial segregation for the first time (although her grandmother does a great job of operating as if the discrimination is irrelevant.)
My five-year-old picked out a simple, brightly illustrated easy reader for his free book from the library. Monster Munchies

by Laura Numeroff and Nate Evans

is the kind of book that holds only passing interest for me, but which the little kids love. It's ideal for young learners in its simplicity, emphasizing both rhyming words and counting, all couched in a context that leaves the kids giggling at its silliness. [inlinkz_linkup id=795894 mode=1] Want more details on An Open Book? You can also sign up for An Open Book reminder email, which goes out one week before the link-up. Check out the archives of An Open Book!
---
Copyright 2018 Carolyn Astfalk
About the Author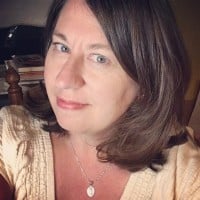 Carolyn Astfalk is a wife, mother of four young children, and a writer. Her contemporary Catholic romances are available at Amazon.com. She is a member of the Catholic Writers Guild, a Catholic Teen Books author, and blogs at My Scribbler's Heart. Visit CarolynAstfalk.com.