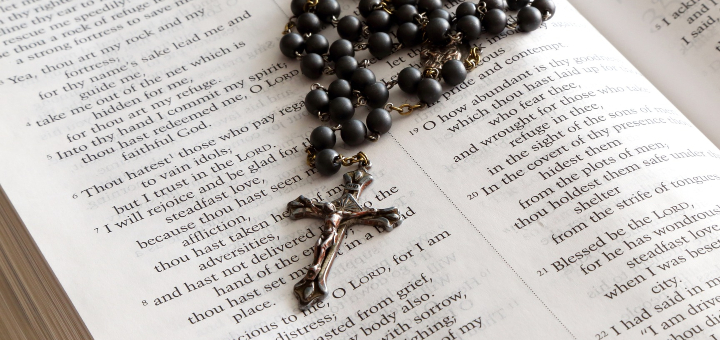 Photo via Pixabay (2013), CC0 Public Domain[/caption] I have always been fascinated by daily prayer rituals. Do you pray the rosary as you fold laundry? Listen to the daily Mass readings on a podcast as you clean the house? Pray in the car? Prayer is a very personal thing, obviously, and we all bring our own touch to it. Prayer is also something that is easy to neglect, but it's very much a relationship with God. When you neglect that relationship, it will wither and die. When you tend to it, it will start to flourish slowly but surely. We know that priests and other religious have a regimented schedule of prayer that they follow via the Liturgy of the Hours and other routines established by their communities (where applicable). But as laypeople, we are also called to prayer as it is conducive to our vocation, whether it be to the married or single life. I am a wife and mother, but I also work full time outside of the home. All of these are considerations in what I am able to do in daily prayer. I like to think of our homes and/or workplaces as our own little domestic monasteries. We may not wear habits, but we are an active force in the earthly church militant! With all of this in mind, how can we work to create a powerful daily prayer routine? I have a few ideas to share with you:
Copyright 2018 Tiffany Walsh. All rights reserved.[/caption] (1) The Rosary - I am a very tactile Christian, and I adore traditional Catholic devotions like this one that have a physical reminder of what we are doing as we pray. It takes about 15-20 minutes to pray a complete five decade rosary, and I love to do this in the car. That probably seems odd, but in the car on the way to work I am (1) uninterrupted by small cute children, and (2) fairly focused, rather than having my mind all willy-nilly like it is at home, where I am trying to accomplish a dozen things at one time. Use a rosary CD or app to help you keep count as you drive. (2) Liturgy of the Hours – This is the official prayer of the Church, and although elusive to most laypeople, it is a treasure just waiting for us to open! The morning prayers are oriented to starting your day and lifting your eyes up to God, while evening prayer helps you wind down and reflect on the day's events. I own the complete 4-volume set of the Liturgy of the Hours, but I'm going to be honest and admit that for the time being I admire their lovely faux leather form on my bookshelf, but do not use them daily. Happily, in our modern times, there are digital counterparts that make this process much easier! You can find the Liturgy of the Hours for your Kindle e-reader (this is what I use), or via the Laudate or iBreviary apps for your phone.
(3) Devotion to Mary - I have always felt close to Mary, and I credit her with my adult reversion back to my faith. Now, as a mother, I relate to her all the more. A few years ago, I completed a 33 day preparation and subsequent consecration to Jesus through Mary, and I cannot tell you the impact I have felt from that devotion. I renew that consecration yearly, and with the book I used, 33 Days to Morning Glory: A Do-it-Yourself Retreat in Preparation for Marian Consecration by Fr. Michael Gaitley, it took not more than 10 minutes per day to read the entries and prayers. I highly recommend it. (4) Daily Mass - I *adore* daily Mass, and it was instrumental in my faith blossoming during my young adulthood. So often, though, I am not able to make it. Some weeks I can go 1-2 times in addition to Sundays, but in others I cannot go at all during the work week. Even one additional Mass between Monday and Friday is a tremendous boost to the spiritual life and can be accomplished with work and kids, depending upon one's schedule. Remember that many parishes have a lunchtime Mass if the morning option does not work for you! My parish offers an evening Mass once per week, on Thursdays, as well. (5) Spiritual reading - Reading has always been easy for me because I love to do it. Now I will grant, with children in my hone, reading time isn't what it used to be. I used to devour books. Now, it takes me weeks to read through anything more substantive than a romance novel. I always read in bed prior to falling asleep, and in the morning over cereal and coffee. Aside from that, well ... reading time, how I miss thee. But even those two opportunities are enough for me to get in some spiritual memoirs. I try to mix in some heavier reading at least twice a year, during Advent and Lent. I have always been drawn to the religious life, although I ultimately found that that was not my vocation. But despite being a layperson, I still feel called to do what I can to live a religious life in my vocation as a wife and mother.
Would anybody else like to share their daily prayer routine? I would love to hear about it in the comments!
---
Copyright 2018 Tiffany Walsh
About the Author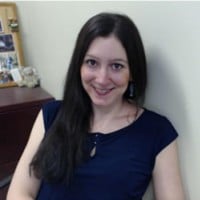 Tiffany Walsh is a wife and mother, a native western New Yorker, and a college librarian. She is a cradle Catholic who rekindled her childhood faith as a graduate student via her love of books, and is the author of Exploring the Catholic Classics, part of the Stay Connected Journals for Catholic Women series. She enjoys writing about faith, crafting, dance, fitness and wellness. Visit her blog at Life of a Catholic Librarian.