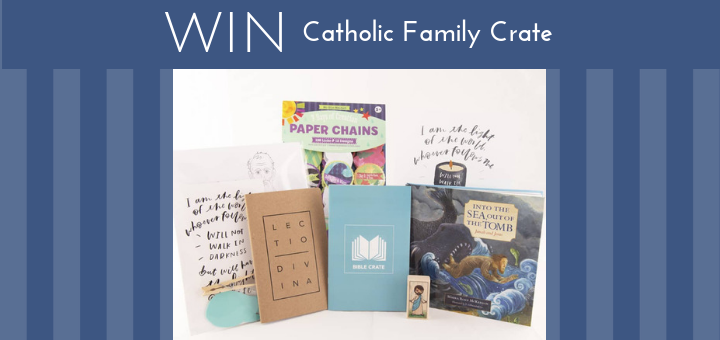 As Catholic mothers we desire to live faith-centered lives that not only bring our souls to a higher connection with God, but also the souls of our husband and children. I have always had a love for incorporating the Catholic faith into crafts and everyday activities. If you are like me and desire to enrich your family life with Catholic stories, crafts, and faith-based activities centered around the Liturgical Year, then you need to subscribe to the Catholic Family Crate. My young children were so excited to discover the treasures hidden within the Catholic Family Crate box when it arrived at our doorstep. This family activity box intrigued my four young children as they watched with wondering eyes as each item was taken out of the Bible Crate box. The organization and beauty found within the box included:
An Introduction Booklet that provides parents with an overview of the contents and how to incorporate Bible history into each of the activities. It was fun to read about the life of St. Jerome and how he impacted the early Church -- there was even a hymn included for all of us to sing together. My daughter's eyes lit up, as she loves to sing!
A beautiful Lectio Divinia: A Bible Journal -- I can't say enough about this form of Bible reflection. Catholic Family Crate does sell this journal separately online and I think it will be a wonderful Christmas present for many of my relatives.
Family Prayer and Scripture Time that includes Bible verses in correlation with hands-on activities for the children and Catechism discussion questions in relation to scripture for the older children. My 7-year-old son and 9-year-old daughter loved reading the verses and discussing specific terms and the historical events of the given sections.
Activity Packs that correspond to Scripture Readings. The little ones enjoyed creating Jonah and the Whale out of a clothespin and foam whale, while the older two are still using the stencils and paper pad to re-create biblical scenes.
Courtesy of CatholicFamilyCrate.com. All rights reserved. Used with permission.[/caption] I'd have to say that one of my favorite parts was the "Family Service Project." My family loves to give back and it was very satisfying to watch the children put together a care package for the homeless that we will leave in our car until we can hand it out. This also gave us the opportunity to connect this gift with the Scripture verse: "I am the Light of the World. Whoever follows me will not walk in darkness, but will have the light of life." (John 8:12) The box also included beautiful prints by Erica Tighe of Be A Heart of this scripture verse. My daughter found a frame and now has it hanging in her bedroom. Catholic Family Crate does a terrific job including the entire family into the Bible Crate by offering activities for the younger and older children. The combination of arts, crafts, reading, service projects, memorizing, and singing provides something for everyone in the entire family to enjoy. Catholic Family Crate offers a unique opportunity for families to grow and learn more about the Catholic Faith together as a unit in a variety of interactive ways. Order the next quarterly box of Catholic Family Crate and watch the eyes of your children light up while learning about the Faith! Catholic Family Crate is taking orders through October 8 for its next box, the Advent Crate. These will ship in early November so you'll have your crate in plenty of time for the start of Advent on December 2!
Courtesy of CatholicFamilyCrate.com. All rights reserved. Used with permission.[/caption] Catholic Family Crate has put aside a Bible Crate for one lucky CatholicMom.com reader! You can win the same crate that I've reviewed here. Enter below for your chance to win (USA only, please). a Rafflecopter giveaway This contest ends at 11:59 PM Tuesday, September 18. Winner will be contacted via email and will have 48 hours to reply. Unclaimed prizes will be awarded to alternate winners.
---
Copyright 2018 Danielle Heckenkamp
About the Author
Danielle Heckenkamp is a stay at home mom and freelance writer who lives in Wisconsin with her husband and six children. Danielle writes about her daily experiences as a mom and love for her Catholic Faith. Danielle is the co-author of a nonfiction book about manners and common sense. You can step inside Danielle s daily life on Instagram.