Editor's Note: This is one of a series of 5 reflections on the Catholic Conference 4 Moms, an annual online conference hosted by CatholicMom contributor Tami Kiser. This year, the conference theme is "Pass It On: Equipping kids for the journey of faith," and CatholicMom.com is proud to be a conference sponsor. Visit CatholicMosaic.com to sign up for the FREE 5-day conference and enter the door-prize drawing. - Barb
Copyright 2018 Tami Kiser. All rights reserved.[/caption] When I first heard the title, I knew it was a talk that I needed to hear. "Trust in God" is the subject of Tami Kiser's inspiring presentation for the Catholic Conference 4 Moms. Tami begins by relating a story about how her son's dream was shattered, and how the way to move forward from such setbacks is to trust in God. I can relate. I had been working what I considered to be my dream job, advocating for pregnant mothers and their babies, in my hometown. Then, I learned that, because of family considerations, I had to move to a nearby state. It was with much trepidation that my friends and I packed up my belongings in a U-Haul trailer for the trip east. I was placing the entire adventure in God's hands. My faith wavered a bit when, en route, I experienced a flat tire — not on my car, but on the trailer. I was still two hours from my destination, and I was all alone. As I waited for a mechanic to rescue me, I wished I could head back home again. But I had the distinct feeling that God was propelling me forward and I simply needed to cooperate with his grace. I continued on and the course of my life changed forever — in a good way! God took care of me, surrounding me with a network of friends and colleagues who would provide a wonderful support system. He also led me to the Cursillo movement — a lay-led movement within the Church designed to experience and share God's love with others in a more fulfilling way. When my daughter was quite young, I tried to instill in her this trust in God by making sure that we prayed the Rosary before bedtime. With each new decade, she would place another family member into God's hands. And with hope borne through trust in God, she was prepared to take on the challenges that faced her each day. I need to remind myself that…whenever I'm surprised by a cross that has descended on my path … I need to "let go and let God." Each day that I attend Mass, when I pause to genuflect, I say to myself the mighty words, "Jesus I trust in You!" He is trustworthy, all-good and all-loving. By placing ourselves in His caring arms, we can attain and maintain peace, no matter what whirlwinds blow through our lives.
How has your trust in God helped you to weather a storm in your own life? How have you tried to instill a trust in God in your children?
Copyright 2018 Tami Kiser for Catholic Conference 4 Moms. All rights reserved.[/caption]
---
Copyright 2018 Maria V. Gallagher
About the Author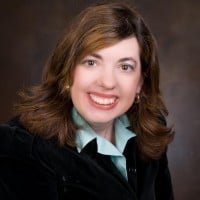 Maria V. Gallagher spends her days advocating for women, children, and families. She is the mother of a beautiful ballerina and a member of the worldwide Cursillo movement. In her spare time, Maria likes to blog, walk, sing, dance, and fill the room with laughter. Read her work at MariaVGallagher.com.