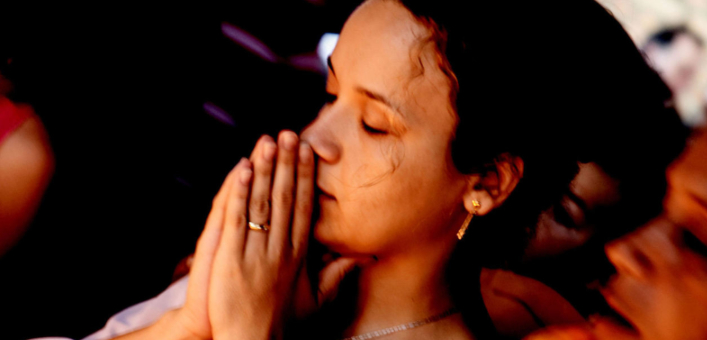 Image credit: Luiz Ferreira (2004), Freeimages.com, CC0 Public Domain[/caption] One of my favorite things about being Catholic is the many different opportunities and ways we have to pray. When my restless heart needs calming, I find the repetitive sound of the Rosary rocks my heart to a place of serenity. When I feel helpless, saying a novena gives me something productive to do and changes my heart to accept God's will in the situation. Here are my top five ways to pray. The Mass: This is our greatest prayer and just finding time to get to an extra Mass during the week or weekend can bring about peace and inspiration. Adoration: Sitting in front of the Blessed Sacrament exposed in the monstrance is a beautiful way to spend time with Our Lord. It helps us clear the clutter of our minds and give every thought to him. One person described it to St. John Vianney as, "I look at Him and He looks at me." I often feel that Christ reveals to me, in that quiet, what I need in that moment. Rosary: The Rosary is a Christ-centered prayer; it draws our hearts to Our Lady and focuses us on the life of Christ. To pray the Rosary, look for a guide with a Rosary meditation.
Stem: Apostles Creed Our Father Hail Mary, Hail Mary, Hail Mary Glory Be Fatima Prayer Circle of Rosary Beads: Mysteries: Joyful, Sorrowful, Luminous and Glorious One: Our Father, Ten: Hail Marys, followed by a Glory Be and the Fatima Prayer Ending Prayers
Scripture: I have two ways I like to pray scripture. I love to find a passage that speaks to what I'm going through and repeat it. I often insert my own name or the name of a loved one into the Scripture passage. For example: "For God did not give me a spirit of timidity, but of power, love and self-control." 2 Tim 1:7 The second way is Lectio Divina: Prepare ~ Before you start, ask the Holy Spirit to guide you and ask God to reveal what He needs for you. Your environment can help you become quiet as necessary for this prayer. Perhaps sit in Adoration or light a candle at home.
Lectio (Read) ~ Just read the passage for context and information (to hear the story). Medatatio (Reflect) ~ Reread the passage and 'hear' what God is trying to nudge you towards (word or phrase). Oratio (Respond) ~ Read a third time and perhaps journal or ponder exactly why God pulled you towards this particular passage. What is He specifically showing you. Contemplio (Rest) ~ Read a fourth time without any particular goal. Contemplate what you just learned. Just let your mind wander where God wants it to.
Stations of the Cross: Considering Our Lord's last hours draws us closer to him. The Stations can be prayed at Church in front of each station but can also be done at home in quiet contemplation. Bonus: Novena: Nine day prayer to (with the help of) particular Saints or God for specific intentions. There are several sites to find specific novenas.
---
Copyright 2018 Mary Lou Rosien
About the Author