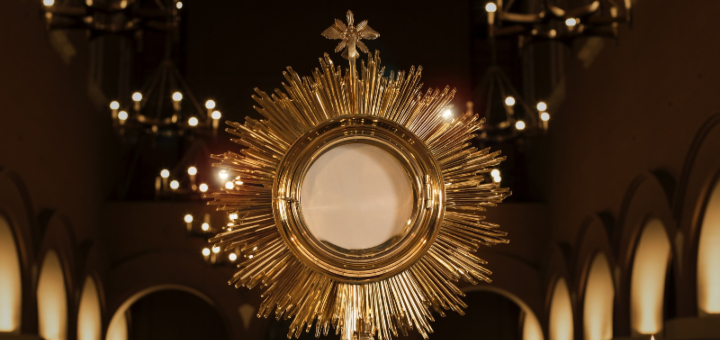 Image credit: Pixabay.com (2018), CC0 Public Domain[/caption] It's silent in the Adoration chapel. Adults are scattered throughout the pews, quietly praying, adoring Christ. And then your toddler starts to squirm. And babble. Before you know it, you're standing in the back of the chapel, trying to focus on Jesus while simultaneously getting your child to quiet himself. Suddenly, what should be a peaceful, prayerful time turns into a chaotic, slightly stressful situation. Yes, you know that your child is welcome here, and that many of the other people in the chapel are happy to see a young child in Adoration, but hearing your lone child disrupt the tranquility of the chapel is still challenging. And distracting Fearing this kind of scenario (or having gone through this experience themselves), many parents don't take their children to Adoration. Yet, we're told that it's important to raise our children in the Faith. In fact, a famous story from Sacred Scripture even talks about the importance of bringing children into the presence of Christ:
"

Then children were brought to him that he might lay his hands on them and pray. The disciples rebuked them, but Jesus said

"Let the children come to me, and do not prevent them; for the kingdom of heaven belongs to such as these" (Matthew 19:13-14).
Jesus wants our children to come to him. He readily welcomes our children into his presence. However, even the idea of taking our rowdy kids to Adoration can be stressful -- so what are we to do? We can host Children's Adoration; a time slot set aside specifically for children to come and pray with Our Lord. A time with guided meditations, group prayer, and periods of silent prostration. A time when our young children can see their peers praying and be inspired to deepen their lives of prayer. Many Catholic children have not been exposed to Eucharistic Adoration, and while talking with another young mom from my parish several months ago, I realized that a Children's Adoration hour needed to be offered at our parish. The thought of starting a program like this may seem daunting, but I want to assure you that it does not have to scare you. Here's the process I took: 1. Contact the parish priest. I knew that if I wanted to bring this program to our parish, I wanted to be fully transparent and get our pastor's support. So, I sent off an email with a brief explanation of what I wanted to do, and he sent back his approval and some helpful suggestions. 2. Determine your desired timeslot and contact the Adoration coordinator. I picked a couple of Adoration time slots that would be convenient to me, and I polled a few of my friends from church who were interested in what I was doing. Once I figured out a time that would work for some people, I spoke with our church's Adoration coordinator to sign up for the upcoming Adoration date (at our church, Adoration is only held on the first Friday of each month). I didn't make any long-term commitment, but said that we would take it one month at a time to see how it worked and if people showed up. 3. Prepare for the first Children's Adoration hour. As I prepared for holding this at our church, I honestly had no idea how the children would do. Many of the children who were planning to come to this had barely (or never) been exposed to Eucharistic Adoration, and there would be some toddlers present. Still, I decided to plan a full hour of guided prayer, song, and times of silence. The Community of St. John, a religious order who has done much to promote Children's Adoration, has some fantastic resources on their site, Children of Hope. 4. Spread the word, then come adore Our Lord. I notified different families about our Adoration hour and showed up on that spring morning, completely uncertain of what to expect. A few different families came and I was shocked to see that they all stayed for the full hour. Seeing the children reverently come worship God together was really powerful; other people who happened to be in Adoration at that time later told me that they were deeply moved by the sight of children before God. In the months since beginning this program at my parish, children who've never been to Adoration in their lives have spent time before Christ in the monstrance. Children have raised their voices in prayer and in song. Children -- even as young as wiggly toddlers -- have bowed before Our Lord in silent acts of prostration. Even in the month when our Adoration hour seemed like a disaster -- all of the children were wiggly and very distracted -- I was later contacted by a woman whose child had spent much of her day trying to recreate Adoration at home during her playtime. Children's Adoration is not about me or what I planned for the hour; it's about bringing children into God's presence. As I have seen repeatedly, even when no one appears to be paying attention, God is at work. It makes me recall the words of Sofia Cavalletti in her book, The Religious Potential of the Child:
"There is a deep bond uniting God to the child, the Creator to His creature; it is a bond that cannot be explained as the result of any human work, a bond with which no person should dare interfere. The catechist's task is to create specific conditions so that this relationship may be established, but to withdraw as soon as the contact occurs. We should take the greatest care not to intervene between God and the child with our encumbering person, with our insistent words."
Jesus wants children to come to him, so bring your children to Adoration! If there is no Children's Adoration hour at your parish already, why not start one yourself?
---
Copyright AnneMarie Miller 2018
About the Author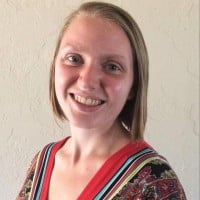 Eagerly seeking new adventures each day, AnneMarie enjoys life in Oklahoma with her husband and little boy. She has a passion for the Faith and particularly loves learning more about the Liturgy, saints, and various devotions. AnneMarie's musings on Catholicism, literature, and motherhood can be found on her blog, Sacrifice of Love.