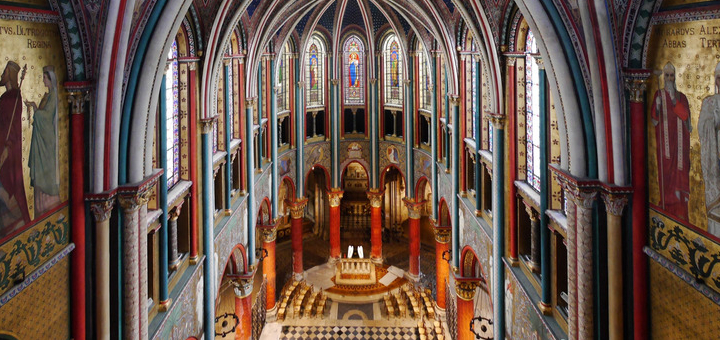 Copyright Agence Pierre-Antoine Gatier 2018. All rights reserved. Used with permission.[/caption]
"We only have to think for a moment what Europe would really look like if we took all the churches away from it. It would be a desert of utility in which the heart would probably stop beating." - Cardinal Joseph Ratzinger (Pope Benedict XVI)
Saint Germain des Pres Church was once described by David Sheppe as "the beating heart of the beating heart of Paris." Sheppe is an American who lived in Paris for many years. He now leads a fundraising effort for this parish he loves so much. I recently had an opportunity to interview Sheppe about the Adopt A Saint Germain Star Project currently underway. While many churches command one's attention, Sheppe says this one "whispers something." "It's the tallest structure in that neighborhood," says Sheppe. "No one is allowed to build higher. It kind of acts as a shepherd tending its flock, of all of us as we scurry around, busy with our day-to-day activities. There it is, and there it has been for 1000 years just keeping watch." In fact, a church has been on the site since around 500 A.D. With a rich, sweeping history and beauty perhaps as old as time, Saint Germain des Pres is foundational to the community and vibrancy of Paris. The treaty of Paris was signed in 1783 only a block away, recognizing America as an independent country for the first time. Writers like Gertrude Stein and Earnest Hemmingway hung out in the surrounding cafes and shops, and Victor Hugo himself was once a parishioner who valiantly led the effort to restore damages when the city thought Saint Germain des Pres was a lost cause. The very first Bible printed in French as opposed to Latin was even printed there in the Abbey. Saint Germain des Pres seems to fight back against adversity and has taken on a personality all its own. It's survived multiple fires, a gunpowder explosion, Norman and Viking raids, and it even remained standing in periods when its inhabitants were all martyred. There's a chapel on the side of the church where 102 priests were killed on the afternoon of September 2, 1792, at the height of the French Revolution. The mere fact this church is standing today shows us that, as Sheppe explains,
"the Catholic Faith endures, and it's bigger than all of us. We're the ones who get ourselves into trouble for whatever reason, and yet, this gift of faith does endure and gets us to the other side of bad times. And there are bad times. The fact that this particular structure which is the outward manifestation of an inward faith and grace, the fact that it has survived, I think gives us hope for the future. It will continue on because it has to continue on, and it has to continue on because we will make it continue on."
As for its modern role, "This is perhaps the most vibrant parish I have ever seen," says Sheppe. "It is always filled! During the weekend, during the week, there are young families and little babies like yours to people up into their 90s. This place is rocking. It speaks to leadership of the church, and there is a significant catechizing effort underway there. Religious education classes are just packed." Structurally it is not in danger of falling down, but gorgeous architecture and artwork covering the interior was in danger of disappearing. "Walking into the church, you can just see the grime," says Sheppe, "which comes in large part from just the church being a church for such a long time. It was visible to the naked eye that something needed to be done." Isn't this how things are within our greater Catholic Church? It requires ongoing care and cleaning in part just from being a church for such a long time. In 2012, plans were drawn up in Paris for the restoration, and an American side of fundraising started about a year later, working in total lockstep with the French. "This church, like all churches in Paris, officially belongs to the city of Paris," says Sheppe. "But they own only the walls. Taxpayers are responsible for 15% of the cost of restoration. The balance of 85% has to come from private hands, not the public purse, not the church." Interestingly, this project is perpetuating restoration itself. Sheppe laughed about the rarity of these skills in modern society. "You can't go down to Home Depot and whistle up a stone carver or a mural," he said. "This work preserves these ancient crafts and work. You don't find it on every street corner." In a world where so much divides us, this building transcends time and cultural trends, reaching back to touch the origins of Christianity in Europe. The restoration project is bringing people together across oceans, across religions, and across cultures. "It's important that we remain in touch with our cultural and religious heritages," says Sheppe. "That's why so many have come together to bring this into the next generation in better hands than we found it." And that's where we come in. To make a donation to the Adopt A Saint Germain Star project, please visit their website. Your name or memorial will be added to the online map of stars that fill the ceiling of the church. Each star represents a $100+ donation to this fundraising effort, though any donation amount is welcome. Hovering over the stars on the ceiling map, you'll see French and American names shining right alongside each other, a visible marker and reminder of the harmony and solidarity of our Catholic Faith that crosses every divide, even death itself. "We are just a moment in history, you and I," says Sheppe. "But this is going to go on and on."
Copyright Agence Pierre-Antoine Gatier 2018. All rights reserved. Used with permission.[/caption]
---
Copyright 2018 Author
About the Author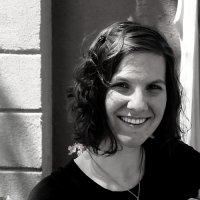 Kaitlyn Clare Mason is founder of Mary Garden Showers, a national ministry sharing Christ's mercy with women and families in crisis pregnancies. Author, songwriter, and homesteader, she is blessed to be a wife and the mother of four children. She writes to help you trust & serve the world through your home at KaitlynClareMason.com.