When I picked up Gaze Upon Jesus: Experiencing Christ's Childhood through the Eyes of Women (Ave Maria Press 2018), I expected a rather gentle, simple dive into the Scriptures. At under 200 pages, the book does not appear daunting, and I figured that it would be an easy -- dare I say relaxing? -- way to grow closer to God, especially throughout Advent and Christmas. How naïve I was. Edited by Kelly M. Wahlquist, the founder of Women in the New Evangelization (WINE), Gaze Upon Jesus is much larger and more intense than it first appears. Presented as a six-week Scripture study, Gaze Upon Jesus features reflections by several WINE members as they offer ways to learn from the women of the New Testament. However, instead of simply presenting one reflection, or one type of prayer, this study utilizes different methods for meditating on Christ's life.

Each chapter of the book focuses on one virtue that is relevant to a particular scene from Christ's childhood, and the six chapters take the reader from the Annunciation all the way to the Finding in the Temple. At the beginning of each chapter is a section titled "A Moment to Ponder." This small section is an introduction into the theme of the chapter, reflecting on the particular virtue or period of Christ's life will be discussed. Then, after being directed to read from the Scriptures about the particular moment in Christ's life, the reader is presented with a short reflection on the passage that she just read. In these reflections, the authors begin to take the reader from the surface value of the story form Scripture and begin to give into the cultural context or prophecies that provide a deeper understanding of the text.

Next, a short narrative -- told from the perspective of either a real or fictional women -- is given, which brings the scene from Scripture to life. This part of the study reminded me of Ignatian meditation, and also of Louis de Wohl's vivid novels, which vividly paint pictures from the lives of the saints. While these sections of Gaze Upon Jesus were not my personal favorite way to pray, they were beautiful, well-written, and are a fantastic inclusion in this study. The next two sections of each chapter are reflections on the virtue and particular part of Christ's life. The authors do a great job drawing from their lives, Scripture, and the Catechism to make thought-provoking and powerful reflections here. The final part of the chapter was, without a doubt, my favorite: the section on visio divina. In the beginning of the book, color paintings that depict six scenes from Christ's birth and childhood are presented. Each chapter uses one of these paintings, as Dr. Elizabeth Lev, an art historian who has worked as a consultant for the Vatican Museums, presents questions and observations so that the reader can prayerfully enter into the Biblical scene that is depicted. Finally, there are group reflection questions, so that women in a small group can share and grow together. Each woman learns and prays differently, and I appreciate that while all of the content in this book can help women grow, there are different authors and methods that can reach women in different ways. Gaze Upon Jesus is packed with rich opportunities for prayer and discussion, and as I read the book I grew puzzled that this is intended as a six-week study -- one chapter alone is full of insights and reflections. While this can certainly be done in the intended format, each chapter is worth coming back to again and again over the days and weeks. Within the seasons of Advent and Christmas, Gaze Upon Jesus is particularly appropriate, but this book is well worth picking up at any time of the year. Gaze Upon Jesus: Experiencing Christ's Childhood through the Eyes of Women is available for purchase at Ave Maria Press. I was provided with a copy for review. All opinions are my own.
---
Copyright 2018 AnneMarie Miller
About the Author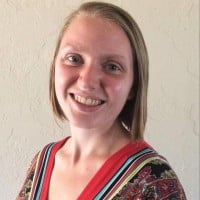 Eagerly seeking new adventures each day, AnneMarie enjoys life in Oklahoma with her husband and little boy. She has a passion for the Faith and particularly loves learning more about the Liturgy, saints, and various devotions. AnneMarie's musings on Catholicism, literature, and motherhood can be found on her blog, Sacrifice of Love.