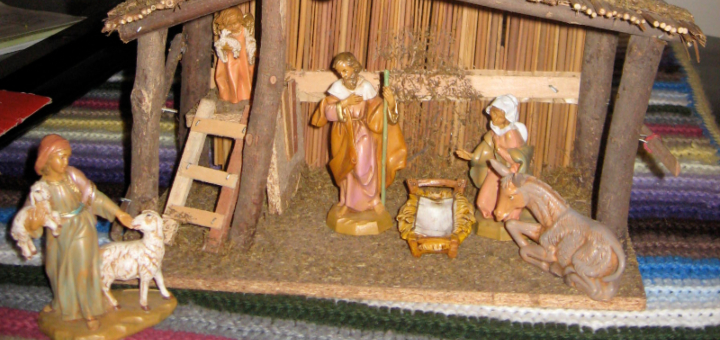 Copyright 2018 Rosemary Bogdan. All rights reserved.[/caption] Sadly I noticed the photo of Professor Roger Hackett in the Center for Japanese Studies Newsletter. He had passed away, this kind professor who had taught me modern Japanese history some forty years ago. I remember the slides he would show at the end of every lecture, showing us photos of the people and places mentioned in his lecture. He was a kind, engaging and very knowledgeable professor. I have no idea how it related to the lecture, but once he casually mentioned something he and his wife always did with their five children on Christmas morning. All the children had to stay at the top of the stairs until they heard the hymn "Joy To The World." Practically, that gave Mom and Dad a little time to get everything ready downstairs, he explained with his warm smile and a twinkle in his eye. I had not yet met my husband, but I made a mental note of what a great idea that was. So that's what we've always done for many a decade now. (Thank you, Professor Hackett.) It's a helpful reminder, right up front, of what we're celebrating on Christmas and why it is a day of great joy.
"Joy to the World" by Rosemary Bogdan (CatholicMom.com)[/caption] We have a number of Nativity scenes among our Christmas decorations. We never put the Baby Jesus figures in until Christmas morning, another reminder of Jesus' arrival on Christmas day. So at the top of the stairs the children would wait, my own six and my two nephews who were always with us. Before the music started, we would pass out a Baby Jesus to each child. When "Joy to the World" began, each child would come downstairs and place the Baby Jesus in the appropriate Nativity scene.
Copyright 2018 Rosemary Bogdan. All rights reserved.[/caption] My nephew Luke never minded taking the large white plastic Baby Jesus outside to the Nativity Scene in the yard. Out he would go in his pajamas. I think he may have enjoyed the drama of it and the size of the Baby Jesus HE got to carry. The rest of us would watch with giant smiles on our faces from the living room window.
Copyright 2018 Rosemary Bogdan. All rights reserved.[/caption] The parade down the stairs was an adorable combination of reverence and excitement. OK, well maybe the excitement was a little more prevalent. Then we would gather around the Advent wreath where all the candles were lit. The manger in the center of the wreath had slowly filled with pieces of straw, each representing a good deed done by a family member during Advent.
"Joy to the World" by Rosemary Bogdan (CatholicMom.com)[/caption] Then we sing "Happy Birthday" to Jesus, the Newborn King and the children all blow out the candles as though it were a birthday cake. After that? Well, after that, we head for the stockings and presents -- and chaos breaks loose! What favorite family Christmas traditions are dear to your heart?
---
Copyright 2018 Rosemary Bogdan
About the Author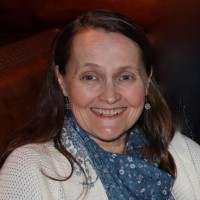 Rosemary Bogdan is a wife, mother of six adult children, and a grandmother. She homeschooled her children when they were young and currently substitute teaches at her favorite Catholic school. When not spending time with her family, Rosemary writes at A Catholic Mother's Thoughts and Catholic365.com.