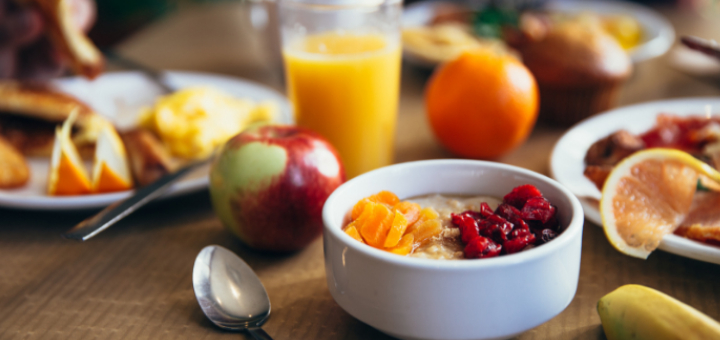 Copyright 2018 Emily Jaminet. All rights reserved.[/caption]

I grew up in a home where the dining experience was emphasized on a daily basis. I had a mother who cherished her 18th-century-era table that seated sixteen people around it. This was the place where feelings and politics were discussed, celebrations were had, plans were made and even ministry ideas developed and launched. No matter what we were eating, the candles were lit, we began with heads bowed in prayer and inevitably ended the time together with laughter bellowing into the next room. Now that I am in the child-rearing stage, I have come to appreciate how much work, energy, and dedication it takes to gather the family in an attempt to pass this fabulous tradition from one generation to the next.

Recently, I have been reflecting on the unbelievable pace that not only my family but those around me keep. Families of all ages and stages are hustling and bustling from one event to the next hoping to keep up with all the activities, sports, events and commitments outside the life of the family. This time of the year is a beautiful time to reevaluate not only your spiritual goals but your overall lifestyle. One easy and a practical suggestion that can dramatically improve the quality of your family dynamics is recommitting to family meals. I have to admit, this goal was much easier to accomplish when the children were little and life was more simple. However, now that my family has grown, with kids ranging from late teenagers to a toddler, I have come to appreciate that without the family meal we can easily fall into living more as separate individuals under one roof than a family.
Copyright 2018 Emily Jaminet. All rights reserved.[/caption]

Suggestions for a Better Family Dining Experience:

Reclaim the Dining Table

: By this I mean, do not allow your dinner table to be taken over by the many papers, bills, homework, and even laundry that life tosses at you. Make sure the table is set before the meal. Provide some holiday cheer and decorate it according to the liturgical season which is upon you.

Paper Plates & Fine China:

Consider strategies for both quick-paced meals and delightful dinners. Since the start of Advent, I have pulled out our holiday plates and nice dishware, but during the week we eat on paper plates on top of the dishes. This creates for a great environment but with half the clean-up. A plate-on-plate setting is an easy way to have the same effect as a fancy dinner but without all the dishes, something especially helpful when you are busy running children from activity to activity.

Calming Candlelight

: Light candles or purchase battery-operated ones to create a great atmosphere for family discussion and unity. Candles have a very soothing effect and serve as a symbol that this time is special and set apart from the daily routine. Young children are fascinated with the fire and find it quite entertaining, while older children quickly learn that this meal is not to resemble a fast-food drive-thru. As busy mothers, it can be easy to believe our only goal is to get the food on the table, when in fact, our real goal is to not only feed them physically but emotionally and spiritually as well.

Start with Grace:

No matter what you call dinner that night, begin with a prayer. Whether it be the traditional Catholic "Bless us O Lord …" or a spontaneous prayer, this little gesture serves to show our gratitude to Him from whom all good things come and can be a spark for meaningful conversations. This practice also serves as a reminder to our children that this food indeed is a gift, regardless of whether they like it or not!

It's all about the "Experience":

During the week, take the pressure off to always provide a gourmet quality meal. Consider serving your children with the same type of food you typically serve but in a more enriching environment. For example, last night we had an ordinary Mexican dish with chicken, rice, and beans; when the meal was served on our delightful, festive dining room table, the children felt like it was a Christmas-dinner experience. It wasn't the food but the different environment which elevated the overall eating experience. Even leftovers served in this way somehow seem less stale!

Flexibility & Planning:

Try starting with a family goal of eating together a few times a week and see if you can add more meals together each week. For some families, finding that many evenings where everyone can be home together is a challenge. In that case, be flexible and consider other options. Try making a point to eat breakfast together or adjusting your normal dinner time. My grandfather worked the night shift, so my mom grew up eating right after school before he headed off to work. If none of those options fit, make a special dessert and plan to share it together later in the evening. In the end, it is not about the time you eat but the time you spend eating together!
Image created in Canva from free elements.[/caption]
---
Copyright 2018 Emily Jaminet
About the Author