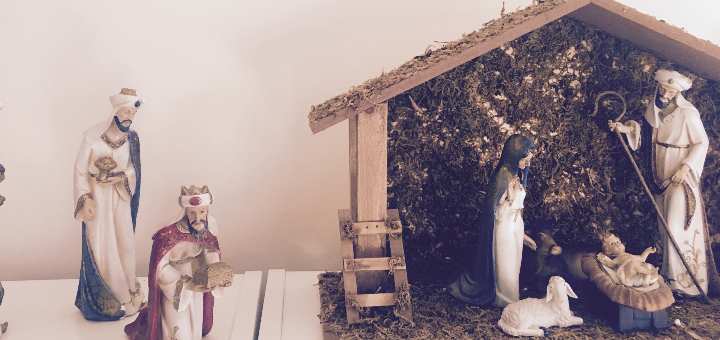 Copyright 2018 Laura Mary Phelps. All rights reserved.[/caption] People. Christmas is not over. OK. Let me back up. I have been reflecting on this thing that many of us do. How we take the tree down on the 26th. How the garland and bows are packed and stored away before the sugar cookies have been digested. How the Christmas-candy aisle is already filled with boxes of Valentine's Day chocolate. While the Wise Men have yet to reach the newborn King, our own nativity scene is hidden away in bubble wrap and newspaper. See you next year, baby Jesus! Christmas has come and gone. But I repeat. Christmas is not over. You see, we got it all wrong. And by "we" I mean me. I have spent most of my life treating Advent like a celebration, rather than a preparation. I have spent most of my life treating Christmas like a day, rather than a season. But listen up, oh you weary souls and exhausted dear friends ... Christmas has just begun! Now is the time to celebrate! Unwrap baby Jesus and put that dead tree back in its stand! It is time to rejoice! When I discovered the real Christmas ... all twelve days of it ... and the gift of these celebratory days that lead us to the Epiphany on January 6, it was like the worlds greatest "AHA!" moment, not to mention, it felt like a giant ton of bricks lifted off of my back. Because, honestly? Advent has always been stressful for me, and filled with a bit of dread. The hustle and fast pace, the worry over money, the need to "get it all done" by the 24th was just too much. It not only exhausted me with all the wrong things, but it robbed me of the ONE thing I craved: quiet time with the empty manger. And every Christmas morning I would wake up and think, "I missed it again" ... all because I treated Advent like a four-week celebration. All because in the midst of the rushing and racing, I failed to prepare. But all is not lost. Even if you are among those "who missed it," God is always so good and generous ... and He gives us twelve more days. So keep the Christmas music on, and take out the leftovers. Invite your friends over, or finish writing your cards, or buy that gift you forgot, or sit in quiet by the manger. Whatever it is you feel like you failed to get done, you still have time. Christmas is not over. Your tree might be dead, but Jesus is alive! And to that I say, rejoice!
---
Copyright 2018 Laura Mary Phelps
About the Author

Laura Phelps is a wife and mom to four, who enjoys writing, blogging and speaking about her faith. She serves as a Regional Area Coordinator for Walking With Purpose, a women's Catholic Bible Study, and blogs at www.lauramaryphelps.com.