Copyright 2019 Kaitlyn Clare Mason. All rights reserved.[/caption] I recently had an opportunity to review these three titles from TAN Books. After reading them, I realized that they go together quite nicely. I'm calling this "a toolkit that will prepare you for anything." Mundane Monday? Encroaching army? Mary and Jesus have got your back … The Marian Option: God's Solution to a Civilization in Crisis Let's face it. We can all agree the world needs help. News headlines pour in, political divides are increasing, and what can we do about it? Here's a fresh solution – but it's not a new solution, it's one that God has been using to comfort and rescue humanity throughout the ages. My friend told me about this book a few months ago, and she said it was a book that filled her with fresh hope about the world. "It made me realize that things are going to be okay, we just have to turn to Mary," she said. And she was right. God loves to work miracles through His mother Mary. In this book, Dr. Carrie Gress gives countless examples of battles and world events where the Mother of God clearly turned the tide. When the enemy reports turning from battle because they see a Madonna in the sky, when the wind shifts and lifts fog, uncovering an encroaching army, it is clear that prayers for Mary's intercession have been answered. But this book does much more than prove we can trust Mary and Jesus to come to our aid in times of despair. It equips us for cultivating fresh cultural pursuits that will restore the health and wellbeing of modern society in an age of moral ruin. Gress speaks of creative minorities – the ones who throughout the ages, have turned to healthy, creative pursuits to preserve the heart of humanity from the corruption of morality. She also speaks of how Mary can prepare us for anything, recommending Marian Consecration and other ideas as ways to increase our devotion to her. Of course, as co-director of Mary Garden Showers, I was particularly excited to see her suggestion to plant Mary Gardens! I can honestly say this is the best book I've read so far this year, (second to the Bible of course). The Marian Option is available from TAN Books and on Amazon. Marian Consecration for Children: Bringing Mary to Life in Young Hearts and Minds What a treasure. If you've made Marian Consecration yourself, or if you're interested in doing a Marian Consecration as a family, this book is for you. It guides children through the process of getting to know Mary as our spiritual mother, through well-loved children's books and stories. Books like The Chronicles of Narnia, Anne of Green Gables, and Green Eggs and Ham are interwoven with stories of noble saints and lovely prayers to create a beautiful book you'll want to take off the shelf long after the 34 days of preparation have ended. Each day contains a bedtime-story-sized devotion that will create warm conversation about holy things in your home. Dr. Carrie Gress wrote this book after The Marian Option, and it contains a children's version of many of the same stories in that book. This makes it like a child's companion to the hope filled message in The Marian Option. Pick up your copy from TAN Books or on Amazon. Manual for Spiritual Warfare Once you see that Mary is our best option, when you're ready to enter battle with Mary, pick up Manual for Spiritual Warfare. Tapping into the power of God is paramount to saving souls, because we cannot do this work on our own. But we can stop the devil's activity by turning to Christ and by using the weapon of prayer at Mary's side. In Manual for Spiritual Warfare, you'll find a collection of resources to equip you for spiritual battle. This small book is packed full of powerful prayers, stories and testimonies from saints, Scripture verses, and information on virtues that will make us bullet-proof to many of the devil's persuasions. This was extremely helpful for me personally when I was struggling with anxiety before the birth of our daughter. Specifically, The Breastplate of Saint Patrick prayer was a great comfort and aid. But there are many more prayers in this book I'd never heard of before, and I have enjoyed pouring through these pages very much. With a gray leather cover and a sword imprinted on the front, silver-lined pages, and a satin bookmark, it looks like it came straight out of The Lord of the Rings or something – it just looks powerful, and it is. This book is available from TAN Books and on Amazon. P.S. God is merciful & He loves you.
---
Copyright 2019 Kaitlyn Clare Mason
About the Author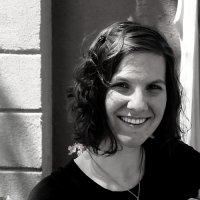 Kaitlyn Clare Mason is founder of Mary Garden Showers, a national ministry sharing Christ's mercy with women and families in crisis pregnancies. Author, songwriter, and homesteader, she is blessed to be a wife and the mother of four children. She writes to help you trust & serve the world through your home at KaitlynClareMason.com.