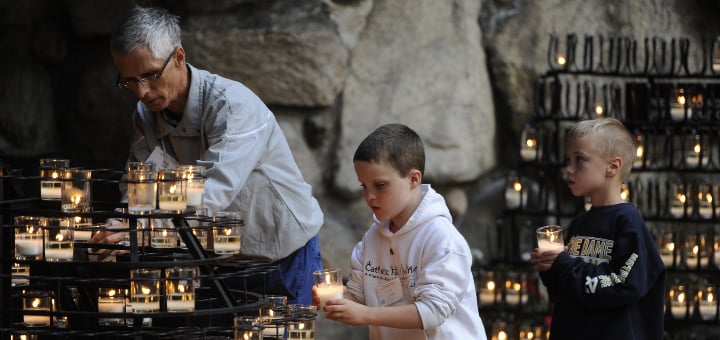 Copyright 2014 Holy Cross Family Ministries. All rights reserved. Used with permission.[/caption] The Week of Prayer for Christian Unity takes place annually from January 18 to 25. This week coincides with the novena for the feast of St. Paul's Conversion. The theme for 2019 is "Justice, Only Justice, You Shall Pursue" (cf. Deut. 16:18-20). This theme originates from the churches of Indonesia where there is a strong emphasis upon the need for unity alongside the nation's ethnic and religious diversity. The resources provided also highlight issues of economic injustice and how religious pluralism can face challenges in the face of radicalization. Fr. Tom Orians, Associate Director of the Graymoor Ecumenical and Interreligious Institute, explains, "Every year, Christians across the world gather in prayer for growth in unity. We do this in a world where corruption, greed and injustice bring about inequality and division. We are called together to form a united witness for justice and for Christian Unity that becomes a means of Christ's healing grace for the brokenness of the world. Only by heeding Jesus's prayer "that they all may be one" can we witness to living unity in diversity." The Franciscan Friars of the Atonement provide a wonderful selection of prayer guides that may be purchased for this week of prayer. You can also download free resources from WeekOfPrayer.ca that include activities for children and worship Check out the Twitter Wall (you can view this even if you don't have a Twitter account) and show your support for Christian Unity by posting unity messages and details of local events using the hashtag #wpcuwall The United States Conference of Catholic Bishops (USCCB) offers a free playlist of videos to inspire our desire to fulfill the desire of Jesus that we may be one in Christian unity (John 17:21-23). A Google and Facebook search will yield more resources for our resolution that this New Year 2019 will begin with prayer for unity. For example, on Facebook the message of the Minister General of the Order of Friars Minor (Franciscan friars) was posted by a Franciscan friend. Besides sharing these resources with others, the most important thing we can do for the Week of Christian Unity, for justice and peace in our world, is prayer. We also pray for our conversion in the process. St. Paul attributes his striking religious conversion on the road to Damascus to God alone, "By the grace of God I am what I am." Religious conversion always results from a Divine intervention. His initial conversion (Acts 9) sowed the seeds of his "continual conversion." Paul became attentive to the need for conversion in every area of his life testifying that "the grace he has given me had not been without result." One of the key terms Paul uses is the Greek word energeō, to be at work: the Word, he says, is "at work" in you. N. T. Wright tells us that Paul "speaks of the powerful divine word as a transforming energy which, though unleashed through his own announcement of the gospel, is much greater than the sum of his own words or his rhetorical skill. 'We know,' he says, 'that God has chosen you, because our gospel did not come to you in word only, but in power, and in the Holy Spirit, and in full conviction' (1 Thes. 1:4-5). In 1 Thes. 2.13 Paul develops the theme further. We always thank God, he says, "that when you received the word which you heard from us you received it, not as the word of human beings, but as what it really is, the word of God which is at work in you believers." Here is a Lectio Divina you may use during the novena for the feast of St Paul's Conversion. (Our community sings the novena using a more contemporary version of this Latin Gregorian Chant Pressi Molorum).
Lectio TRUTH
Read 1 Corinthians 15:10 in which Paul presents us with a synopsis of his conversion and his correspondence to this grace. Pay careful attention attending to your inner response.
Meditatio WAY
Meditate on how St. Paul has captured the eternal struggle that we all go through in our call to conversion. "I do not do what I want, but I do the very thing that I hate." 'Who will deliver me from this body of death? Thanks be to God through Jesus Christ our Lord!" (Romans 7:15; 24-25). Blessed Alberione tells us of himself, "Here is a half-blind man, who is being led; and in moving along he is enlightened from time to time, so that he can proceed further: God is the light" (AD 202).
Contemplatio LIFE
Christ's redemptive death inaugurates the new creation: "By new creation, Paul means that God in Christ has created humanity anew, giving it newness of life" (Romans 6:4), a life in union with the risen Christ, "Christ lives in me" (Galatians 2:20), a life destined to share in the glory of God. After encountering the risen Christ on the road to Damascus Paul uses the expression to be or to live in Christ 164 times. Through baptism the resurrected, glorified Christ truly dwells within us (Galatians 2:20). Through the Holy Spirit Christ brings about our ongoing conversion that we might live in Christ (Colossians 3:10).
Actio ACTION
Act on God's invitation. Paul admitted that he was still on the road to conversion, "I do not consider that I have made it my own, I strain forward to what lies ahead, pressing on toward the goal for the prize of the upward call of God in Christ Jesus" (Philippians 3:14).
Oratio PRAYER
Live in us Jesus, with the outpouring of the Holy Spirit, so that we may love you with our whole heart, love you with our whole mind, love you with our whole will and love our neighbor as ourselves. Make us faithful witnesses to your Word. May your grace in us be fruitful! (Cf. Blessed James Alberione)
---
Copyright 2019 Sr. Margaret Kerry, FSP
About the Author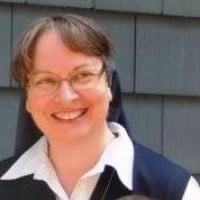 A Daughter of St. Paul for 40 years Sr. Margaret continues to pursue new ways to proclaim the Gospel: sharing the Pauline Charism with the laity, writing books (St. Anthony of Padua: Fire & Light; Strength in Darkness: John of the Cross; Prayers for the New Evangelization), & through direct evangelization. She is available for workshops on the Vocation & Mission of the Laity, Media Literacy, and The New Evangelization. mkerry@paulinemedia.com