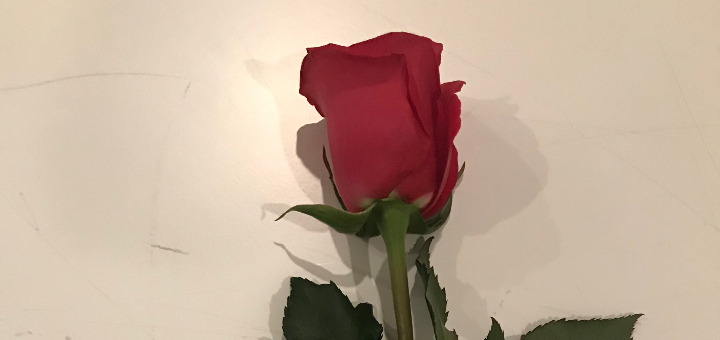 Copyright 2019 Ellen Mongan. All rights reserved.[/caption] "Will you accept this rose?" Reading these words many people will immediately think of the realty show, "The Bachelor." I want to present a story of a different kind of reality, a love story that only God can write. God's love and the love the world presents are as different as light and darkness! Every Valentine's Day love is celebrated. Love is a complicated word. What does love mean to you? Patrick, my husband, and I were teaching an engagement weekend in Macon, Georgia, one year. God had impressed on my heart that day to bring some beautiful roses to the Friday night gathering, which I did! I carefully placed the roses in the back of the room in a large vase. I, the forever romantic, had a plan: to surprise the brides-to-be with a rose from their groom. The roses were to be presented at the end of the evening. God, too, had a plan. It was yet to be revealed. The teaching came to an end. I said, smiling brightly, "I have surprise for you!" Once I had everyone's attention, I gave the instructions: "Men please go to the back of the room now and pick a rose for your lady." They were off and running, determined to hunt down the perfect rose for the one they loved. One young man, whom I knew from back home, came up to the podium to show me his find. He joyfully held out his rose. "Ellen," he proclaimed with delight, "I looked for the rose that had the least amount of thorns!" The next few words that popped out of my mouth were not my own. They came from a heart that had journeyed the vocation of matrimony for a very long time, with the guidance of a Holy God. "Oh, Zach," I said, "you should have hunted down the rose with the most thorns. You see, it is the thorns in life that will cement your hearts together!" He looked a little baffled as he went back to his seat. I do not know what Zach went away with that night, but I received a treasure. It was God's gift to me, words of wisdom that I never would have understood had Zach not shown me his rose with only a few thorns. What rose has God presented to you and your husband in your marriage? Did you accept the rose? After reading Tommy Tighe's tweet about his brand new baby boy, the story about Zach and the rose was brought to my mind. You see, the Tighe family and the Mongans share the burden of losing a baby way too soon. This is why this new baby boy brought great joy after such loss. The death of our babies presented a rose in our life with many thorns. God worked all things together for good. In our marriage we have been presented many other roses full of thorns. Each time we choose to walk side by side, hand in hand, with the help of God alone. God's grace was always sufficient. I would love to tell you that when the thorns of life have been presented to us, we bravely leaned on the graces of God and each other, put a smile on our faces and sang a song of praise to God, but it would not be true at all. Suffering is tough. Sometimes we were only able to put one foot in front of each other and not smile at all. Sometimes I cried buckets of tears and complained way more than I care to admit. However it is along the road of suffering that we learn to seek God's face a little harder in prayer. Suffering teaches us how to cry out to Him from the depth of our soul and beg Him for wisdom. Praying together as a couple and trying to support each becomes essential. Thorns in life can draw you closer together or push your further apart. Sometimes it is only after the thorn is removed that one is able to see the beauty of the rose once again. How about you? Has suffering brought you closer together as a couple -- or have the thorns in life choked the life out of your rose-filled life? This Valentine's Day, take some time in prayer to thank the Lord for the roses in your life, the ones with the least amount of thorns and those thorns that prick your heart so deep that your tears never seem to cease. Try to remember that God will use these trials to cement your hearts together. I want to encourage you with the words, "This too shall pass" but remember God never promised us happiness on this earth but only in the next; you could say, "God never promised us a rose garden." The world's idea of love is so shallow next to God's definition.
"This is my commandment: love one another as I love you. No one has greater love than this, to lay down one's life for one's friends. You are my friends if you do what I command you." (John 15:12-14) Copyright 2019 Ellen Mongan. All rights reserved.[/caption]
Love involves sacrifice. Love causes us to holding each other up when one of us cannot stand alone. Love enables us to give to our spouse even when the thorns are piercing our heart, blinding us from the view of the rose presented. During times of suffering one grows in maturity. Stand by each other and being there for each other, helps couples grow in love for one another. We learn to draw upon God's love. No one wants to choose the rose with the many thorns, but thankfully it is God who allows the roses given to us in this life. He presents them to us with His love. Remembering that nothing happens to us unless it is God's perfect will or His permissive will brings us hope in trials! Almost a decade has passed since that Friday evening when Zach and I chatted about the rose with the fewest thorns. I rejoice whenever I happen to see him and his dear wife and their beautiful bouquet of children. I always want to ask him that one question; instead I hold my tongue. Over the years I have grown in self-control. I have learned that some lessons in life only God can impart to a soul. I bet you are wondering what question I would ask Zach? The question is, "Zach, if you picked a rose today for your beloved, would you still hunt down the one with the fewest thorns?"
---
Copyright 2019 Ellen Mongan
About the Author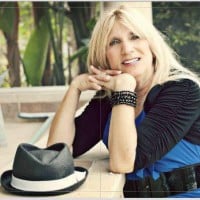 Ellen Mongan is a Catholic writer, speaker, and host of WOW MOM podcasts. Her book, WOW MOM: A Walk with God, is on Amazon. She contributes to Catholic Mom, Women of Grace, and Augusta Chronicle. Her most important roles as wife to Deacon Patrick and mother of eight led her to ministry. Learn more and contact her to speak at EllenMongan.com.