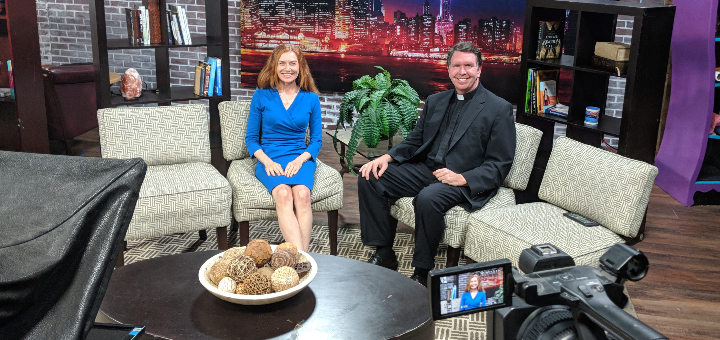 Copyright 2019 Anne DeSantis. All rights reserved.[/caption] Seeing "The Positive Side" Recently, I was invited to host a new TV show on RVNTV called "The Positive Side." The show is a half-hour program available on an online network with many different types of shows for viewers of all beliefs and stages of life. The gist of the show is the true "positive side" where I have hosted guests with a positive message to help us see the better side of life despite many obstacles. It has been interesting and fun to meet people with all kinds of stories, ministries, and great things to share about living a good life to make a difference both for others and also for God's plan. I am grateful to God for this opportunity.
Copyright 2019 Anne DeSantis. All rights reserved.[/caption] Ways to See the Positive Side in Daily Life with God's Grace With a heart full of faith, I come to the show each week excited to meet great people of different backgrounds, faith traditions, and stories which can encourage others to live a good life that impacts the world for better. I have come up with some take-aways for all of us to live that positive life with God by our sides and with the help of the Sacraments of our faith to live a positive life which impacts as many people as God permits.
Choose to See the Good Instead of the Negative Aspects of Life. Life is a struggle and we all have some kind of "cross" to bear. We have a daily choice to offer the difficult moments to the Lord. As hard as this can be, choose to give it to God. Give God the situations that test your faith and believe he will help you come through.
Help Others. Nothing makes a bigger difference aside from prayer than choosing to help someone in need. On "The Positive Side" I have seen many people give testimony about how through the grace of God they have overcome obstacles. It has been said that if God were to show us an array of "crosses" we would chose the one given us. Keep this in mind the next time you're tempted to sulk or refrain from helping someone in need.
Love Your Family. Family life makes all the difference. When we have and give support, the Lord is right there with us. The domestic church, our own families and those with whom we spend the most time, is where we are called to serve the most.
Let Go of Negativity. Some of us have come from a challenging past or upbringing. Patterns for "the good" may not have been set right away. That does not matter when it comes to living in the present moment. Let go, with God's help of any lack of forgiveness and negativity. In the end, it will make you happier and much more fulfilled, too.
Exercise and Eat Right. Proper exercise and nutrition are different for just about everyone. What matters most is that you "just do it." Eat more whole foods, get plenty of rest, and keep moving. Especially for those of us over the age of 50, it is essential to keep eating good foods to feed your body and keep active. It helps a great deal to see the positive side with the Lord's help.
Pray and Live the Sacramental Life. As Catholic Christians, we have tremendous gifts in the Eucharist and other sacraments to love God and others more fully. Take advantage of the fact that these sacraments are available for you and your families! God is close to you in all ways and in a very special way in the sacraments. Without a doubt, belief in God and in the gifts that He provides for us in His Church will help us to see "the good" always!
Let Go and Believe More Fully. With all of this at hand, remember life is not perfect. Even if we follow this prescription perfectly, we will have pitfalls and difficulties. This is life. Remember that a good life is not a perfect life. It is a life with God and with His grace.
I hope these ideas will help you and your families. Be blessed!
Copyright 2019 Anne DeSantis. All rights reserved.[/caption]
---
Copyright 2019 Anne DeSantis
About the Author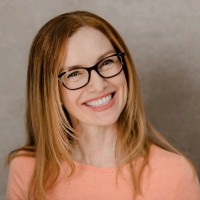 Anne DeSantis is a Catholic wife and mother of two grown daughters. She has written for CatholicMom since 2016. She is the director for the St. Raymond Nonnatus Foundation, with outreach to families affected by divorce and separation. Anne is a 55+ model/actress and the Host of the on-line TV show "The Positive Side on RVNTV." Learn more about her work at AnneDeSantis.com.