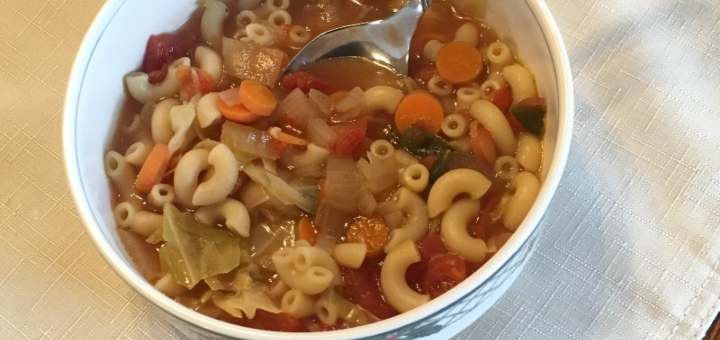 This simple, healthy soup is the first soup I learned to prepare as a new wife more than twenty years ago. I think because my mom typically made her own stock for soups, I mistakenly thought soup was a massive culinary undertaking and avoided it for years. Enter this easy recipe I found in a cooking magazine. Simple, quick, and delicious, I continue to serve this to our family. On its own, it's not very filling, but it pairs well with fresh bread and butter or a salad. For a flavor and protein boost, sprinkle with Parmesan cheese before serving.
30-Minute Minestrone
4 medium carrots, chopped
2 cups chopped cabbage
2 celery ribs, thinly sliced
1 large onion, chopped
2 garlic cloves, minced
1 tablespoon olive oil or butter
6 cups water
28-oz. can diced tomatoes, undrained
6 beef bouillon cubes
2 cups torn, fresh spinach
1-1/3 cups cooked elbow macaroni
1/2 teaspoon ground black pepper
In large pot or kettle, sauté carrots, cabbage, celery, onion, and garlic in butter or oil for 5 minutes. Add water, tomatoes, and bouillon; bring to a boil. Reduce heat and simmer, uncovered, for 20-25 minutes or until vegetables are tender. Stir in spinach, macaroni, and pepper. Heat through. Makes 10 servings.
Copyright 2019 Carolyn Astfalk
About the Author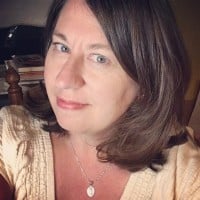 Carolyn Astfalk is a wife, mother of four young children, and a writer. Her contemporary Catholic romances are available at Amazon.com. She is a member of the Catholic Writers Guild, a Catholic Teen Books author, and blogs at My Scribbler's Heart. Visit CarolynAstfalk.com.