Copyright 2018 Carolyn Astfalk. All rights reserved.[/caption] Welcome to the March 2019 edition of An Open Book, hosted both at My Scribbler's Heart AND Catholicmom.com! An Open Book is all about what my family is reading this month, from the adults down to the little kids. Share what you're reading by linking up your blog post below. Simply write about what you're reading. You can make it personal or, as I do, extend it to the whole family. Your post can be as simple as a few lines about the book or as in-depth as a 700-word review. That's entirely up to you. You can even forego writing all together and record a video or simply post cover photos. No blog? No problem. Please share what you're reading in the comments.
With his new job, my husband is spending more time traveling and therefore enjoying more audiobooks. He's been listening to some Stephen King novels he last read in the 1980s, which have helped him complete our library's winter reading program. And, self-serving as it may sound, he's been listening to a couple of my audiobooks, including Rightfully Ours. (I know when he's listening because he sends me messages about this or that familiar-sounding event or some detail that doesn't jive.) Rightfully Ours by Carolyn Astfalk (me!) is a coming-of-age story about two teens in Williamsport, Pennsylvania, who are drawn together by grief and circumstances. Together, they embark on a treasure hunt for lost Civil War gold, falling in love in the process.
I've been listening to Hurt Road by Bruce A. Stewart, a (mostly) easygoing story set in Lousiana in the 1960s and '70s. An orphaned teen moves from Detroit to the South to live with his grandparents, whom he hardly knows. The family farm on Hurt Road proves to be the place where Hank matures and falls in love. Likeable characters, light romance, and some suspense. I recommend this professionally-narrated novel.
No Greater Love: A Biblical Walk through Christ's Passion by Edward Sri is the paperback companion to the Ascension Press Bible Study I'm participating in this spring. While it complements the workbook and video series well, it can be read as a standalone. Although filled with biblical typology, it's not a series of dry and dull references. The insights have opened my heart to Christ's passion in a new and deeper way.
My teenager picked up Darth Plagueis: Star Wars Legends by James Luceno on a recent library visit. I later breezed past the book lying on the dining room table and said, "Ooh, Death Plagues," for which I was laughed at. Master of Careful Reading, that's me. I was then schooled in the whole master/apprentice system by which the Sith endure. (For those not in the know, Darth Plagueis was Darth Sidius/Emperor Palpatine's master.)
In my daughter's fifth-grade class, they are reading Esperanza Rising by Pam Muñoz Ryan, which is the recipient of many awards. A privileged Mexican girl's family experiences a reversal of fortune, forcing young Esperanza to work on a California farm during the Great Depression. Her mother's illness and a labor strike further complicate matters for Esperanza.
While my oldest was choosing his Star Wars book, my first-grader grabbed a couple of joke books and Cat Poems by Dave Crawley. We picked up the book on a whim, and I'm so glad we did! The poems are clever and sweet, and the illustrations are delightful and include a guide to various domestic cat breeds featured in the book.
My kindergartener is now privileged to bring home books from the school library. You and Me, Little Bear by MartinWaddell tugged on my heartstrings. In it, Big Bear (the Daddy) is too busy to play with Little Bear. Little Bear tags along with Big Bear while he completes his chores, then busies himself while Big Bear dozes before finally getting to play with his dad. But play they finally do. A sweet picture book that most parents and children will enjoy. Want more details on An Open Book? You can also sign up for An Open Book reminder email, which goes out one week before the link-up.
Check out the archives of An Open Book!
---
Copyright 2019 Carolyn Astfalk This article contains Amazon affiliate links; your purchases through these links benefit the author.
About the Author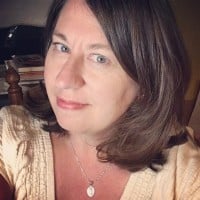 Carolyn Astfalk is a wife, mother of four young children, and a writer. Her contemporary Catholic romances are available at Amazon.com. She is a member of the Catholic Writers Guild, a Catholic Teen Books author, and blogs at My Scribbler's Heart. Visit CarolynAstfalk.com.