Copyright 2018 Carolyn Astfalk. All rights reserved.[/caption] Welcome to the May 2019 edition of An Open Book, hosted both at My Scribbler's Heart AND Catholicmom.com! An Open Book is all about what my family is reading this month, from the adults down to the little kids. Share what you're reading by linking up your blog post below. Simply write about what you're reading. You can make it personal or, as I do, extend it to the whole family. Your post can be as simple as a few lines about the book or as in-depth as a 700-word review. That's entirely up to you. You can even forego writing all together and record a video or simply post cover photos. No blog? No problem. Please share what you're reading in the comments.
In his travels, my husband has been listening to Heart-Shaped Box by Joe Hill. He reports that the author may have outdone his father, Stephen King, in creepiness. After all the content warnings my husband listed (graphic language, occult themes, sexual situations, and more), I'm fairly certain this book is not for me. As my husband said, "It's [an exercise in] everything not to do."
Ancient Brews: Rediscovered and Re-created by Patrick E. McGovern and Sam Calagione weaves archaeology and science to uncover the world's oldest beverages and the cultures that created them. The book is listed among Smithsonian magazine's Ten Best Books of the Year about Food and includes re-created recipes for the intrepid home brewer. I have nowhere near the interest in beer that my husband has, but the history surrounding these brews is fascinating.
I've been listening to The Good Neighbor: The Life and Work of Fred Rogers by Maxwell King. Having grown up watching Mister Rogers' Neighborhood, I had an immediate interest in Fred Rogers' story. This biography seems well-balanced, neither elevating Rogers to sainthood status nor trashing the memory of a well-loved national figure. And while Mister Rogers' personal story is interesting, I'm equally enthralled by the history told alongside the biography, namely western Pennsylvania history and the genesis of public television and children's broadcasting. As a Pittsburgh native who studied broadcast journalism, there is so much here to interest me. The narration by LeVar Burton is well done.
The Waves, Amy Matayo's brand-new, clean, contemporary romance, was such fun! What could've been a stranded-on-a-desert-island cliché is a thoughtful story about a couple whose very human desires to be known and loved are laid bare by the worst of circumstances. A beautiful setting, a selfless and simmering romance, and the author's skill at creating true-to-life characters made this a highly enjoyable escape!
My Queen, My Mother: A Living Novena by Marge Fenelon is a sort of travel guide, reflective journal, history book, and prayer companion rolled into one! The author's trek across nine novena-worthy Marian pilgrimage sites enlightened me to Church and national history. The uniquely American flair of the sites and stories and the ways in which the author connected those to prayer for the United States is fresh and inspiring.
My sophomore son's class has been reading William Shakespeare's The Merchant of Venice, which I've read multiple times. I love that his classes place literature in context amidst their discussion of the Renaissance while also discussing Shakespeare and anti-Semitism through the play's treatment of Shylock. My son has really enjoyed the play, citing great poetry, good characterization, and the friendship and romance overcoming Shylock's hatred.
I haven't seen a book outside of a classroom selection in my fifth-grade daughter's hands lately, so I've given her Mission Libertad by Lizette M. Lantigua to read. I read this story of a Cuban family's immigration to the United States in the 1970s earlier this year. Aside from the political and pop culture history that I enjoyed, there is a mystery and a faith element that make this an intriguing story for young readers.
My first grader is getting a thorough introduction to the Magic Tree House series by Mary Pope Osborne. She is reading The Knight at Dawn, in which siblings Jack and Annie visit the Middle Ages in the midst of a castle feast.
I've fallen in love with Our Sunday Visitor's Saintly Rhymes for Modern Times by Meghan Bausch, and am so happy to read it aloud to our children. These simple, easy-on-the-ears stanzas about modern saints (Blessed Pier Giorgio Frassati, St. Damien of Molokai, St. Josephine Bakhita, Venerable Fulton Sheen and many more) are such fun to read. And yet they capture the essence of each saint's life and charisms. The matching illustrations are beautifully done and convey as much as the written words, making this a true treasure that has a place in every Catholic child's library!
My youngest son's Kindergarten class loves Pete the Cat, and this week we're reading Pete the Cat and the Cool Cat Boogie by James Dean and Kimberly Dean. With bright illustrations, a rhyming refrain, and an opportunity to get up and move, I can see why this would be a classroom favorite. Want more details on An Open Book? You can also sign up for An Open Book reminder email, which goes out one week before the link-up.
Check out the archives of An Open Book!
---
Copyright 2019 Carolyn Astfalk This article contains Amazon affiliate links; your purchases through these links benefit the author.
About the Author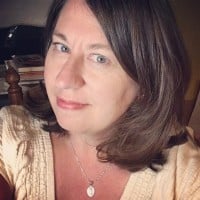 Carolyn Astfalk is a wife, mother of four young children, and a writer. Her contemporary Catholic romances are available at Amazon.com. She is a member of the Catholic Writers Guild, a Catholic Teen Books author, and blogs at My Scribbler's Heart. Visit CarolynAstfalk.com.