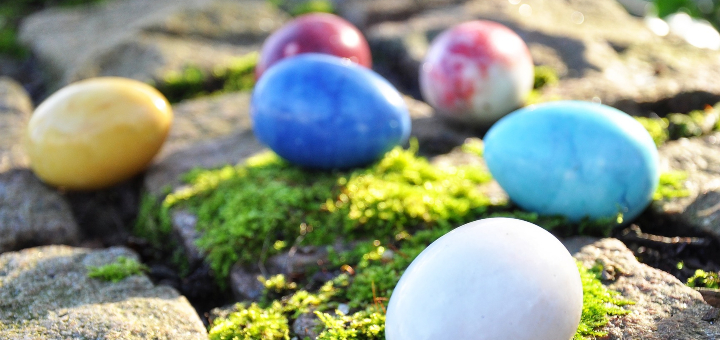 One of the hardest things about raising Catholic kids in secular society is our culture's tendency to frontload holiday celebrations. Halloween decorations in August. Thanksgiving in September. Christmas in October. Easter in February.
How in the world are we supposed to continue celebrating major feast days -- like Easter -- when there's nothing left on the store shelves?
Fortunately, Catholics are nothing if not countercultural. We don't need the decorations and trinkets so often sold in stores. Rather, there is a host of ways we can celebrate the Easter season through to its traditional completion. Here are 19 ideas to continue your Easter celebration, courtesy of Catholic moms just like you.
19 Catholic Ways to Celebrate Easter all Season Long
For Easter Sunday, our kids get a Hershey's chocolate cross and a Jesus/Easter storybook or DVD. We also have our Easter meal as a picnic lunch at a park or beach. Simple: cold ham, potato salad, and asparagus and/or carrots. Neither of us has family local, so it's a nice day with the two of us and the kids.
Some years we hunt for the hard-boiled eggs to be colored! Less sugary candy = less meltdowns but still the hunting fun and reward of coloring the eggs. We still have a small Easter basket with a little candy though. We just don''t want buckets full!
I put coins in plastic eggs to hunt for instead of candy. I usually put in a couple of coins, in varying amounts, and one egg has a dollar in it. Each kid gets the same amount of eggs and we make sure they both have the same amount of money at the end. We give them an Easter basket with some candy but more non-candy treats: sidewalk chalk, bubbles, stuffed animal, art supplies, and so on.
My daughter loves hunting for eggs so she will usually fill them with random things and hide them for the rest of us. (My kids are 10 and 6.)
We attended a special-needs egg hunt last year that was FABULOUS. They had a silent hunt for those with sound sensitivity, a chirping egg hunt for the blind, eggs with balloons for kids with mobility issues, and a sensory hunt in bins of colored rice and beans. I'd also suggest doing an allergy-friendly hunt for those who can't have the candy. There was no sign of the Easter bunny anywhere, so my kid wasn't terrified to go find eggs.
We attend as many of the Triduum activities as possible. Many at our parish come for the 3 PM celebration of the passion and stay for events that begin at 5 PM. In between, several families have made it a tradition to have PB&J for their Good Friday meal. I love our parish's Easter Vigil Mass; it begins with a bonfire and the lighting of the Easter candle outside, and there is a massive feast after Mass that lasts well into the wee hours of the night. (JC)
I go to Pinterest and find riddle clues for a scavenger hunt. The kids have to figure out the answers, which eventually leads them to their baskets.
Plastic eggs around the house and at church. We try to dye eggs too; then dinner and Easter baskets. (M)
We had a neighbor surprise us with eggs dyed with our children's names hidden on our lawn eight years ago. On our way to Mass the kids were so joyful of the surprise that I began our own tradition. We made candy gift bags for the neighborhood kids and delivered them on Easter. We have continued to do this in our new neighborhood, dropping off wrapped goodies to surprise others. We prepare them on Holy Saturday in anticipation of Easter. (H)
Mass is THE most important, of course! After Mass we have a big meal with extended family. A favorite treat we like are called "resurrection rolls" - they help kids imagine.
Roll marshmallows in a cinnamon/sugar mixture, which represents the spices they put on Jesus before burial.
Wrap each marshmallow in a crescent roll, which represents wrapping Jesus in the shroud.
Place all on baking sheet and put in the oven (bake according to crescent roll directions) -- this represents Jesus being placed in the tomb.
When they are done, the marshmallows have melted and can't be seen -- Jesus isn't there, He is risen! (Elizabeth P., upstate New York)
Of course, Easter morning Mass! On Passion Sunday our family covers all our religious pictures and statues with purple, just like at church. During the last week of Lent, we give up all extra music and try to keep our electricity usage to a minimum so our home is a dark and somber place. On Easter morning, the children wake up to flowers in all the rooms and all our art and statues uncovered and decorated with colorful paper chains. Our Lord has risen from the dead! (Leah S., St. Louis, Missouri)
In the morning the kids head down to see what is in their Easter Baskets, we have a breakfast of pastries and eggs and then Mass. The afternoon is cooking, cleaning and preparing for Easter dinner. My husband usually sings at a late afternoon Mass in the city and then friends and any member of the Triduum choir who wants to comes to Easter Dinner: then clean-up and crash. (Joy Bailey, Joy in the Morning)
We show the kids their Easter baskets and then whisk them off to Mass before they get a chance to really dive into them.
Besides candy and a religious book, each kid gets a weird stuffed animal -- we've had an Easter chicken and an Easter sloth, for example.
At midday we have a big dinner with some 50 of our closest relatives (this year we're hosting!) and an Easter egg hunt with 15 or so kids. It's all chaotic and joyful and wonderful. (Julie Walsh, These Walls Blog)
We do new Easter outfits (that they will wear until the fall/winter) for Mass. We find Easter baskets (very little candy, mostly outside toys or religious items) and head to Mass (pinnacle of the day). We have a huge dinner and we talk about how we are celebrating Christ's resurrection. We have a big dessert later and do an Easter egg hunt. (Adrienne, Trust With Wild Abandon)
We keep the celebration going with 7 Ways to Celebrate Easter After Easter (Katie Warner)
Simplify the drama and focus on the King: our baskets have very little candy and no junk. And we even found a fun way to avoid coloring eggs but still decorating them. (Kate, Kitchen Stewardship)
We will make resurrection rolls! (Lis, Diocese Events)
Easter egg hunts every day! (Rosie, A Blog for My Mom)
I plan ahead so I can keep up the enthusiasm for the Easter season steady without to many ups or downs. (Kendra, Marebear's Mom)
Our kids love to make and send cards to grandparents and aunts and uncles. This week we did a simple water color crayon resist to create sweet Easter egg cards that will head out to help bring the joy of the season to family far away. (Colleen, Elevator to Heaven)
We host a Pentecost party for young families. We get out all our wooden blocks for the little kids and tape a "gift of the Spirit" on each one. Every person gets a block and we build a kingdom using the blocks. We also serve sangria. (Carrie, Grace Finders)
Now that you've heard from Catholic moms all over the country, how will you continue to celebrate the Easter season in your home? Share your ideas in the comments below. I'd love to learn from you as well!
---
Copyright 2019 Ginny Kochis
Image: Pixabay.com (2018)
About the Author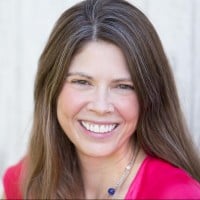 Ginny Kochis is a Catholic wife and homeschooling mom to three differently-wired children. She founded the Not So Formulaic community to support Catholic moms raising out-of-the-box kids. Ginny believes God gives curious, creative, intense children the exact mother they need to thrive.