Copyright 2018 Carolyn Astfalk. All rights reserved.[/caption] Welcome to the MONTH YEAR edition of An Open Book, hosted both at My Scribbler's Heart AND Catholicmom.com! An Open Book is all about what my family is reading this month, from the adults down to the little kids. Share what you're reading by linking up your blog post below. Simply write about what you're reading. You can make it personal or, as I do, extend it to the whole family. Your post can be as simple as a few lines about the book or as in-depth as a 700-word review. That's entirely up to you. You can even forego writing all together and record a video or simply post cover photos. No blog? No problem. Please share what you're reading in the comments. At the recommendation of the priest/leader at my husband's annual men's retreat, he's been listening to Be Healed: A Guide to Encountering the Healing Love of Jesus in Your Life by Bob Schuchts. Using personal stories, the author guides the reader to physical, emotional, and spiritual healing by way of the sacraments and the Holy Spirit. From what my husband has said about it, this sounds like a very effective tool for examining interior brokenness and finding hope and peace. He's also been listening to An Introduction to the Universe: The Big Ideas of Astronomy by Vatican astronomer Dr. Guy Consolmagno, SJ, PhD. More than purely an astronomy book, religious texts are woven into this talk filled with the wonder of the universe. Death Panels: A Novel of Life, Liberty, and Faith by Michelle Buckman has been on my reading list for years. This near-future dystopian novel with a large cast of characters depicts a society overly reliant on government in nearly every aspect of life but most grievously in deciding who lives and who dies. Ultimately, Death Panels shows what happens when people turn a blind eye to reality and how small acts of resistance and cooperation can begin to turn a culture around. I loved listening to Karen Barnett's Ever Faithful: A Vintage National Parks Novel on audiobook. Each book in the series features a sweet romance set in the early 20th century at one of America's beautiful national parks along with a Christian faith theme and a touch of suspense. This is my favorite of the three books in the series so far with its well-developed minor characters and the fact that the author didn't settle for the easy resolution. And that's all I'm going to say about that. The Power of Forgiveness (Companion in Faith) by Patrice Fagnant-MacArthur is a short but solid resource for those struggling with forgiveness (which is most of us at one time or another). Readers can return to the short verses, reflections, and prayers, using them as needed while struggling to overcome past hurts. For his summer reading assignment, my high school student chose Ender's Game (The Ender Quintet) by Orson Scott Card. In this science fiction novel for young adults, a boy genius – who becomes a respected leader—is sent to Battle School to train for defense against alien attack. My son loved this book—until the ending. My junior high student read Saint José: Boy Cristero Martyr in a day! Fr. Kevin McKenzie brings to life the story of St. José Sánchez del RÍo, a fourteen-year-old Mexican boy martyred during the 1920s Cristero War. My daughter was impressed that the author spent ten year researching the saint's story for this book. Saint José was canonized by Pope Francis in 2016. Even my little kids had summer reading projects, and my second grade daughter, who loves all things cute, cuddly, and furry embarked on The Puppy Place series starting with Goldie by Ellen Miles. I've got to say that it's no chore staring at the adorable little dogs that grace the covers of these books. This kid is wearing me down for a dog! Inspired by his older sister, my youngest son wanted God's Mighty Warrior Devotional Bible by Sheila Walsh from the display in the back of church. Surprisingly, I see him with pen in hand writing in the book. So, maybe it wasn't just about what his sister got (God's Little Princess Devotional Bible). These boy/girl sets of children's Bibles are sturdy, attractive, and designed for parent/child interaction related to the biblical stories and concepts. Want more details on An Open Book? You can also sign up for An Open Book reminder email, which goes out one week before the link-up.
Check out the archives of An Open Book!
---
Copyright 2019 Carolyn Astfalk This article contains Amazon affiliate links; your purchases through these links benefit the author.
About the Author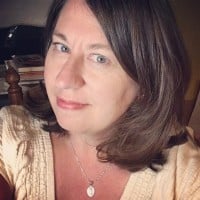 Carolyn Astfalk is a wife, mother of four young children, and a writer. Her contemporary Catholic romances are available at Amazon.com. She is a member of the Catholic Writers Guild, a Catholic Teen Books author, and blogs at My Scribbler's Heart. Visit CarolynAstfalk.com.