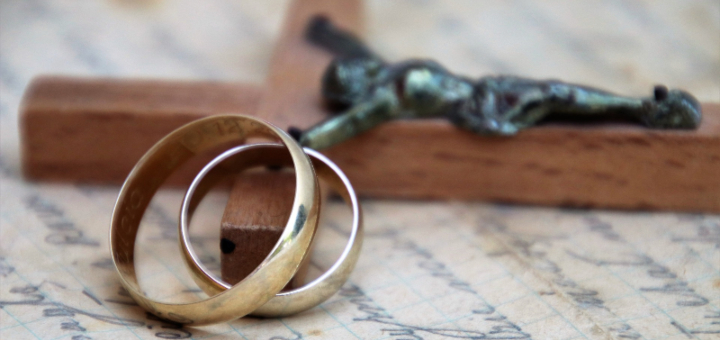 Image credit: Pixabay.com (2018), CC0/PD[/caption] On the eve of my parent's 48th wedding anniversary, I thought it would be fun to share some family-friendly advice my parents have been chirping now for 48 years! My parents are examples of not only faithfulness to each other but also placing Christ first in their marriage. They are currently the co-hosts of a local Catholic radio program called "The Sacred Heart Hour" where they share the spotlight with Fr. Stash Daily and proclaim the importance of a Christ-centered life through the devotion to the Sacred Heart of Jesus. They also have had a fruitful marriage of four children and 18 grandchildren, and have given years of service and love to the Catholic Church and the greater community. My parents have discovered the art of always weaving in fun amid the fabric of their life and the joy that comes from living out their Catholic faith.
Chuck and JoAnn Wilson. Copyright 2019 Emily Jaminet. All rights reserved.[/caption]
24 tips for a happy marriage
Marriage is the vocation we've chosen for both of us to help each other get to Heaven. Lean on the graces of the sacrament.
We will all weather severe storms in our lives; the question is how do you respond when troubles hit? Do you turn to prayer? Healthy dialogue? Forgiveness and love?
Celebrate everything ... your anniversary, birthday, promotions at work, good grades for the kids … Bake a cake, buy a cake, go out of your way to make the event special. We always like to include toasting, not roasting. We have our favorite restaurant and table and request it when we celebrate special moments over the years. It is fun to return to our "happy place" year in and year out.
Pray often and together. Learn to pray a spontaneous prayer to hear each other's heartfelt prayers. Pray for children and hope for many of them. Children are the joy and glue of your life and marriage. Children are always a blessing, always.
Continue to cultivate your relationship no matter how long you have been married. Dates should not be viewed as a luxury; they are a necessity. It doesn't matter where but when. We had a date night most of our marriage on Wednesdays and would plan to meet up with friends on Saturdays, especially during the most challenging stages when we had babies at home.
Support each other and make sure you complement each other, and try not to complain about each other to your friends. Share your thoughts and feeling with your spouse about what is bothering you, don't complain but seek to discover solutions to your marriage strains.
Meals Matter. Plan them ahead of time; it is stressful to not know what you are cooking for dinner, and as a result, you will forget to sit down and eat as a family. All through our marriage, I would make sure to have a simple appetizer in the house so Chuck and I could have our own "happy hour" after a long day.
Gift giving is an excellent way to show you care. I always had a present closet or shelf with items I would buy off season, at an affordable price, along with with gift bags and wrapping supplies. It is too stressful to need to run out to buy a gift, and this is a beautiful way to surprise the ones you love.
Say "I love you" often!
Before your husband comes home, allow yourself to have 10 minutes before your spouse walks in the door to prepare. A few minutes of preparing for the love of your life to walk in the door goes a long way. This is as simple as brushing your hair and teeth, changing your clothes, or just making sure to adjust your attitude. I have learned always to greet him with a welcoming smile and acknowledge how happy you are he is home. Don't greet him with the problems of the day first thing; this sends a negative message.
Make the home a welcoming place of simple beauty and freshness for the seasons.
Cook real meals and those your spouse especially enjoys.
Make your bedroom a place of peace, not another workstation or a laundromat.If you pick up your towels and clothes off the bedroom floor, it is good to expect the same from him.
Learn the tools for sharing your feelings.
Love those children but do not accept behaviors that bring you down or divide.
Learn to be happy living within your means. Debt eats away at love.
Humble yourself to ask others for help and accept it.
Appreciate those who help you and remember to say thank you often.
Pray for those who make your life difficult.
Attend daily Mass if possible, and never miss Sunday Mass.
Say you are sorry and mean it. Go to the Sacrament of Confession often so you can grow.
The more you love God, the more you will love your spouse, children and others!
Discover the gift of sharing some of the same hobbies, ministry work and or activities together.
Welcome Jesus as King, Savior, and Friend through the Enthronement to the Sacred Heart of Jesus … you will be blessed in this life and the next.
---
Copyright 2019 Emily Jaminet
About the Author