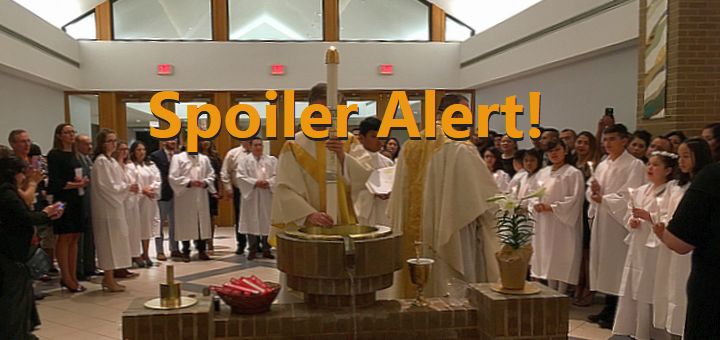 Copyright 2019 Jay Cuasay. All rights reserved.[/caption] Just as Super Bowl Sunday competes with eyeballs drawing attention away from the sacredness of the Lord's Day, so too the new crop of movies or latest network series can vie for top billing. Our triumphant entry into the Easter Season came with the release of Avengers: Endgame in theaters and the final season of Game of Thrones on HBO. For the respective fans, the long period of waiting was over. There was great joy and anticipation in lining up for tickets or sitting down to watch the show. Following the experience, there was buzz to share with others what they had seen and how it felt. But there was also great care to make sure that no secrets were revealed so that other people could enjoy the experience themselves.
Coming Attractions
Think about all the Easter stories we have heard over the years. It would be a bad joke if every breathless witness who had seen the Risen Lord ran back to the Apostles to tell them the Good News … Spoiler Alert: He Lives! And yet, that is indeed what they did. It is indeed what I did for several months from pre-catechumenate to Easter Vigil with my small group of adults wishing to become Catholic. The interesting thing about Jesus' story is that the spoiler is no secret. We buzz about it all the time. We mention it over and over at each Mass. We peg our faith to it. We set our moral compass and horizon of hope upon it. Yet we still care that every person gets to encounter Christ in a special way through sacraments to experience ourselves and our world anew.
So How Does It End?
Salvation is not a personal experience but a social reality. It isn't just in our minds or our hearts as a feeling. Instead, it is something that exists partially in this world now and more fully in the world to come. We notice this especially where injustice is exposed and compassion and mercy take root. Where do we look for glimmers of this today? Or do we simply turn from one form of entertainment to another, a movie franchise here a cable show there? We are excited for a time with the "Have you seen it?" or "Can you believe it?" part of the experience. The wonder for us is to carry our great joy all through Easter. Spoiler Alert: Easter is 50 days long! Indeed, our great joy is to exist in a world where Jesus lives! Christ yesterday, today, and tomorrow. For our newest members of the Church, they should remind us that everything is made new. Everyone is being redeemed: yesterday, today, and tomorrow.
Reflection:
What have you seen? What do you believe? May the Risen Christ be with you yesterday, today, and tomorrow.
---
Copyright 2019 Jay Cuasay
About the Author

Jay Cuasay is a freelance writer on religion, interfaith relations, and culture. A post-Vatican II Catholic father with a Jewish spouse, he is deeply influenced by Christian mysticism and Zen Buddhism. He was a regular columnist on Catholicism for examiner.com and a moderator and contributor to several groups on LinkedIn. His LTEs on film and Jewish Catholic relations have been published in America and Commonweal. Jay ministered to English and Spanish families at a Franciscan parish for 13 years. He can be reached at TribePlatypus.com.