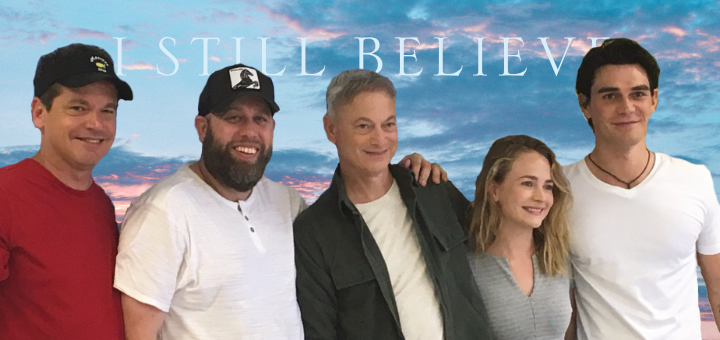 Anyone who knows anything about contemporary Christian praise and worship music probably has heard of the talented artist, Jeremy Camp. He is best known for his 32 number-one hits, especially Take You Back, Walk By Faith, and the song after a personal tragedy I Still Believe. Jon Erwin and Andrew Erwin of Kingdom Studios along with producing partner Kevin Downes of I Can Only Imagine fame, have teamed up once again, and with the backing of Lionsgate, to bring to life the story of Jeremy Camp and the incredible grace of God present in the midst of great heartbreak and suffering. Starring in this film is KJ Apa (Riverdale, A Dog's Purpose) as Jeremy Camp and Gary Sinise (CSI:NY, Criminal Minds: Beyond Borders) as his father, Tom Camp. The film's planned release date is March 20, 2020.
Gary Sinise and KJ Apa. Photo by author.[/caption] On the set, Jon Erwin shared with journalists of Christian-based outlets, that this story delves deep into the emotion of a beautiful love story between Jeremy and his first wife Melissa Lynn Henning, played by Britt Robertson (Tomorrowland, A Dog's Purpose), who was diagnosed with terminal cancer and died just a little over three months after they were married in October 2000. The cast and crew of the film are all committed to the story, Jon says, and are hopeful that many people will be touched by the beauty of the story and the faith that allows someone to reach beyond their anguish and pain to trust in the merciful love of God. Gary Sinise said that it was a privilege for him to help tell this touching story as well as to work with young actors like KJ and Britt. He relates that the message of the story carries through and that we all have, "challenging moments that at the time seem like there is no way out, but looking back we see what we learn from it, capitalize on it and move forward." KJ Apa has over 15 million followers on Instagram, mainly because of his starring role on CW's series Riverdale where he plays Archie Andrews of the known Archie comics. KJ said he felt this was really Melissa's story and that it portrays redemption and hope. Kingdom studios focuses on telling faith-based stories such as their indie hit, I Can Only Imagine as well as Woodlawn, Mom's Night Out, and October Baby. Jon Erwin shared with the journalists about their motivation as filmmakers. He says, "We are passionate about engaging people's hearts. We want to share the truth of the Gospel." He continued by saying, "People identify and process who they are through characters of film," and so film is an enormous opportunity for entertainment but also for bringing people to God. This film addresses, he says, "the deep existential questions that often keep people from God, such as: How can God let this happen to me? What is the purpose of pain? Can you still believe after such tragedy?" This film, he says, addresses those profound questions. "That's the hope of this film," he continues, "I think this will be the best film we've made."
The author with Jon Erwin. Photo by author.[/caption] The faith-based film has multiplied exponentially in the last decade and continues to expand with the likes of the major Hollywood Studios getting on board, such as Sony Affirm Films with Paul, Apostle of Christ and Miracles From Heaven, and Paramount's Ben Hur. According to Andy Erwin, this film at the core is a love story that he hopes will broaden to a much younger audience. Jon says that this generation that is leaving the church has FOMO (fear of missing out), "So we want to trigger that and create a momentum. You won't want to miss out on this story." "Faith based film," says Jon, "is not a genre but a cause. We are called to serve that cause with diversity." Since this film addresses these core questions of humanity, Jon believes it is relatable to all people of diverse faith backgrounds. I Still Believe has the potential to bring faith even more front and center to the Hollywood culture by seeing the redemptive quality of suffering in a culture that runs from suffering or pads it with addictions and excesses. Only God can truly fulfill us and heal us of our emptiness and pain and if this film gets that across through an emotionally gripping story of someone who delves deep in suffering and comes out with greater faith and trust, then their job as filmmakers would be accomplished. It is using their craft to touch on that yearning for what is beyond. I look forward to seeing the completed film and hope that it will have an influence on the lives of many, including the Hollywood culture.
---
Copyright 2019 Sr. Nancy Usselmann, FSP. Article first appeared on bemediamindful.org blog.
About the Author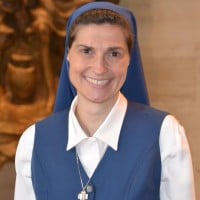 Sr. Nancy Usselmann, FSP is a Daughter of St Paul and the Director of the Pauline Center for Media Studies in Los Angeles, CA. She is a Media Literacy Education Specialist, theologian, international speaker, film reviewer, and blogger for BeMediaMindful.org. Her book A Sacred Look: Becoming Cultural Mystics is a theology of popular culture published by Wipf & Stock Publishing.