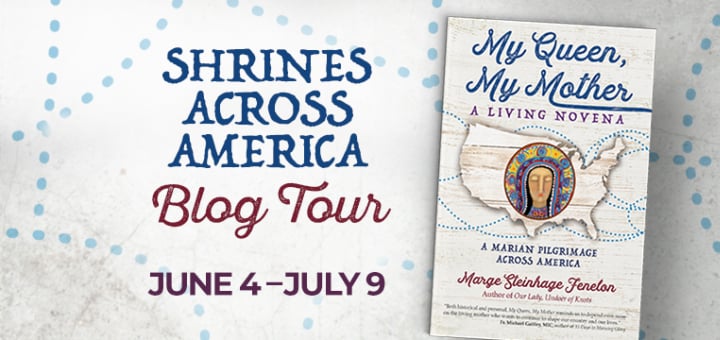 Courtesy of Ave Maria Press. All rights reserved.[/caption] When you say "the shrine" at my house, it can mean one of two things: in jest, it means the Dunkin' Donuts on one of the main roads in town, and in seriousness, it means the Shrine of St. Joseph that sits on the other main road, which runs nearly parallel to the first. The Shrine of St. Joseph in Stirling, New Jersey, is run by the Missionary Servants of the Most Holy Trinity, a Catholic community of priests and brothers, established by Fr. Thomas A. Judge. There is a community of mainly Polish sisters who live and serve there as well, and they are, hands down, the most joyful people I have ever encountered. One co-taught my oldest son's preschool class and remains dear to our family to this day. Oh, and if you ever have a chance to try their homemade pie, do it. You won't regret it!
Courtesy of Shrine of St. Joseph, Stirling, NJ. Used with permission.[/caption] When I was growing up, I knew the place for the gift shop on the lower level, which is the only place nearby to get all kinds of Catholic products, from books (what a thrill it is to see my book sold there now!) to rosaries to children's items to crucifixes. Two of the sisters work there — Sister Sophie and Sister Sophia — and they can get you whatever you need, with a smile that will stir your soul. As I've grown up and grown into my faith, I've come to appreciate the beauty of the shrine. Set up on a hill, and a very green space itself, it offers an incredible and contemplative view of the natural world. There's a memorial to those lost in 9/11, as well as outdoor statues and Stations of the Cross. It's a great place to feel like you're getting away, without going far at all (at least for me!). There is peace in this place that does such good for the surrounding community. Another of my favorite things about the shrine is that there are scheduled times for Confession every day of the week. Saturday afternoons can be easy to miss, but there's always an opportunity to receive the grace of this sacrament in just a few minutes' drive. A true gift! The shrine hosts a variety of programs, from retreats to the I THIRST initiative, which "seeks to provide this spiritual remedy to those suffering from addiction through the development and implementation of programs designed to educate and prevent, provide support to treatment facilities, and those incarcerated, and to develop an aftercare community for the afflicted and their families." Incredibly powerful work is going on on these grounds. Our town recently approved plans for a Pilgrim Chapel to be added to the campus, which I look forward to sharing with my family once it's complete.
If you're in New Jersey this summer, I encourage you to make the Shrine of St. Joseph part of your summer travels. Really, wherever you are, there are likely holy sites in your midst. I was amazed when I read popular Catholic author and speaker Marge Fenelon's new book, My Queen, My Mother: A Living Novena, at the deep history of Marian shrines in the US, in particular. There is probably a shrine or holy site near you or on your summer travels, with history that will help you further appreciate the depth and beauty of our Catholic faith. For more ideas, check out these other stops on the blog tour and get a copy of Marge's book!
Courtesy of Ave Maria Press. All rights reserved.[/caption] Do you have a holy site in your town? Tell us about it in the comments!
---
Copyright 2019 Lindsay Schlegel
About the Author